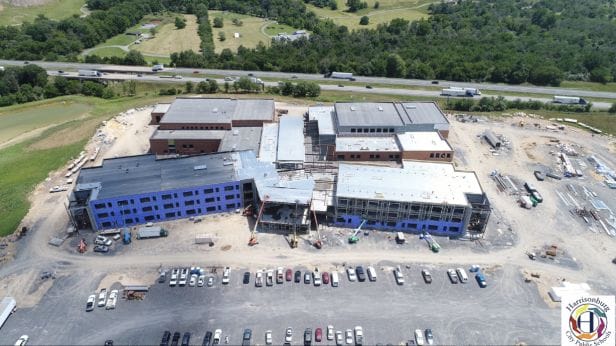 By Haley Thomas, contributor
The group advising the city school system about how the new Rocktown High School can best coexist with Harrisonburg High School suggested cutting a $30 million auditorium from the new school and instead called for incorporating more "state-of-the-art" facilities that could be shared between the two schools. 
The programming committee for the new high school, which is made up of 20 community members, also recommended redrawing zoning boundaries for two HCPS middle schools. Superintendent Michael Richards presented the key recommendations to the Harrisonburg City Public Schools' board at its work session on Tuesday.
Rocktown High is set to open its doors to students in fall 2024, and its programming committee has spent the past year and a half creating a cohesive plan for the new school and Harrisonburg High School.
School division leaders began working alongside stakeholder groups in fall 2021 to design a programming proposal for Rocktown High School in conjunction with Harrisonburg High School (HHS). Superintendent Michael Richards said "hundreds of conversations" went into each line of the programming proposal.
The programming committee initially came up with four "pillars," or fundamental directives. The first three pillars covered the early stages of the development of the new school, including involving all city stakeholders, encouraging the development of Rocktown High's own identity and keeping the project fiscally responsible and efficient. The final pillar and ultimate goal is to create equal opportunities for all students.
"We don't want haves and have-nots, we don't want … one brand new sparkly school and one that's not brand new and sparkly," Richards said. "We want to have shared resources across the city so that students will have equal opportunity."
The overarching goal, Richards added, is equity. He defined equity as "looking at each individual student … and saying: 'What do they need to be successful?'"
New boundaries?
Richards said a logical dividing line between Rocktown High and Harrisonburg High would be "pretty much right through the middle of the city." That would mean Thomas Harrison Middle School students would go to Harrisonburg High while Skyline Middle students would go to Rocktown.
"That creates a demographic balance, which is what we want in all of our schools," Richards said.
This decision, he added, hasn't been made formally and will require a public hearing before the board can vote.
Richards said 9th through 12th grade students will attend their zoned school but suggested giving rising seniors the opportunity to stay at Harrisonburg High for the 2024-25 school year to avoid transferring before their final year. He said this won't work if every rising senior wants to stay because it could create an imbalance in athletics and some academic programs.
Also related to school boundaries, if the Bluestone Town Center development comes to fruition, it could add 362 additional students to Bluestone Elementary School, according to data provided to the board by Virginia Tech. This was far more than the board's original projection of 273 students and could require redrawing the boundaries for the neighborhoods that feed into each of the city's six elementary schools, Richards said.
STEM and Fine Arts
Joy Blosser, chief academic officer, said access to special programming — such as the HCPS Governor's STEM Academy and the Fine Arts Academy — was a key focus of the programming committee. They tasked HCPS with creating a programming design that makes efficient and equitable use of both Rocktown High and HHS, given the fiscal and programming advantages of utilizing the current fine arts facilities at HHS with the STEM (science, technology, engineering and math) and career and technical education facilities that are possible in Rocktown High.
Board member Andy Kohen said transportation issues could arise when students must travel between schools to access shared programs. Richards said ideally the Fine Arts and STEM academies would operate in both schools and facility-sharing could "grow organically from teacher needs." He also said the district wants to have a virtual connection between the schools when transportation isn't possible.
"We've got to get teachers into the new school to see the space and see what that would look like physically before we make a lot of those decisions," Richards said. "But we want to make those decisions with teachers."
Richards said they were looking at a $30 million auditorium at the beginning of the design process for Rocktown High. The programming committee began to question whether the new school needed its own auditorium or if Rocktown High should instead focus on implementing "state-of-the-art" STEM and career and technical education facilities.
Richards said the question became: "How can we give our students some of those advantages that students have in wealthier places?"
And the answer, he said, was to forgo the auditorium.
Richards said that doesn't mean Harrisonburg High is, by default, the fine arts school and Rocktown High is the STEM school. Instead, students at both high schools will have access to each other's facilities, benefiting the city's student body as a whole.
"I really appreciate the opportunity to not have definitive answers and recommendations for the board tonight," said J.R. Snow, Harrisonburg High's performing arts coordinator. "We've had rich conversations individually and we're starting to [have them] collectively, so we can really weigh out all of those things so that we can ensure that the student experience is at the forefront of our decisions."
---
Journalism is changing, and that's why The Citizen is here. We're independent. We're local. We pay our contributors, and the money you give goes directly to the reporting. No overhead. No printing costs. Just facts, stories and context. We're also a proud member of the Virginia Press Association. Thanks for your support.