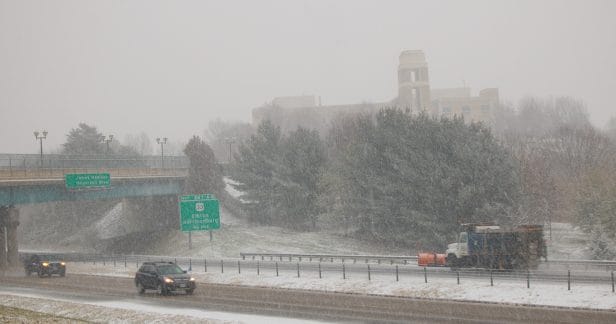 By Andrew Jenner and Ryan Alessi
Now that Valley legislators have introduced companion bills to establish tolls to fund $2.2 billion upgrades to I-81, the plan's supporters will face staunch opposition led by truckers, who say the proposal unfairly targets them and will cause a harmful economic ripple effect.
Dale Bennett, president and CEO of the Virginia Truckers Association, called the tolling proposal an "unfair, discriminatory plan." He said it will rely heavily on long-haul truckers while exempting others, such as commuters and those who purchase annual passes. Bennett told The Citizen his group will release by early next week a list of companies and other organizations that are signing on to oppose the toll proposals.
"We've said all along we know there needs to be improvements to I-81, but we strongly object to tolling as the method to pay for it," Bennett said. "It's designed to put most of the burden on the back of the trucking industry."
When the Commonwealth Transportation Board recommended a slew of improvements to Interstate 81 late last year, it also proposed two options to pay for the roughly $2.2 billion price tag: taxes or tolls.
"The trucking industry fully supports paying its full share," Bennett said. "And we think the fuel tax is the fairest way to do that. We're not just a group saying, 'No.' We're saying 'No' to this plan, but here's what we'll do to pay our fair share."
Sen. Mark Obenshain, R-Harrisonburg, and Del. Steve Landes, R-Verona, opted for tolls in their legislation, which they filed late Wednesday. Obenshain is Harrisonburg's state senator; Landes's House district begins just outside the city and stretches south toward Staunton. Earlier this month, Gov. Ralph Northam, a Democrat, announced his support for the legislation.
In a statement released this week, Obenshain called his bill "a balanced, longterm and effective approach" that places no "burdens on commuters and residents along the I-81 corridor."
As introduced, the bills would authorize tolls along the entire length of I-81 through Virginia. Revenues would go into a dedicated fund restricted to specific I-81 improvements identified in the recent study as the highest-priority projects for relieving congestion and improving safety on the interstate. Other details about the proposed tolling include:
Truck tolls are capped at 17 cents per mile
Car tolls are capped at 11 cents per mile
Rates may be reduced for traffic between 9 p.m. and 6 a.m.
Free passage under up to two gantries per day will allow most commuters to use the interstate at no charge
Regular interstate users can buy an annual pass for unlimited access, which won't cost more than a full-length round trip on I-81 through Virginia (about $70 for a car, at 11 cents per mile).
Bennett, from the trucking association, said based on an industry average of 6 mpg for 18-wheelers, the 17-cent-per-mile toll would amount to a $1.02-per-gallon fuel tax — far greater than any figure suggested for a fuel tax increase.
"Any business that depends on trucks will be impacted by this," he said.
Volvo Trucks, which manufactures all of its trucks for North America at the New River Valley Plant in Dublin, Va., is a prime example. The parts come in on I-81, including engines assembled in Hagerstown, Md., and then hauled straight down I-81 to Pulaski County. Finished Volvos are trucked out of Dublin. All of those trips would be tolled under the plan.
Nationally, the trucking industry has taken on other states for toll-related proposals. The American Trucking Associations filed a lawsuit in July 2018 against Rhode Island for its tolling plan that aimed to raise $45 million a year from large trucks using several key bridges. And last week, the Owner-Operator Independent Drivers Association filed a lawsuit against Indiana Gov. Eric Holcomb over an increase in tolls.
Meanwhile, key details about the I-81 tolling proposal still need to be filled in, such as locations of the tolling gantries that would hold cameras and electronic toll devices. In addition, the legislation would allow for tracking along roads parallel to I-81, such as U.S. 11, to identify and bill vehicles that are seeking to avoid the tolling gantries. But Bennett pointed out that the bills don't spell out how authorities will tell the difference between someone skirting tolls and someone doing business along that route, such as a truck making deliveries.
In last week's release, Obenshain pledged to work with his "fellow legislators in the General Assembly and the Governor's administration as this bill goes through the legislative process to ensure that all options are considered and all concerns are heard."
Del. Tony Wilt-R, Harrisonburg's representative in the House of Delegates, is waiting to see how the legislation comes through committee before taking a position on it.
"I'm not necessarily hard for or hard against any one particular thing," he told The Citizen this week. "I was glad to see the governor take up the cause and recognize the need in our part of the state."
"This is a pretty huge lift, what we're attempting to do here," Wilt continued. "It deserves vigorous debate. I'm sure there will be, but that's our job. Hopefully, we'll come out at the end of session with a good product that we can move forward on."
As of Jan. 17, the House and Senate transportation committees had yet to schedule hearings on the I-81 bills.