By Bridget Manley
The Birds showed up all over Harrisonburg without warning in the fall. The Limes soon followed. These shareable scooters soon became the subject of intense debate over regulations and the companies' responsibilities in the months that followed. Then, almost as suddenly as they arrived, most of the Birds disappeared when JMU students left for winter break.
Did the Birds just migrate? Did city council's decision to regulate the scooters cause them to fly the coop?
It turns out that a little of both is happening to the hundreds of scooters that were planted around the city since October, and council's proposed regulations might have an effect on how many return. In addition, one of the scooter companies, Lime, also is considering expanding its investment in Harrisonburg by adding bikes.
Even though the scooter era began with a guerrilla campaign to drop them around the city in the middle of the night, Wesley Russ, assistant city attorney for Harrisonburg, said representatives from both Bird and Lime have been meeting with the city about the proposed regulations and have been forthright in providing information.
These regulations will be voted on in one of the next two city council meetings, Russ said, although they have not established which meeting in February it will come up.
Council's proposed ordinance changes
After receiving numerous complaints about sidewalks strewn with fallen scooters and users racing down city sidewalks, city council voted in December to add provisions to existing city ordinances for the use and placement of scooters.
Part of the proposed provisions include the scooter companies applying and agreeing to the city's terms and conditions for how they will operate, according to Russ.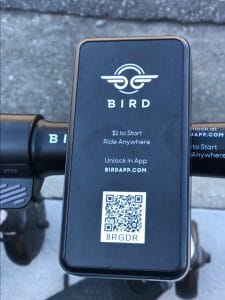 "That will cover things like the level of ridership, the rides per scooter per day, making sure that their fleet is matching demand and not well exceeding demand," he said. "They will also have to agree to share certain data such as what routes the scooters are taking, how many riders they have per day, average distance of a ride…stuff like that."
The drafted ordinances also would ban more than one person from riding on a single scooter and would require riders under 14 to wear a helmet. They also would allow police and city staff to impound scooters abandoned in a right-of-way or blocking entryways or pedestrian traffic. And riding a scooter on sidewalks also would be against the rules.
City representatives have been meeting since late last year with representatives of the two companies, Bird and Lime, and Russ says that the companies have been eager to talk through some of the regulations and work with the city, rather than against.
As far as the Bird scooters' winter migration, Russ said the company representatives indicated it becomes more expensive to operate scooters in the winter.
"Depending on what the weather's like, with snow, there is additional investment that you have to make," Russ said. "They wanted to be sure they were going to be able to operate through the whole season before making those investments, and so I expect that we will see them again…certainly by spring when it warms up and makes it easier to operate."
Maggie Gendron, director of strategic development and government affairs at San Francisco-based Lime told The Citizen that they also decrease the numbers of scooters available when the weather turns cold.
"Lime reduced its scooter fleet to accommodate the natural decrease in ridership over the winter months," she said. "Lime looks forward to better understanding the regulations the city will propose for scooter sharing, and we look forward to further conversations on the topic with city officials."
Russ expects that when the weather is warm, Harrisonburg will also see the addition of Lime's shareable bikes around the city.
"When Lime first launched here, and we sat down and met with their representative, one of the things she mentioned was to bring bikes and see if they worked here," he said. "They said they were going to wait until the spring when it warmed up to launch … it would just be smoother to launch the bikes later."
He said he hopes Lime will work with community groups like the Shenandoah Valley Bicycle Coalition to better understand the interests of people locally so that the rollout goes smoothly.
Growing (and falling) pains
Riding the scooters takes balance, and scooter malfunctions and uneven sidewalks can cause even an experienced rider take a fall. JMU students, who are a key portion of the scooter companies' customer base, have been reporting injuries sustained while riding the scooters.
Niki Karaoli, a first-year student at JMU, said she was hurt on a scooter while in Charlottesville during the university's winter break.
"We were Liming around the (UVA) campus and going a controlled speed for about 20 minutes, but we wanted to go back so I was leading them. And when I turned a corner down the hill, the wheel got stuck in a sewage grate and it flipped me off," she said. "I initially fell on my head and somehow gashed my knee too. My friends called an ambulance because my head was bleeding a lot. I never lost consciousness, but I was very loopy. I went to the hospital and got ten staples in my head and was cleared from any neck injuries or a concussion."
Gendron, from Lime, said, "Lime has always been committed to advancing safety and partnering with communities to help make our streets safer."
She pointed to the company's efforts announced in November to commit $3 million to promote safe riding behavior as part its "Respect the Ride" education and community outreach campaign.
"We're constantly developing new tools, enhancing our products, and encouraging riders to wear helmets at all times," Gendron said. "Beyond bike and scooter safety, we must ensure that cars and all micro-mobility options can coexist safely on our roadways. That's why we're committed to making our city streets safer by partnering with communities around the globe to better support mircobility on our roadways and build more protected bike lanes and infrastructure that can accommodate and protect these new transportation options."
Tyler Haley, a senior marketing major at JMU, said he had a rough experience with a Bird scooter in Harrisonburg.
"I rode a Bird for the first time, and the Bird malfunctioned while I was riding it, with the handlebars disconnecting from the scooter," Haley said. "I flipped over the handlebars, resulting in a separated shoulder. I tried contacting Bird, and they were not apologetic at all and took no responsibility for the incident. The representative I spoke to told me that another representative from Bird would be in contact with me about the incident, but I never heard back from the company."
Russ, from the city, said he heard about a student breaking a leg while riding a scooter, and another student made news after being hit by a car when riding the scooter through a crosswalk.
Bird representatives did not respond to The Citizen's request for comment.
Because the city will make riding on sidewalks illegal, scooters must keep to bike lanes and roadways. That will take some getting used to for both scooter riders and drivers.
"I don't think that I'd ever been honked at here in Harrisonburg since I've been here," Russ said of the first time he rode a scooter. "I don't think anyone had ever honked at me while I've been driving my car or as a pedestrian. But I must have been honked at three or four times with people who were frustrated that they had to share the road with me while I was on a scooter."
The city's comprehensive plan calls for shared work, play and live spaces and includes many shared roadways for bikes, scooters, and various other transportation needs. That's not currently how the city streets are laid out, however.
Russ said some of the growing pains will be felt by vehicle drivers as they get used to sharing the roads with scooters.
And more bike lanes also could be in Harrisonburg's future, he said. The city will require the scooter companies in the future to share data they collect about ridership patterns to help shed light on where bike lanes should go.
"One of the big things will just be from the data — we will be able to know or get a better sense of where people are riding them right now," Russ said. "The data will definitely help us inform decisions related to bike lanes and other infrastructure moving forward."
— Molly Long and Veronica Petrikas contributed to this article with reporting from JMU.