By Bridget Manley
With JMU heading on spring break next week, area law enforcement agencies are stepping up efforts to prevent more break-ins and burglaries as a result of unoccupied apartments while the university is closed and students are away.
Police still have made no arrests in the burglaries of more than 30 student housing units over the Thanksgiving and winter breaks, according to Rockingham County Sheriff Bryan Hutcheson and Scott Drugo, public information officer for the Harrisonburg Police Department.
The 30 burglaries occurred in the Aspen Heights and Copper Beech student housing communities. and as students gear up to leave for spring break, police departments are concerned break-ins will spike.
Both departments are asking students to hide valuables, take important items with them, and, perhaps most importantly, lock windows.
"If it's unattended, lock it," Hutcheson said. "Make yourself a harder target."
No arrests made in previous cases
Hutcheson said in the last spree of break ins at Aspen Heights in December, the burglar or burglars slashed window screens and entered the apartments through unlocked windows.
"What seemed to make this one a little unique was that the vast majority [of break-ins] were windows left unlocked," Hutcheson said. "You always think to lock the door…but with the majority of them it was a bedroom or one of the windows to the apartment [that] was left unsecured."
Drugo said efforts to find those responsible have hit a dead end, especially because the break-ins in Harrisonburg city limits didn't result in much being stolen that police could track.
"In years past we've had the things that were actually taken turn up at pawn shops that's easily tracked back to the person that turned it in for the money," Drugo said. "This year is kind of unique…on our side, the folks that were victims didn't have anything taken. They broke in, but they didn't take anything."
"We are kind of stuck," he added.
The break-ins at the Aspen Heights apartments are particularly head-scratching. The complex is gated, and the community has security guards, according to students who live there. The apartments are also equipped with alarm systems.
The city has a false alarm ordinance, so students must register with the city as well as give their code to maintenance and the front office.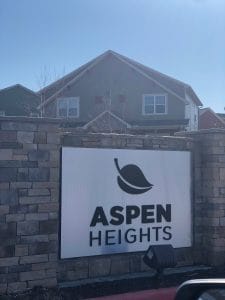 Libby Durant, a senior at JMU and resident of Aspen Heights, said someone broke into her apartment during her winter break and took necklaces and alcohol.
"I felt awful," said Durant about the break in. "They had broken the safety and privacy of my own home."
Durant, whose bedroom door was kicked in and the jam shattered, said she is taking all her valuables home over break, and her alarm will be set. She said she still doesn't feel safe in the community and thinks the situation could have been handled better.
"I think Aspen could have handled it a lot better. I believe they made it seem like all of these robberies could've been prevented," said Durant. "I also have not seen any more security or other measures taken to make us feel safer. I think at the time the police acted and seemed proactive but after the first week nothing else has really been said and no one else has really been in contact."
Aspen Heights did not return calls to The Citizen for comment.
The city and county put out a joint press release Jan. 4 regarding the break-ins saying the investigation is still active.
Both departments have not ruled out the idea that the break-ins were committed by the same person or persons.
"We're not sure," Hutcheson said. "There are commonalities, which are college housing, during break, and looking for easy entry. None were true forceable entry. It was believed to be through either doors or windows that were left unlocked…and maybe it's even an inside job, because we are still investigating it. We don't have any arrests yet."
Drugo said both neighborhoods are relatively close together, even though Copper Beech is inside the city limits and Aspen Heights in the county.
"If you draw a line between the two it's not very far," Drugo said. "It would be simple for folks that are up to no good to transition from one neighborhood to another."
'It would boggle your mind'
Both departments try to patrol the areas where students live while the university closes for breaks, which is when most students leave behind possessions while they're gone.
If we doing a patrol we are driving through looking for any signs of forceable entry," said Hutcheson. "Broken out windows, doors that have been dented in, or any signs where there is forceable entry. If there's no sign, what do we have to go on?"
Hutcheson says that with no forceable entry, thieves are in and can walk out with whatever they are able to get.
"Knowing that the kids are out and the two main ones — Christmas break and spring break, where they go and they're coming back — they leave their stuff," Hutcheson said. "Electronics are very popular [for thieves] and anything else of value, again, jewelry or any other items that could be used or sold."
Drugo said they alert management whenever they find an unlocked window to come lock it. They also pass out information to students before breaks, and art departments if they see cut screens.
"There are four of us, and we do nothing but breaking and entering patrol on holiday breaks," Drugo said. "It would boggle your mind to know that every third or fourth window I come across is open."
Hutcheson said in the case of Aspen Heights, having a gate and security officers might have given residents a false sense of security.
"There's ways around that gate," Hutcheson said, "if somebody wants in there."
Anyone with information about the burglaries over Thanksgiving and Christmas breaks is encouraged to contact the Major Crimes Unit at (540) 437-2640. Anonymous tips can contact Crime Solvers at (540) 574-5050 or text "HPD" plus their tip to CRIMES (274637).
---
Journalism is changing, and that's why The Citizen is here. We're independent. We're local. We pay our contributors. and the money you give goes directly to the reporting. No overhead. No printing costs. Just facts, stories and context. Thanks for your support.