Story and photos by Holly Marcus
[wpvideo UDujdq8v]
Deputy Matt Glovier removes his padded training suit after spending over an hour battling a dozen women. Punches had been thrown at his head. Jabs were directed at his ribs. Tennis shoes kicked and whacked his legs and stomped his feet. At one point his ear was grabbed and twisted, dropping him to his knees.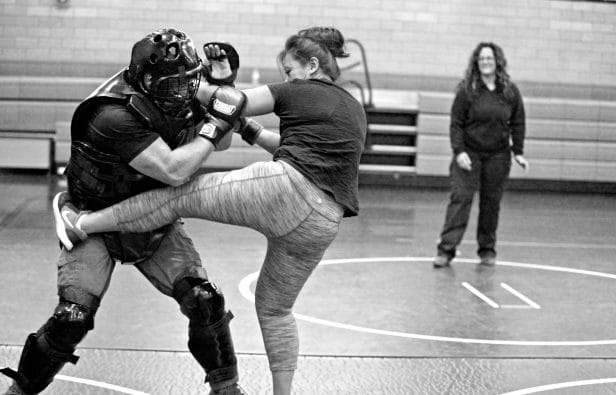 "I hope that you never have to use any of these skills you learned in this class," he tells the female participants as they gather around him and his fellow deputies from the Rockingham County Sheriff's Office on wrestling mats in the J. Frank Hillyard Middle School gym in Broadway.
But Glovier knows from experience it's important for women to be prepared.
"Many victims of attacks say, 'I didn't think it would happen to me,'" he says.
The full-throttle mat battle is the culmination of a women's self-defense class offered by the Rockingham County Parks & Recreation (RCPR). The class, designed for women interested in learning how to defend themselves, is conducted over three consecutive evenings with each session lasting 90 minutes and building upon the physical tactics and practical advice learned on the previous evenings.
The next Women's Self Defense class will be held Tuesday-Thursday, April 23-25, at Montevideo Middle School in Penn Laird. Registration is free but must be completed a week beforehand. For more information and registration instructions, click here.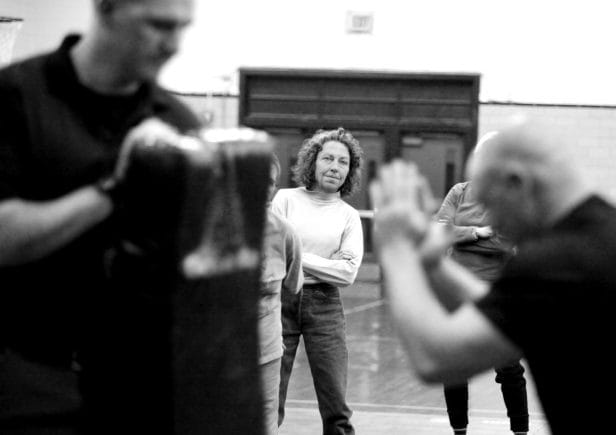 Harrisonburg resident Jenny French first attended the class two years ago, right before she did some traveling alone. She said the class gave her confidence to know what she was capable of when it came to defending herself. French valued the instruction so much she decided to sign up for the class again this March. "It really helps to review what I learned two years ago," she admitted.
Held free of charge, the self-defense class is open to women ages 12 and older from the county or city. Dontaé Gholson, an athletic technician with RCPR , said it has been a popular class through the years—with participant numbers sometimes reaching above 30.
"After every class we always get one person who calls or emails us to say they were so glad to have the knowledge of being prepared to defend themselves. And we always get asked if they can take the class again," Gholson said.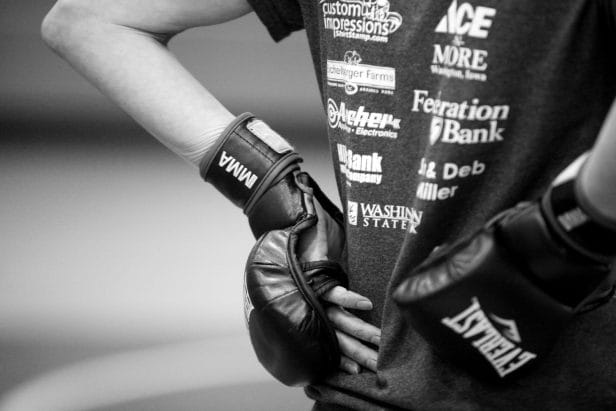 Glovier has been teaching the class for about six years, learning the fundamentals from a state trooper who was the previous instructor and using them to develop the class curriculum. Over the years he's taught a wide range of ages from young girls to college-aged students to mothers and daughters who attend the class together, as well as older women.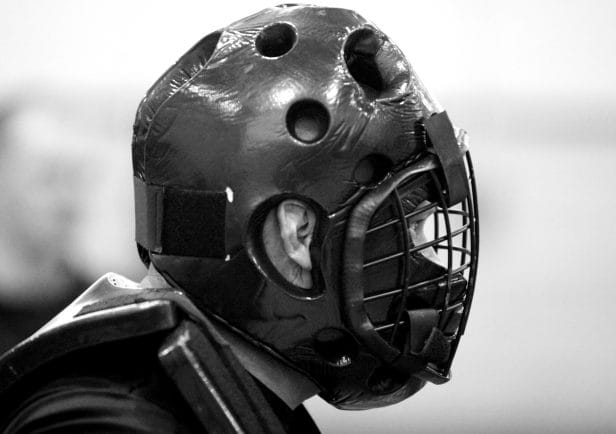 "Who feels confident about being able to do something to defend yourself?" he asks the class. Every hand shoots up around the gym at the end of the last session.
It's seeing students' confidence soar by the end of the class that motivates Glovier. "Some participants come in the first day with a confidence level of 1 and by the last class it is at 100 percent. It's about having the ability to face fear," he said.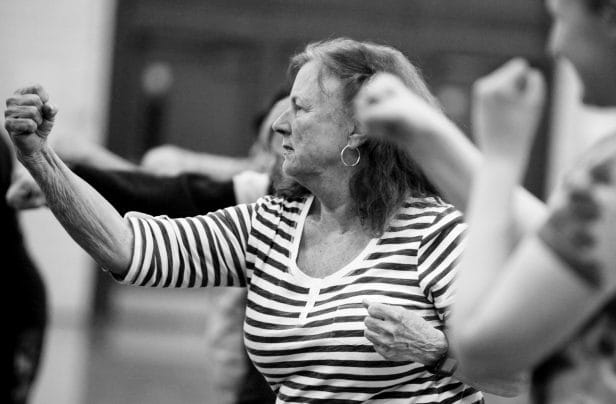 The course also stresses personal awareness. Glovier brings up the topic to his students again and again. As a law enforcement officer, he sees on a daily basis how gadgets and headphones distract people from their immediate surroundings. "Put your phone in your pocket until you get to where you are going. Try not to be by yourself. Let people know where you're going," he tells the class. "These are life saving things you can do… Be aware of your surroundings, be aware of yourself."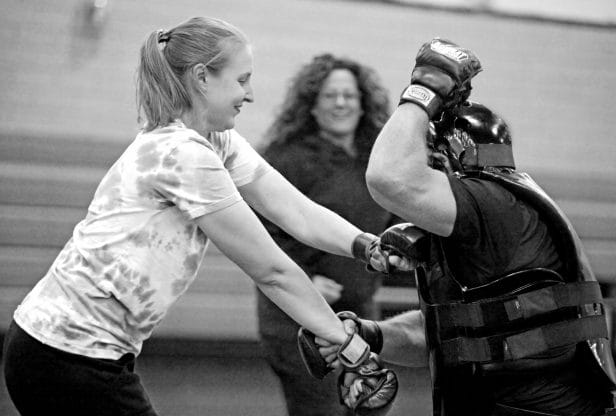 Torie Kennelly said she had been looking for a self-defense class for a while. "When I was a student at JMU, I would call UREC every semester and unfortunately self-defense classes weren't offered to students at that time," she said
So when a friend recommended the RCPR course, she signed up for the March session.
"I feel like I've always been aware of my surroundings and consider myself a cautious person, but I wanted to learn more and go beyond that, because even if you're the most cautious person in the world, you can still be preyed upon or taken advantage of. I hope that I never have to use what I learned, but it does bring me comfort that I'm more equipped to protect myself physically thanks to this class," Kennelly said.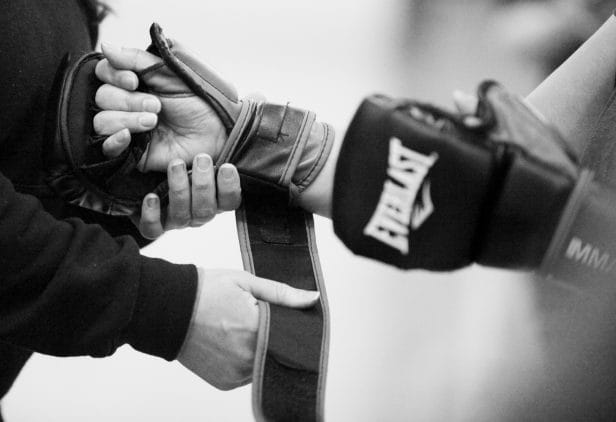 No other organization offers a self-defense class like this for women in the community. JMU's recreation center doesn't list any classes for students, although a free basic self-defense workshop is offered in the summer to faculty and employees of JMU.
Demonstrating awareness is the first step that Glovier teaches—not that women have to look over their shoulder all the time but by being alert to your surroundings, making eye contact with a suspicious person or even a verbal confrontation demonstrates that you are not an easy target.
Next, students progress to punching and kicking techniques, while remembering to breathe, a normally subconscious function that many students forget during simulated attacks, quickly leading to exhaustion. Glovier goes over breaking free from wrist grabs, chokeholds and bear hugs, as well as techniques for getting back on your feet if you are knocked to the ground.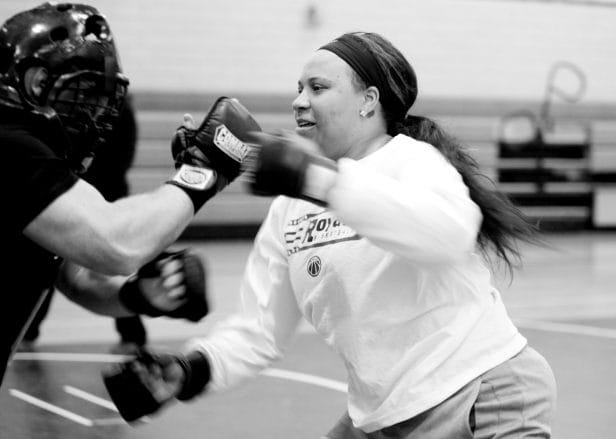 The session culminates with Glovier donning a "Redman" padded combat training suit and simulating an attack where the students are able to use the skills they learned to fight back. He encourages them to be as aggressive as they feel comfortable doing.
"You're not going to hurt me," he assures them. "If I get hurt, it's my fault." Glovier said that giving students the opportunity to fight him while he wears the training suit can help someone who has never been in a real fight better understand what it feels like. Many students, he said, come to the last session feeling a little intimidated or reluctant to fight; while no one is forced to participate, all of the students do—most even wanting a second turn to try out their skills.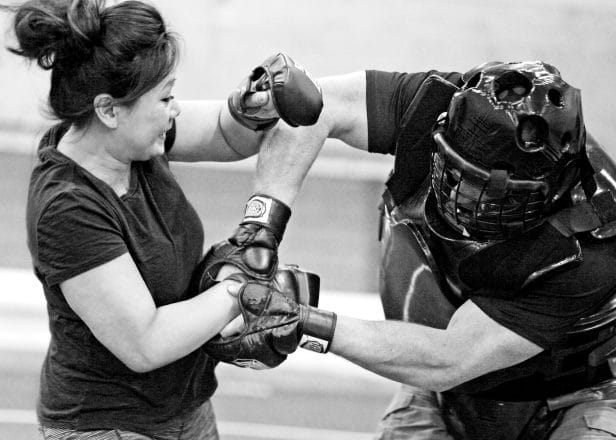 Glovier ends the class by encouraging participants to watch out for other women in their communities. "Be the eyes for somebody else. Be the voice for somebody else. Be that witness for somebody else."
After this final pep talk, the class ends in student applause.
"We love doing this," he tells the group and urges the women to go home and practice what they learned, because, "If you don't use it, you lose it."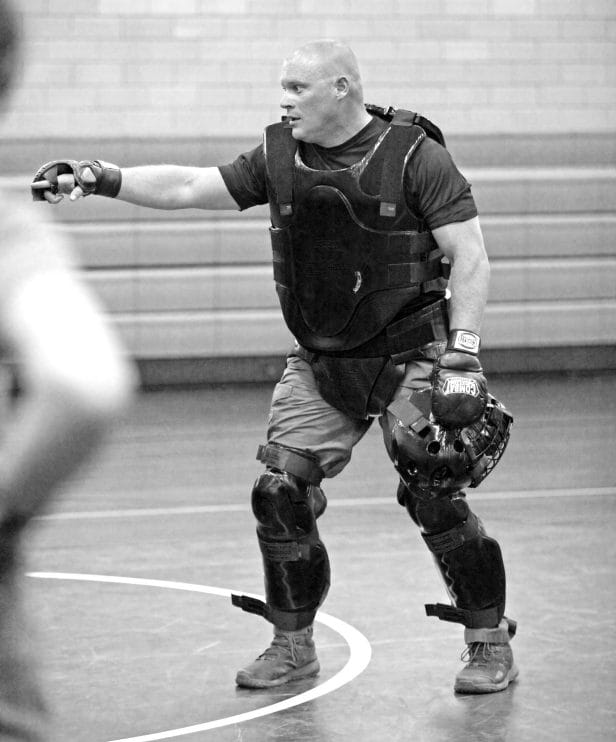 The next Women's Self Defense class will be held Tuesday-Thursday, April 23-25, at Montevideo Middle School in Penn Laird. Registration is free but must be completed a week beforehand. For more information and registration instructions, click here. More classes will also be held next fall.
---
Journalism is changing, and that's why The Citizen is here. We're independent. We're local. We pay our contributors, and the money you give goes directly to the reporting. No overhead. No printing costs. Just facts, stories and context. Thanks for your support.