Story and photos by Caleb Ayers, contributor
The evening sun peeks through the clouds, illuminating quiet downtown streets. After the frenzied run-up to graduation weekend, most students are gone. The city slows down and breathes.
Inside Pale Fire Brewing Co., against a backdrop of colorful titles lining a bookshelf, a woman recounts an experience in the mountains nearby – part of a fundraiser for the Blue Ridge Area Food Bank sponsored by Secretly Y'all, a storytelling organization. Scattered around the brewery's bar and tables, audience members listen and sip their beers.
At the entrance, a metal sign lists upcoming events at Pale Fire under the title, "Townie Summer." Once a simple bit of local vernacular, some downtown businesses have begun to embrace the phrase. Susan Keeler, creative director at Pale Fire, says it's about Harrisonburg having "that sleepy, small-town feel again."
"It's quiet," Keeler said. "I think that's what really sums up Townie Summer: it's this calm."
The combined population of Harrisonburg and Rockingham County is more than 135,000. Somewhere around 20 percent of that total, though, are students – many of whom leave for the summer. More than 22,000 students are enrolled at JMU, while Eastern Mennonite University and Bridgewater College each add around 2,000 more. While neither the city nor JMU track how many students stay for the summer, it's safe to say the areas population takes a significant dip.
The annual summer out-migration can cause a slowdown for some businesses. At the same time, increasing tourism, seasonal events like Pale Fire's Townie Summer series and the reemergence of locals often combine to compensate for the loss of student business.
Andrea Dono, executive director of Harrisonburg Downtown Renaissance (HDR), points out that not all students come downtown to begin with, lessening the impact of losing so many. Part of her job is maintaining relationships with businesses downtown, and she says each one is affected differently — some hardly at all — because of their different clienteles.
Aaron Ludwig, owner of the neighboring Jack Brown's Beer & Burger Joint and Billy Jack's Shack on Main Street, said his two restaurants perform differently during the summer. Billy Jack's drops about 20 percent while Jack Brown's remains steady, in large part because of its outdoor patio that's popular in warm weather.
To compensate, Ludwig says he tries to "control our controlables" during the summer by trimming costs on food orders and payroll to match the decrease. Matthew Clancey, executive chef and general manager for Clementine Cafe and Ruby's Arcade, said that both of his restaurants adopt similar measures.
For many restaurants, summer means a changed crowd rather than a smaller one.
"Things don't stop in Harrisonburg because there is a reduction of students in town," Dono said.
Part of the offset comes from out-of-town tourism, an industry that cities and towns across the Shenandoah Valley are actively cultivating. Massanutten Resort serves as a major attraction through the summer.
Keeler said she sees more customers at Pale Fire when Massanutten is full.
"We just see a different group of people in the summer," she said. "It's not that we're necessarily slower because the students are gone. We notice they're gone, but we get a whole different demographic."
At Clementine, Clancey said, what changes in summer is when customers come: weekends are slower, weekdays busier.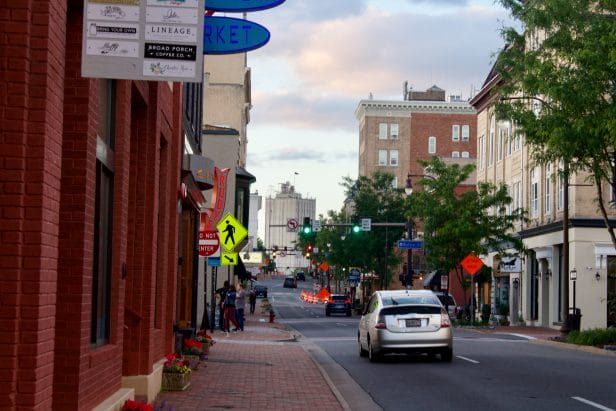 In addition to tourists, many locals enjoy being downtown without chaotic traffic or long waits. This is the essence of Townie Summer: locals celebrating their suddenly quiet and calm town and businesses that they love.
"Whenever the students leave, the townies are more comfortable coming back out and claiming their town again," said Dan Luther, a barista at Broad Porch Coffee in Agora Downtown Market who has previously worked at Midtowne Market and Black Sheep Coffee.
During his time with each of those businesses, Luther saw that same summer increase in local patrons.
No one is exactly sure when the phrase Townie Summer started, but Lauren Penrod — owner of Midtowne Market and co-owner of Lola Mo's Delicatessen — says it started in the restaurant industry. Each spring, restaurants generally get busier each week, culminating in JMU's graduation weekend, the busiest of the year for some. For restaurant workers, Penrod said, the Townie Summer concept celebrates both summer life in the Shenandoah Valley and the making it through to post-graduation calm.
"We all worked really, really hard for the last couple months straight, and we're tired. And now we can just relax," Penrod said. "The pace of things doesn't really change that much, downtown at least. …. It feels like it's more of a mental vacation — like a psychological one almost — than an actual break."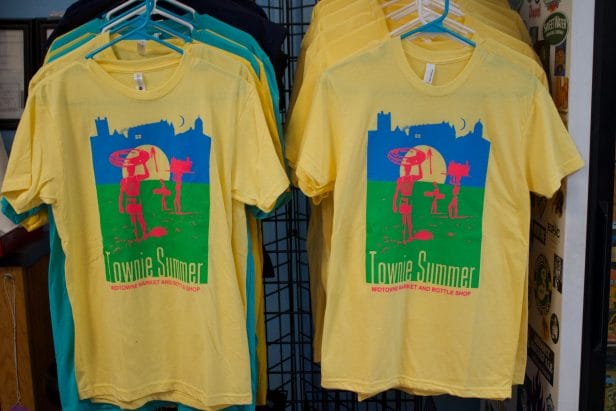 Recently, the Townie Summer has taken on a higher profile in Harrisonburg. Three years ago, Jeff Guinn, owner and designer at The Mark-It, designed Townie Summer t-shirts, which Midtowne Market now sells, along with Townie Summer lighters.
In 2017, Keeler partnered with Penrod to start a Townie Summer party at Pale Fire – live music, beer, shirts and freebies – billed as "a giant blowout to bid farewell to #towniesummer and thank all YOU guys for keeping downtown hopping this summer!" A third edition is planned for later this year.
Keeler, a townie herself, stressed that Townie Summer is a celebration of summer and Harrisonburg – not a knock on the students who live here the rest of the year.
"Townie summer is not negative to the students… The reason I think that we can sustain all of these businesses for retail, and for dining and for who knows what else in Harrisonburg is because we have all these universities and these extra people that come in and want to spend money," she said. "We love them here. This is not negative. It's just throwing a bone to the townies and saying 'hey we love you too.'"
---
Journalism is changing, and that's why The Citizen is here. We're independent. We're local. We pay our contributors, and the money you give goes directly to the reporting. No overhead. No printing costs. Just facts, stories and context. Thanks for your support.