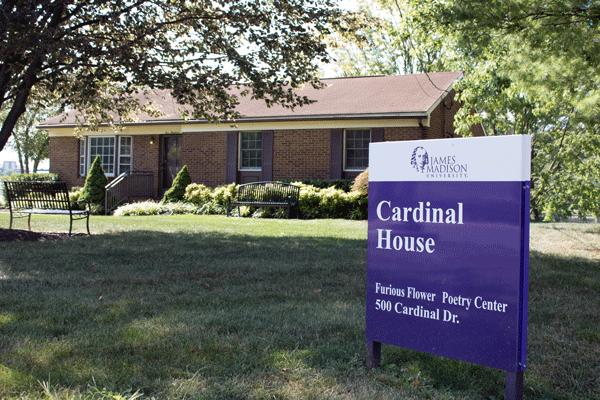 By Kyle Kirby, contributor
Joanne V. Gabbin first heard about President Donald Trump's comments slamming Baltimore as a "rodent infested mess" while listening to WMRA.
"I was stunned that the commander-in-chief would callously berate one of the cities in the United States that he has vowed to protect, defend, and lead," said Gabbin, who is a professor of English at JMU and executive director of the Furious Flower Poetry Center.
She is also a Baltimore native.
Gabbin said she was disappointed the president would "demean a city that has so many elements that are positive by talking simply about 'the rats.'" The president's comments and the ensuing debate over their racist overtones served as yet another flashpoint in a turbulent political environment.
For Gabbin and Furious Flower, which is celebrating its 25th anniversary, it also served as another reminder for why poetry remains a crucial outlet for expression. She described poetry as a "necessary part" of politics that can give much-needed amplification to underrepresented voices.
Gabbin founded Furious Flower as the nation's first center to promote black poetry. And by starting it, she sought to provide a greater platform from which poets can share ideas and pose questions about the current state of the U.S. political system.
Lauren Alleyne, assistant director of Furious Flower, said the Center has offered a way to magnify poetry that shares perspectives that have often gone unrecognized.
"I think the center doesn't focus so much on individual voices, as it does on the chorus of black poets: we're more collectivist and believe in a rising-tides-lift-all-boats approach," she said. "We know that black poets have much to offer the American literary landscape and we are committed to creating opportunities to nurture and amplify them at all levels of their careers."
Celebrating a quarter century
To mark Furious Flower's 25 years of amplifying the voices of black poets, the center is hosting a celebratory weekend Sept. 27-28 in Washington, D.C., that includes a formal benefit gala that Friday evening followed by day-long conference Saturday at the Smithsonian Museum of African American History and Culture.
Gabbin said while it marks a milestone for the genre of African-American poetry, she said she hopes the weekend will serve more as propulsion into the future than a look backward. She said the goal of the gala is to raise money with which to endow the Furious Flower Poetry Center, so its work and archives can be a part of James Madison University "for as long as there's a university."
The anniversary event's theme is "Seeding the Future of Black Poetry." Gabbin said she aims for the event to spread the importance of black poetry across the globe.
"I see it embracing a more diverse demographic in many countries around the world," she said. "Our poets are world class, and they have influenced poets and readers in Africa, South America, Europe, the Middle East and Asia."
"The 25th anniversary event is going to be another landmark, as we both celebrate our past and recommit ourselves to our mission moving into the future," Alleyne said. "It's important that there's a space whose mandate is to build, preserve and share the legacy of black poetry and Furious Flower will continue to be that space."
The origin story
On Sept. 29, 1994, Gabbin orchestrated the first ever conference dedicated exclusively to African American poetry. The conference, called "Furious Flower: A Revolution in African American Poetry," was organized to honor the legacy of former U.S. Poet Laureate Gwendolyn Brooks. Brooks was the first African American to win a Pultizer Prize for her work, and the initial conference's name was derived from one of her poems, The Second Sermon on Warpland.
"The time
cracks into furious flower. Lifts its face
all unashamed. And sways in wicked grace."
The first conference brought together "hundreds of writers, scholars, and poetry enthusiasts," and gained national attention with coverage in media, such as The Washington Post.
The year after its second conference in 2004, JMU officially designated the Furious Flower Poetry Center as a division. Most recently, it hosted a Legacy Seminar on Nikki Giovanni, as well as Furious Flower's Children's Creativity Camp. The Legacy Seminar served as a workshop and roundtable discussion on the works and life of Nikki Giovanni, a civil rights activist, poet, and television personality, who was present at the seminar. The children's camp is a week-long program that offers a series of art workshops for what it calls " expression, inclusion and fun."
Gabbin told The Citizen that many poets she has studied and respects provide a legacy of wisdom about how humane people treat one another — writers such as Sterling Brown, Maya Angelou, Margaret Walker and Giovanni, for instance. She specifically cited Giovanni's Rosa Parks, which includes the passage:
"No longer would there be a reliance on the law; there was a higher law. When Mrs. Parks brought that light of hers to expose the evil of the system, the sun came and rested on her shoulders bringing the heat and the light of truth."
Poetry is a vessel of creation, but Gabbin said she doesn't believe in making art just for art's sake. Instead, she said she believes in "poetry with purpose."
"We are obligated as human beings to share light. And there is light in happiness, light in joy, light in freedom, and light in justice," she said. "And Furious Flower has been a form from which light has been delivered."
Much of the work that Furious Flower celebrates includes historical references and reflections, thereby using poetry as a method to remind us of stories that should not be forgotten, of lessons learned but fading. In reference to both past and future, Alleyne stated,
"Black poets are rooted in the context of America and its history, but also, we bring our enormous imaginations and interests and formal skills and different experiences to our poetry, which moves it into all kinds of directions," she said. "The future of black poetry is thrilling because it is expansive and rich and unquestionably black."
---
Journalism is changing, and that's why The Citizen is here. We're independent. We're local. We pay our contributors, and the money you give goes directly to the reporting. No overhead. No printing costs. Just facts, stories and context. Thanks for your support.