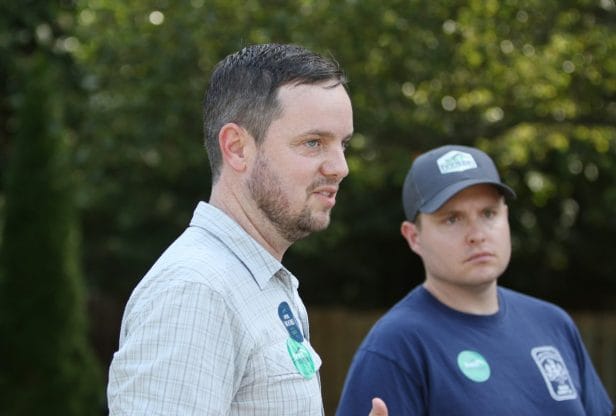 By Jeremiah Knupp, senior contributor // Photos by Holly Marcus
It's late on a Saturday morning, the unofficial last weekend of summer, and the heat and humidity are already on the rise. While November may seem a long way off, political candidates are well aware that there are now less than 10 weeks until Election Day. And so, Brent Finnegan and Kellen Squire are putting leather to pavement in a residential neighborhood just off of Reservoir Street in Harrisonburg.
Finnegan is making a second run for the House of Delegates in the 26th District; Squire announced last week that he's running for lieutenant governor in 2021, making them two of a group Democrats in rural, western Virginia districts who believe banding together will bring success at the ballot box. This summer, 10 candidates for state House and Senate seats announced a coalition called Rural Ground Game, "a candidate support network and organized field program operated outside the official Democratic apparatus," according to a press release.
"It's really important for us to be talking and working together," said Finnegan. "Essentially what we're doing is what rural communities have been doing in Virginia for hundreds of years – share resources, help each other out, it's the barn-raising mentality."
"I think a big piece of this election cycle is education," he continued. "'These are the people on the ballot. And these are the records of the people on the ballot. Please get out and vote.' And if we can do that I think we can win."
If that happens, Finnegan would be the first Democrat to represent the 26th District in nearly 40 years. Republican incumbent Del. Tony Wilt has been elected five times. After winning a three-way race in a 2010 special election, Wilt faced no opposition in the next three elections. In 2017, Finnegan earned 45.3 percent of the district's vote, finishing within less than 2,000 votes of Wilt.
To actually win in a district that pundits still consider safely Republican, Finnegan believes that voters will embrace a sincere, pragmatic candidate who doesn't place his values in a box of a certain color.
"People talk about 'turning Virginia blue,' but I've never said that," he said. "'Blue' is not a value and there are lots of people who don't identify as 'blue.' [People are saying] 'Who's going to help me? I don't care if it's blue, red or any other color.' We're not interested in blue or red. We just have to get to the point that we reject the idea that this is as good as we can do."
Though Squire, who lives in Barboursville, had not declared his candidacy when Rural GroundGame launched, he also stepped into the political spotlight in 2017. That year, he challenged Del. Rob Bell (R-Charlottesville) in the 58th House District, which wraps around Charlottesville to the east and north and includes eastern Rockingham County. Bell, who has been in office since 2002 won that election with 61 percent of the vote.
"In 2017 Brent and I came out on the wrong side of the ledger, but it was the organizing that we did here that ran cover for people in the other parts of the state," Squire said. "I'm pretty sure if we had lost one [seat] in the House the Republican caucus would have held and we wouldn't have Medicaid expansion."
Last week, Squire announced he will run for lieutenant governor in 2021. He said the scandals that rocked the state's Democratic leadership early this year "opened the gate, that was already opened, a little bit wider" for a candidate from ROVA – what Squire calls "the rest of Virginia" – and outside the party's mainstream.
"But that doesn't make it any easier," he noted. "You've still got to do an awful lot of hard work, which is why I figure I've got to get started now to have a real shot at it."
Though he lost his 2017 race by a wide margin, Squire considers it a moral victory that Bell spent nearly half a million dollars defending his seat.
In the 26th District, Wilt spent $143,000 to defeat Finnegan in 2017. While more than twice the amount he's spent when running unopposed, it was about the same as his spending when first elected in 2010.
So far this year, both Wilt and Finnegan are outpacing their fundraising totals from last time. From Jan. 1 through June 30, Wilt's campaign raised nearly $72,000, while Finnegan brought in a little more than $27,000. In the first six months of 2017, Wilt raised just under $40,000 with Finnegan reporting about $17,000 in donations (Finnegan, however, didn't announce his campaign until March of that year).
While Finnegan, Squire and other rural Democrats like them are hoping for support from outside the area – cash and organizational help from "sister districts" in Northern Virginia and other parts of the state where the Democratic machine is well-oiled – they're primarily relying on each other, and their local ground game, as they campaign uphill.
"It feels more organized at the local level this time," Finnegan said. "Since 2017, with the Kaine and Lewis campaigns, we've kind of been working perpetually. I announced this run about two weeks after the last election, so people have just been continuously working."
Squire said he's seen "very few [local political committees], outside of Northern Virginia, that are as organized as here in Harrisonburg," and described this year's election as key to his ability to govern, should he win in 2021.
"2021 doesn't matter if Republicans still hold the General Assembly," he said.
"In politics these days, people are looking less at policy and looking more for the person who is going to be an unapologetic fighter for them," Squire said, recalling a Greene County resident who told him during his 2017 run that "I would have voted for Bernie Sanders. He's goofier than a pet goat, but I believe he would have fought for me.'"
Finnegan agrees.
"Working in the 2016 Democratic primary and seeing the turnout higher than the [2012] Obama/Hillary primary, to me, something's going on," he says. "People want a different kind of Democratic leader, someone who is actually looking out for the interest of the people in the 26th District and not just serving the party."
The pair's Saturday turns out to be a slow one, with many people out of town for the last hoorah of summer. They snag the occasional parent out with their kids or a couple walking their dog, and once in a while, someone opens the door. This was expected, so Finnegan and Squire gave their regular campaign volunteers the weekend off. And in any case, the two believe that standing together is as important as how many hands they'll shake today.