Editor's note: This is the second part in a weekly series by contributor Nzar Sharif examining how individual immigrants who came to the United States seeking a better life have, for various reasons, had to leave behind the skills, talents and careers they had cultivated. You can read the previous articles — the series introduction and the first story about Ako Talabani.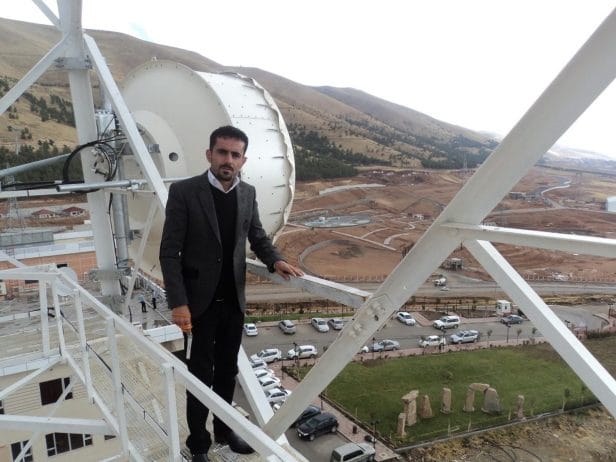 Here is Adil Abdulrahman's story of his transition to the United States as told to contributor Nzar Sharif:
It is very hard to have engineering skills but to open boxes and close them all day along. I was not expecting this lifestyle before migrating to the U.S.
I was an electrical and telecommunication engineer. After I graduated from college, I worked for one of the richest companies in the world which was Huawei.
I established many network connections so people of my home country of Iraq could make phone calls, which helped shorten the distance between people. After a few years of working for businesses across the country, I then decided to take a position and work with local government. I had a wonderful team, and sometimes I miss them. I had an open office and always was passionate about spending more time with my clients and my employees.
I don't have an office now. Instead, I am standing on my feet all day along. All that happened because of a dream that I — and many people around the globe — had about migrating to America. I was sitting on my couch one night, and I saw an advertisement about winning the Green Card lottery (through the Diversity Immigrant Visa Program). I was not sure that I was lucky enough to win that life-changing card called a "Green Card." It was greener in my dreams. I took the chance. I filled the form out. And I hit the submit button and forgot about it for months.
After my name went into the system of the lottery database, I went back to my real life, work and family. I have two little kids who were starting to learn my native Kurdish language. Life in the Kurdistan region of Iraq is very different from what I am experiencing here in the U.S. We used to live within a community of our family and relatives where we could spend time together after work, often just a few blocks away from our parents and siblings. The individualistic life style here is very surprising to me and to my wife.
When you move to a foreign country, you certainly experience some culture shock and face many challenges to survive. Unfortunately, we did not know this side of living in the U.S. before migrating. Nobody realizes that making a living is that hard in the United States. Going to college is almost impossible without getting loans. And another reality is many people judge you based on your color and the origin of where you from are.
I won the lottery. I felt that I was very lucky. Many people work very hard to make it to the United States. But here I am with my family. We easily entered the U.S and became eligible to become citizens after a few years. I mean, who thinks I was not lucky?
But when I think about the dreams and plans that I had when I went to the Visa interview and crossed the border and flew over the Atlantic Ocean, I feel so nervous that none of them was realistic. But I am still dreaming about making something happen — going back to school to obtain another bachelor's degree in electrical engineering certification because my Iraqi certification does not help me in terms of finding jobs.
I know as an immigrant I have a long way ahead of me to reach my goals and raise my kids. As a matter of fact, I have more dreams for them than I do for myself, personally. I am working in one of the giant distribution centers in the Valley. I do work 12 hours a day as a laborer. It is very hard. I mean I must unload boxes and separate them all day long.
The best moment of my work is when they let me clean the floors. Every time when I hold a dust mop, I begin to remember the time when I was holding microwaves or antennas to put them on the telecommunication sites. Or I begin to remember the time when I was testing the light system of houses before a new family moved into them. It is a big difference — big changes. I very often wonder why the society would not utilize my talents and skills. Why are my experiences going to waste? I can contribute in the country. I can put things together and make something if I were offered a chance.
Too often I realize it is not only language barrier that keeps me from utilizing my talents, but it also a culture that has not been inclusive for the past few centuries. I have a big WHY to ask — why bring me to the U.S and not utilize my talents?
Ahead in the series: Next week, a husband and wife team from Venezuela left behind careers in law and medicine.
Journalism is changing, and that's why The Citizen is here. We're independent. We're local. We pay our contributors, and the money you give goes directly to the reporting. No overhead. No printing costs. Just facts, stories and context. Thanks for your support.