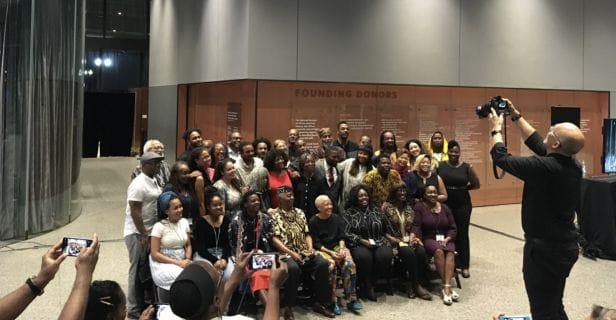 By Kyle Kirby, contributor
WASHINGTON — Beginning with gospel baritone, then transitioning into spoken word then back to song, poet Avery R. Young paced back and forth across the stage. He held onto the podium as if it were his only support, then leapt back up with vigor, as he performed one of his poems for the audience of about 600 gathered before him in the National Museum of African American History and Culture.
"Shake you, my soldier, we gonna die together, and this water comin', oh water comin', no money no gas, no food truck stuck at a curse of this middle passage and this water comin' in, this water, keep comin' in…" Young sang.
Young was the first of nearly two dozen poets over two hours to share their work at the final night of Furious Flower's 25th Anniversary Conference last weekend. The conference took place in the National Museum of African American History and Culture in Washington D.C.
Each poet brought a distinctive style, voice and ideas to the floor. While varied in tone and subject, they blended seamlessly together. The readings served as the climax to a weekend of celebration, sharing, remembrance and respect for Furious Flower, as the JMU-based poetry center marked a quarter century of amplifying the voices of black poets.
The weekend-long event attracted black writers and speakers from across the nation — and some from abroad — who came to share not only in their history, but their visions for the future.
"The future is bright for black poetry," Young said. "As a poet, I believe I am in a tradition of pushing the work forward."
The Furious Flower African American Poetry Center was founded by Joanne Veal Gabbin, in part to honor poet Gwendolyn Brooks, who died in 2000 and left behind a legacy of influential writing and was the first black author to win the Pulitzer Prize.
Lauren K. Alleyne, assistant director of the Furious Flower Poetry Center, told The Citizen how treatment of black poets has changed throughout history.
"The impetus for the 1994 Furious Flower conference was to celebrate Gwendolyn Brooks, who had been slighted by the academy in her pursuit of employment because she was — despite having won a Pulitzer — not credentialed — read, not good — enough," Alleyne said. "This is not the case anymore."
She said the weekend was, in large part, a testament to the black poets who have "broken through so many barriers."
"We are Pulitzer winners and McArthur geniuses and National Book award winners and professors and directors and CEOs of cultural institutions," she said. "Black poetry is in its renaissance and that's just incredible to witness and be a part of. And it's only going to keep going."
In her welcome speech Saturday, Gabbin said the African American History Museum was a sacred place.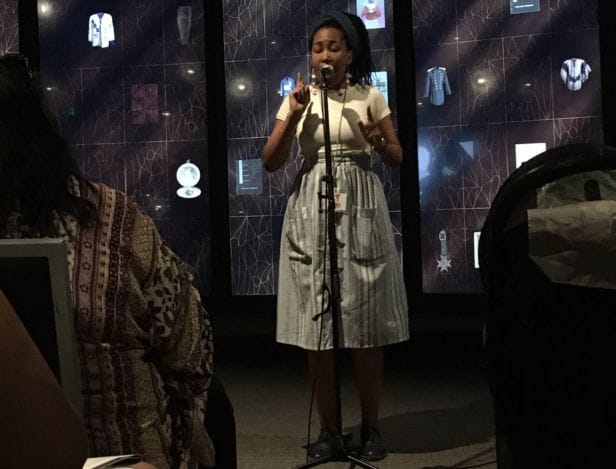 Many of the speakers expressed gratitude not only for being present at the conference but also for the legacy that was left to them by writers such as Carmen Gillespie, who died Aug. 30.
Nationally-recognized poet Nikki Giovanni also paid tribute to novelist and poet Toni Morrison, who died Aug. 6, with a poem in her honor. Giovanni read her poem called A Bench for Toni Morrison, which includes the lines:
"… but benches are actually a metaphor, and mostly they are the voice on the other end of the phone who says, 'Write,' when you say you are sad to lose your mother, 'Write,' when you don't know where to go, 'Write,' when the only person who can read you is on a cross, 'Write,' because that's your job. Toni Morrison said to me when my mother died, 'Write.'"

Giovanni's A BenCh for Toni Morrison
Many speakers referenced the arts and writing as a way to put names to what would often otherwise be unspeakable moments and acts.
John Bracey, professor of the W.E.B. Du Bois Department of Afro-American Studies at the University of Massachusetts, has spent much of his life as a historian.
"They train the feeling out of you," said Bracey during a panel on critical perspectives. "When you study slavery – if you don't feel anything when you study slavery – you gotta stop studying it. But we're [historians] trained not to put that in, 'Don't cry on the page, don't shout when you read about the lynching, just write down ten people got lynched…Minimize the emotion, concentrate on the facts that we can document' and so forth."
Bracey added that what's beautiful and powerful about poetic voices is that they thrive on what they hear, feel and see in the world around them.
"It leaves you with an understanding of the world that you can't get by looking at numbers," he said.
The Critical Perspectives panel also featured Kwame Dawes, a professor of English at the University of Nebraska and editor of the Prairie Schooner; Evie Shockley, professor of English at Rutgers University and Pulitzer Prize Finalist in 2018; Meta DuEwa Jones, Professor of English at the University of North Carolina Chapel Hill; and Nagueyalti Warren, a professor of African American Studies at Emory University.
Much of what panelists, poets and participants shared throughout the conference focused on identity. During the Critical Perspectives panel, Warren spoke of the difficulties faced by LGBTQiA+ people due to their non-conforming identities.
"The necessary act of transforming silence into speech, and the suggestion by Audre Lorde to stop killing the other in ourselves, the self we hate in others, is as necessary today as it was in the 20th century when Lorde uttered those words," she said.
The conference also featured international writers, including a group of young poets from Eswatini in southern Africa. While their portion of the conference was fairly brief, they passionately performed poems. The poets included Samkelisiwe "Sammy" Nkambule, Ntokozo "The Conductor" Mdluli, Quiniso "Qibho" Motsa, and Nontobeko "Ntobie" Ndzabukelwako.
One poet in particular, Thamsanqua "Krtc" (pronounced like courtesy) Sibandze, shared words about cultivating strength in one's identity. Based on the Swazi greeting 'sawubona,' which means 'I see you,' the poem Sibandze chose to share expanded upon the dignity that lies in identifying others and being identified.
"Sawubona. I See You. I see you not being sure who to please, on any given day, with your life choices, and I am here to say: Do you. I see you struggling with your identity and I am here to say: Be you. Because a lot of the confusion and unrest that is going on in the world today has more to do with the fact that we have lost sight of who we are."
After the performances, Sibandze told The Citizen he performed earlier this year at a festival in front of 75,000 people.
"But I'd still prefer this kind of intimate setting…the connection here is more real," he said. "You can almost literally eyeball everyone in the crowd…Thematically, that's why we show up…we wanna show up and introduce ourselves. That's why I'll touch base with some of the language, translate it a bit. People will do the African chants, just to give a sense – sonically – [of] what do we listen to, what inspires us."
In 1994, the first Furious Flower conference created a rare space for black poets to share their stories and love of poetry. That's why so many prominent poets and aspiring artists showed up for the 25th anniversary, Alleyne said.
"For Furious Flower, I think it's a milestone that has encouraged us to keep going, to keep moving forward, to recommit to our mission to celebrate the amazing work being done by Black poets," she said, "to keep educating students and teachers about this work so that it lives on through school curricular and is passed on, studied and appreciated, to preserve this legacy for future generations, so that when some of our elders become ancestors, we retain access to their wisdom and words.
"So that we remember who we are."
This article has been updated to correct the attendance figure for the event.
---
Journalism is changing, and that's why The Citizen is here. We're independent. We're local. We pay our contributors, and the money you give goes directly to the reporting. No overhead. No printing costs. Just facts, stories and context. Thanks for your support.