By Nzar Sharif, contributor
Three weeks after President Trump announced a withdraw of U.S. troops from Syria, members of the Kurdish community in Harrisonburg gathered to protest the Turkish military aggression in that part of Kurdistan — the region stretching across eastern Turkey through northern Iraq that constitutes the Kurds' traditional homeland.
Sunday's protest was part of an effort by Harrisonburg's sizable Kurdish community to raise awareness about the Turkish attacks. While the U.S. and Turkish governments have announced that Turkey would cease its military aggression, news organizations on Thursday quoted Kurdish leaders who said the Turkish attacks continue.
For many of those in the Kurdish community of Harrisonburg — and those in support of the Kurds — raising awareness is important.
"We will continue to work on letting the citizens of Harrisonburg know what is happening in Syria," Zhyar Abdul, one of the protesters, said on Sunday. "We will work on raising awareness that the U.S.'s only true friend of Middle East could not be left alone."
Right after the phone call between both presidents of U.S and Turkey which occurred on Oct. 6, the Turkish government started a military operation to northeastern part of Syria knows as Rojava. Since then, over 250,000 Kurds have been displaced and countless have been killed by the Turkish attacks.
Many Kurdish immigrants of Harrisonburg have family, relatives or friends who are affected by the conflict on Syrian border.
Diari Dartash, one of the spokespersons on behalf of Kurdish community who helped organized the protest, said he believes that Kurds need to be united now more than any time before.
Dartash also mentioned that two weeks ago they led a protest in front of the White House in Washington D.C.
"Many fellow Kurdish were joining our protest from other states," he said. "We thought it is a good idea to do the same protest in Harrisonburg and let the local communities know what is happening in Rojava."
The ongoing conflict of the Middle East over the past century has spread the Kurds throughout the world. In the U.S. there are about 17,000 Kurds, mainly in Tennessee, Florida, Texas, California, New Jersey and Washington, D.C. , according to 2013 census data.
Kurds' immigration to the U.S does not have a long history. The first wave of Kurdish immigration came in the 1970s after the conflict between Iraqi government and the Kurdish revolution that ended in 1974. The Second wave of Kurdish immigration to the U.S was in the mid-1990s as thousands of Kurds fled from Saddam Hussein's regime — mainly those Kurds who were working with U.S-based organizations in Iraq. The most recent wave of Kurdish immigrants arrived after 2011 at the beginning of the Syrian Civil War.
Harrisonburg is now home for almost 1,600 Kurds.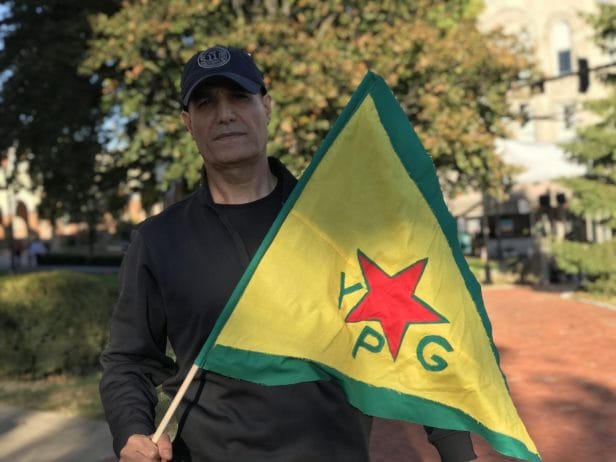 For those who are part of that community, what has happened in northern Syria has been deeply personal.
"America's exit from Syria has created a new cross-border conflict and betrayed its friends," Mamosta Chiya said.
He also explained to The Citizen what he sees as the current situation in Rojava.
"The Turkish government is trying to invade Kurdistan. The army actually on its way to do that," he said. "The main motivation for this invasion was President Trump's decision by withdrawing the U.S troops in Rojava."
During the protest, Chia raised a YPG flag. The flag represents the People's Protection Units, a Kurdish party that's powerful in Rojava. He said he knows American people have compassion for the Kurds, and he was urging Americans to continue to push the president and U.S government to stop Turkey.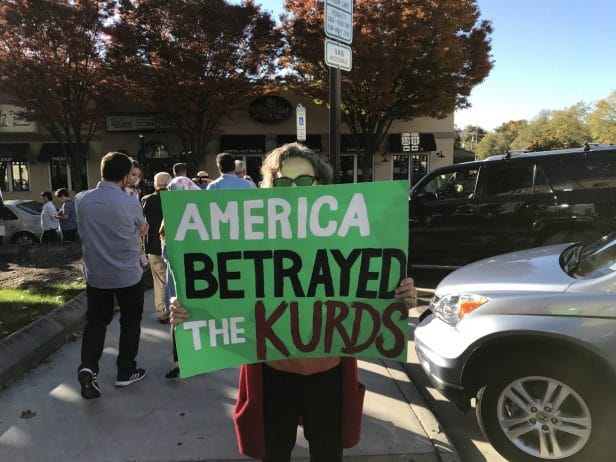 Among the many Kurds who were protesting Sunday, there were many American and other non-Kurdish citizens of Harrisonburg.
Luciano Benjamin was one of those.
"I came to be with my fellow Kurdish people of Harrisonburg to let them know American people care about them," Benjamin said. "We understand Kurds are suffering now under a wrong decision made by the president of the United States, but we American citizens care about them."
Benjamin said he believes that situations like this are human rights issues and demand people's attention.
Benjamin said he doesn't agree with the way the U.S. government has handled it.
"It is criminal to me — the people who fought for the U.S in the Middle East are dying, and the U.S does nothing about it," he said. "We, as citizens, need to do something about it. I, as an American citizen, will continue marching with Kurdish community of Harrisonburg until something happens."
Mariah Liskey wants to be with those immigrants in Harrisonburg even though her country's army has left them in the battlefield. Mariah has worn a Kurdish cloth. "American people are with the Kurds," she said.
Dartash, one of the organizers, showed his appreciation to the citizens of Harrisonburg who joined the protest that happened in front of court square.
He referred to a resident who stood with a sign that read: "America betrayed the Kurds." That means the American people knows how their policy affected many people's life overseas, Dartash said.
The protest was largely advertised through social media. And the Kurdish Community is continuing its advocacy, including asking members of Congress to weigh in. During Sunday's demonstration, organizers urged protesters to sign a letter to U.S. Rep. Ben Cline to support two resolutions that would impose sanctions on the Turkish government.
Journalism is changing, and that's why The Citizen is here. We're independent. We're local. We pay our contributors, and the money you give goes directly to the reporting. No overhead. No printing costs. Just facts, stories and context. Thanks for your support.