Editor's note: This story was last updated at 11:57 p.m. with the final totals in the 26th Senate District to reflect the last precinct reporting from Shenandoah County. HD26 vote totals were updated at 9:45 pm to include Rockingham County absentee votes.
With results in from all precincts, Republican incumbent Del. Tony Wilt has won reelection in House District 26. According to unofficial results compiled by the city and county registrars, Wilt defeated Democratic challenger Brent Finnegan by 10, 270 votes to 8,722. Wilt carried 54.1 percent of the total vote, winning by a slightly smaller margin than in 2017, when he also defeated Finnegan.
"I know you did it for the 26th and you did it for the state of Virginia," Wilt told supporters at his watch party at El Charro. "The policies were put out there that were very concerning to people. You rose up and you worked hard and you got out the vote to stand against that."
Although Finnegan won nearly two-thirds of the vote in Harrisonburg, Wilt improved on his 2017 dominance in the county, winning 73.3 percent – more than enough to ensure his reelection.
"We got out and we worked hard and that work is not something that you'll see pay off in one of two election cycles," Finnegan said as his campaign's watch party wound down at the Golden Pony in downtown Harrisonburg. "We'll continue that work to help Democrats make inroads in rural Virginia."
Turnout in the district this year was down, with 18,677 total votes (not including city write-ins). In 2017, Wilt won 54.5 percent of 20,370 votes cast.
Sen. Obenshain also wins his rematch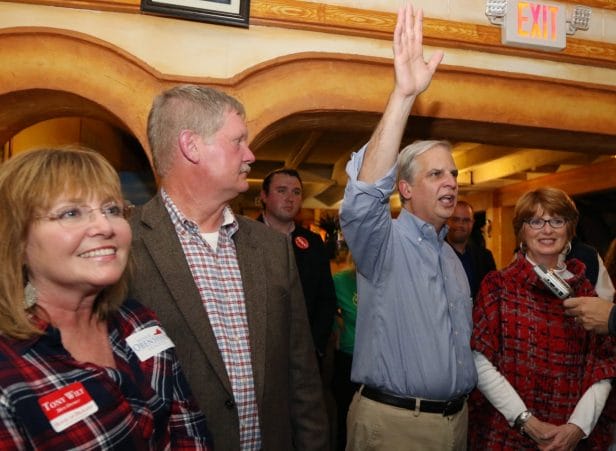 Harrisonburg's Republican Sen. Mark Obenshain also has won reelection to a fifth four-year term in the Virginia Senate. Obenshain won with nearly 65 percent of the vote in his defeat of Democratic challenger April Moore. Obenshain won with 36,986 votes compared to Moore's 19,937, according to the unofficial totals after the last Shenandoah County precinct reported shortly before 11 p.m.
"We've got an awful lot of work to do," Obenshain told to the crowd at El Charro's. "We'll continue to work for these principles that bind us together. I call them 'Shenandoah Valley values.' Those are the kind of foundational values that we really believe in, that unite us, that really give us direction. Frankly, it's the reason we're going to continue to win elections in the Shenandoah Valley and we're going to continue to build on this and expand outward as well."
In 2015, Obenshain also defeated Moore, winning 68.7 percent of the vote.
As happened in the HD26 race, Moore won in Harrisonburg by a large margin, earning 65.6 percent of the vote. Obenshain, however, won nearly 75 percent of the vote in Rockingham County portion of the 26th Senate District, and won comfortably in the other four counties in the district.
— Reporting from the Election Night parties by Jeremiah Knupp.
---
Journalism is changing, and that's why The Citizen is here. We're independent. We're local. We pay our contributors, and the money you give goes directly to the reporting. No overhead. No printing costs. Just facts, stories and context. Thanks for your support.