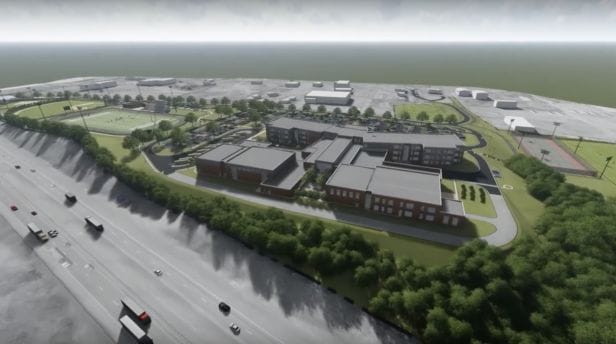 By Bridget Manley, publisher
While some common themes have emerged among suggested names for the new Harrisonburg high school, the committee charged with recommending finalists to the school board is asking the community to keep submitting options through Thursday.
Some trends are emerging, and the Naming Committee, which met Saturday, has roughly outlined the most frequently suggested names to recommend to the school board. But the committee hasn't yet decided how many finalists to give to the board at its April 5 meeting. The board's goal is to select the name, mascot and colors for the new high school by early May.
Rocktown High School is still the most frequently submitted name so far, but other themes have emerged, said Cathy Copeland, who chairs the Naming Committee of 14 people.
Variations of Valley names – like Valley View, Valley High, Shenandoah Valley, Valley Ridge – are the second most popular submissions, and the committee is combining those submissions into one "Valley" category.
Third most popular are names with "south" in it, recognizing the location in town where the new high school is being built. Names like South Side, South Harrisonburg High School, South Main and South Valley fall in that category.
In a nod to Harrisonburg's history, the fourth most popular submission is Newtown High School. The Newtown community was built in the Northeast section of Harrisonburg by and for African Americans following the Civil War.
Friendly City High School has come in fifth so far, and Lucy Simms rounds out the top six most frequently submitted names.
Lucy Simms, who was a beloved educator in Harrisonburg, is the most popular name of a person submitted.
Harrisonburg Mayor Deanna Reed and former Mayor Joe Fitzgerald, both members of the committee, said while Lucy Simms might seem like a good choice, some members of the Northeast Neighborhood and other prominent Black voices in the community hope that name is not chosen.
The Lucy Simms School, named in her honor and used as a school for decades, still stands in the Northeast Neighborhood and is used as a community center. Reed said for people who attended the Lucy Simms School, that is their school name.
"When I brought up Lucy Simms, they were like, 'we've already got Lucy Simms. Why?'" Reed said. "And so, that needs to be understood, that Simms is already a school name."
The committee is also weighing the importance of names that might not be obvious but important to honoring diversity in the area and the history of the people who lived here.
Names including Six Nations, Hardesty High, Welcoming High School and its Spanish version Bienvenido High School, Mole Hill, and Great Wagon Road High School (to honor Route 11) are among suggestions that would fall in that category.
The committee is still debating the best way to give recommendations to the board without overwhelming them with options.
The committee will meet April 1 to finalize its recommendations to the Harrisonburg City School Board at Bluestone Elementary School. They will continue to take suggestions for the new high school's name until March 31.
Residents have nominated some local and national figures, but the board enacted a policy last year that while buildings can be named for anyone who is deceased, outside of "extraordinary circumstances," the school board won't consider anyone still living.
That policy eliminates suggestions that have come in, such as Ralph Sampson High School, as well as naming it after Deanna Reed, Barack Obama, or Donald Trump.
And for some levity, the committee received two submissions for "Schooly McSchoolface High School."
Harrisonburg Vice Mayor Sal Romero, who also sits on the committee, said while many submissions have been suggested, including through the school district's website, the diversity in those submissions was lacking.
Romero said surveys often aren't the best way to reach everyone, especially for people who don't speak English as their first language.
"This data is not very representative of the community," Romero said. "There is not the diversity [in the survey responses] that we see in our school system."
Romero volunteered to hold focus groups for greater participation, but the committee doesn't have much time left before the April 5 deadline.

Possible School Colors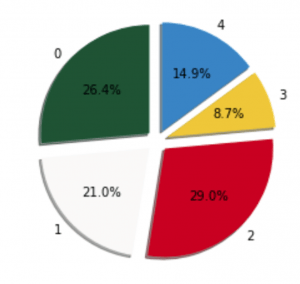 The committee is also working on recommending possible school colors and mascots to the school board. And two ideas have emerged for possible school colors.
In part because Harrisonburg is a Refugee Resettlement City, city schoolchildren represent 54 countries from across the globe.
Harrisonburg City School Data Manager and committee member Nzar Sharif took the flags from all 54 represented countries and put them into a computer program, creating a chart showing what the most common colors were.
(Sharif is a former contributor to The Citizen.)
Another idea Copeland floated was to use the colors from the "Welcome Your Neighbors" yard sign, which was born in Harrisonburg at the Immanuel Mennonite Church and has since become a nationwide symbol for welcoming immigrants.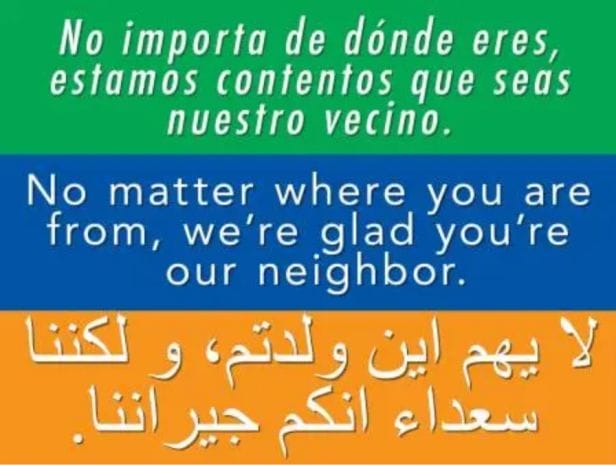 ---
Journalism is changing, and that's why The Citizen is here. We're independent. We're local. We pay our contributors, and the money you give goes directly to the reporting. No overhead. No printing costs. Just facts, stories and context. We're also a proud member of the Virginia Press Association. Thanks for your support.