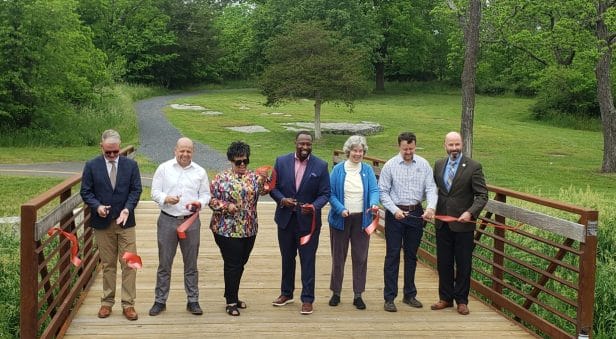 By Chip Lauterbach and Rachel Petterson, contributors
After a seven-year journey, city leaders and bicycle enthusiasts on Wednesday took a moment to celebrate the official opening of Friendly City Trail — a lynchpin of efforts to make the city more pedestrian and bike friendly while also linking school campuses. 
Mayor Deanna Reed and members of the Harrisonburg City Council cut the symbolic ribbon on a new bridge at the section of the trail in Hillandale Park.
Christopher Jones, the council member who was serving as mayor in 2015 when the project began, expressed a combination of relief and joy that, after seven years of meetings and construction delays, the community can finally enjoy a trail that connects several parks and school campuses.
"My role in all of that was to steward some of those conversations and relationships, and to see the overall vision grow and flourish into the Friendly City Trial, it's extremely refreshing and energizing," Jones said. "It lets me know that all of those partners and players can come together to do even greater things for the rest of our city in other parts in the future."
Harrisonburg City Public Schools Superintendent Micheal G. Richards spoke briefly, saying how the trail meshes with the city schools' focus on outdoor learning and environmental stewardship. For instance, Keister and Spotswood Elementary schools are slated to get major upgrades to their outdoor learning spaces.
"We're trying to bring Harrisonburg (residents) out into this beautiful place that we call home." Richards said. "You know getting some electric (school) buses is something we're working on, and getting more kids to walk and ride bikes to school is healthy and wonderful for all of us."
For Reed, watching the first groups of cyclists of all ages riding on the trail just moments after cutting the ribbon brought a smile to her face
"This was something that I felt was a priority," Reed said. "It was always a priority — not just for me, but for every other councilmember. We knew that this needed to get done, and people were using the trail before we even officially opened it. That's how important it was to get this completed, so the community could enjoy it.
The trail expanded to connect the already existing trail at Westover Park with Thomas Harrison Middle School. Heading south from there, the trail runs between Heritage Oaks Golf Course on the western side and Rocktown Trails and Hillandale Park on the eastern side. It ultimately comes out at the Harrisonburg High and Bluestone Elementary schools' campuses.
Via the connection between sites that the trail offers, residents of Harrisonburg can use it as a means of practical transportation while simultaneously enjoying the aesthetic that the trail has to offer.
"It's certainly a unique thing for our community because you can walk to the disc golf course at Westover Park, you can walk to the golf course at Heritage Oaks, you can walk to the schools," said Micheal Parks, the city's communications director. "It's just so incredible because you're just a couple minutes from downtown Harrisonburg — from a JMU campus of 20,000 people. But you can walk out here, and you're completely in nature and you can see all these things and you can enjoy the outdoors."
Carl Goetz, a Harrisonburg resident and member of the Shenandoah Valley Bicycle Coalition, said he was excited about the prospect of allowing more people to safely travel across the city by bike.
"It was a car-centric city and in certain places, horse-and-buggy-centric, and there was really no bicycle infrastructure within Harrisonburg to speak of," Goetz said. "And now I can ride basically all over town using shared use and designated bicycle paths and go pretty much anywhere, particularly on the western side."
He said he expects more infrastructure on the eastern side of the city. For instance, some of the traffic patterns are slated to change around University Boulevard to allow for bike lanes.
"It's just nice to have an alternative, and you're not out there necessarily with traffic. Some people are really afraid of riding in traffic, so this gives them an opportunity to get out and ride their bikes through town," he said.
Goetz's friend, Yogi Gillette, stood waiting with him, both ready to hit the trail. Gillette said among those who will benefit from the trail are Harrisonburg students, and he said he was proud of all the effort of many people to get the trail from an idea to reality.
"You know the most important thing here is that it connects the schools. That's a good thing," Gillette said. "This is just a wonderful example of people getting along. It's fantastic. And I love the exercise. It's the perfect trail. There's hills, there's level areas. I can bring my grandkids out here."
---
Journalism is changing, and that's why The Citizen is here. We're independent. We're local. We pay our contributors, and the money you give goes directly to the reporting. No overhead. No printing costs. Just facts, stories and context. We're also a proud member of the Virginia Press Association. Thanks for your support.