A community perspectives piece by The 50by25 campaign
Harrisonburg has a commitment to sustainability.
The City Council approved the city's first Environmental Action Plan (EAP) in early 2020, and ordered a Greenhouse Gas (GHG) emissions inventory. In late 2020, City Council unanimously adopted a resolution to reach 100% renewable energy on our local electrical grid by 2035. The City's first GHG inventory report was approved in 2021, with plans to update and set GHG targets in late 2022. Harrisonburg has additionally committed (2022) to pursue a Federal Department of Energy SolSmart designation to promote solar power.
Actions to date are essential and praiseworthy, but insufficient.
Worldwide scientific consensus demands a reduction in our GHG emissions by 45% by 2030 to avoid catastrophic climate impacts. Cities are crucial to the adoption of measures to reduce these emissions. Harrisonburg's 100% Renewable Energy Resolution recognizes the urgency of action, but so far the City has no plan to pursue the scale of reducing emissions that science has established. The single largest GHG source the City can influence is our electricity. Our City Council, however, has provided no direction to its utility, Harrisonburg Electric Commission (HEC), to align operations and priorities with those of the City. While City operations produce only 4% of Harrisonburg's emissions, HEC is responsible for at least 32% of the total. This figure will go up significantly in coming years, as diesel and gasoline vehicles are replaced with electric vehicles.
Harrisonburg City Code identifies HEC as "a unit of City government." HEC is owned by the City and operates pursuant to City Code. That code requires HEC to operate in an "orderly, economic, and businesslike manner." In contracting for electricity with Dominion Energy in 2011 to provide 100% of the City's electricity until 2031, HEC sought and obtained low rates and excellent reliability. At that time, HEC had no direction from the City Council to pursue innovative options to allow the City and HEC to work together to improve environmental sustainability. HEC still doesn't have direction for Council, but the need to do so is indisputable.
With appropriate direction from City Council, HEC can be encouraged to negotiate in its next contract greater energy freedom as well as price protection for Harrisonburg residents. One example is for HEC to have freedom to build and operate low-priced, local solar generation (far below Dominion cost). Another is for HEC to engage in a competitive bidding process in selecting the City's next energy provider. There are other examples. The next contract does not take effect until 2031, but negotiations begin in 2023. In the meantime, the City must find ways to make as much progress as possible toward its GHG emission reductions, consistent with HEC's current contract.
There is no time to waste.
Renewable energy can help protect us from rising prices, but only if we do it right!
Since October 2021, the cost of residential electricity in Harrisonburg has risen by about 20 percent, due mainly to the rising cost of natural gas, as reflected in the "fuel cost adjustment" shown on HEC bills.
Dominion Energy, HEC's energy provider, is experiencing high "impairment" costs from early retirement of polluting energy plants, especially coal plants. Going forward, many of Dominion's recently built gas plants may meet the same fate, leaving ratepayers stuck with the bill. This is like purchasing a home with a 30-year mortgage, but having to abandon it after 20 years, while still having to pay off the mortgage. Dominion is seeking to pass these large impairment costs on to ratepayers, further raising rates for HEC and other Dominion customers. These rate increases will have a profoundly detrimental impact on the 61% of the Harrisonburg population that is designated ALICE (Asset Limited, Income Constrained, Employed) or below the poverty level.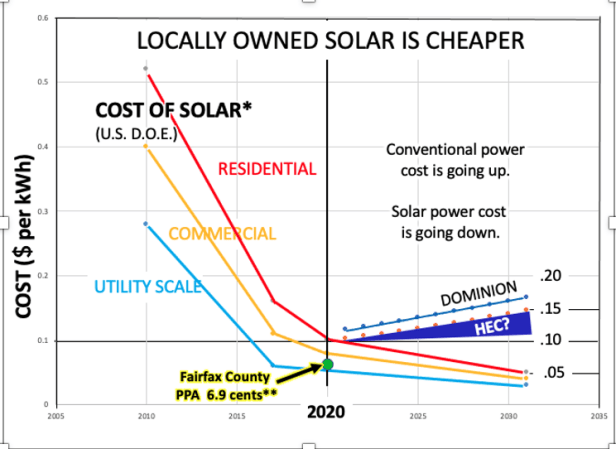 * US Department of Energy source
** In 2019, Fairfax County negotiated to purchase solar power through power purchase agreements at a price of 6.9¢/kWh. They project $25 million in savings to the County over the life of these contracts.
Current HEC and Dominion prices are higher than shown here, due to a rapid rise in "fuel cost adjustment" from the rising cost of natural gas electricity generation
Although HEC itself is constrained from reducing GHG emissions on its grid by generating its own renewable energy, City Council is not. Locally owned solar is cheaper; battery storage is becoming more affordable. Well-planned development of local solar resources can help protect Harrisonburg citizens from the high and rising costs of the energy Dominion provides. Until 2031, City Council can actively work to reduce GHG emissions through locally produced solar while saving taxpayer money. City Council can put solar panels on municipal properties (like the Turner Pavilion) and schools, with immediate taxpayer savings in energy cost, on the order of 30% or more. For example, when the solar array at Bluestone Elementary School is put in service later this year, the school's average energy cost over the next 25 years will drop to between 5 and 6¢ per kWh, much lower than the current 10.9¢ rate that the schools currently pay HEC for electricity.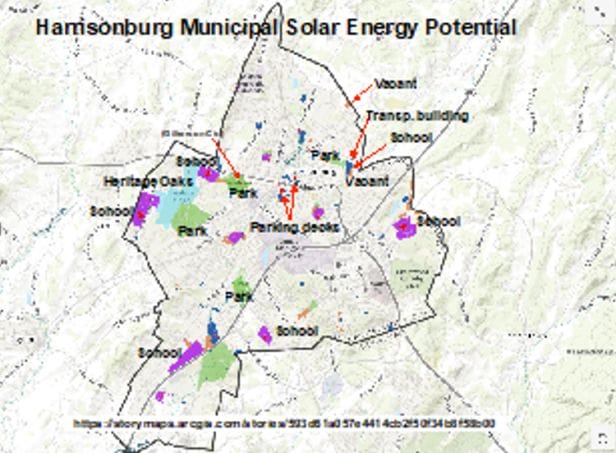 City Council can also leverage its decision to join the SolSmart program by actively encouraging and incentivizing city residents and businesses to install solar panels and battery storage. It can seek grant funding, and establish funding mechanisms to assist residents and businesses. It can explore the possibility of establishing a Green Bank.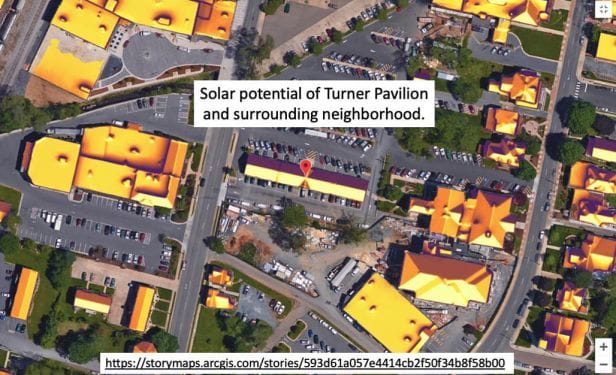 Unfortunately, Harrisonburg cannot do all this without cooperation from HEC. The most appropriate and straightforward way for City Council to provide guidance to HEC is to amend City Code section 8-1-8 to include the words "environmentally sustainable" in the description of expectations for HEC. The new wording would be "…environmentally sustainable, orderly, economic, and businesslike…." This language would give HEC Commissioners the direction and the incentive to pursue GHG reductions, in a way most beneficial to the Harrisonburg community. Otherwise, HEC has neither the incentive nor the direction to collaborate with City Council to reduce GHG emissions. City Council has the authority to provide such direction.
Why change City Code?
Communities in Virginia are getting electricity from the sun today for much less than HEC customers are paying for HEC power, including Dominion-owned solar power. Dominion's profit motive is at odds with HEC's affordability efforts (worthless gas plant). We cannot wait to act until 2031. Until HEC has a new contract, City Council and our municipal utility must work together to reduce as many GHG emissions as possible.
Adjusting our City Code is the most straightforward way to align the goals of HEC with the goals of the City. It is a necessary first step to unlocking solutions to the challenges of spiraling energy cost, energy freedom and electricity burden for Harrisonburg families.
Who can benefit?
The 2018 average electricity burden for zip code 22801 was reported at 4.1%, and is undoubtedly even higher today, due to recent rate increases. Anecdotal evidence suggests there are many Harrisonburg neighborhoods with a majority of residents who experience a greater than 10% energy burden." With
careful planning and management, all Harrisonburg residents and businesses, but especially those with high energy costs, can enjoy lower energy costs and a healthier environment.
What can you do?
Let your City Council members know your views on the problems and the potential remedies. Ask them to live up to their commitments.
Vote for City Council candidates whose views reflect yours.
Join 50by25 Harrisonburg and other groups to help Harrisonburg reduce every resident's energy costs and lower the City's GHG emissions.
Urge the City to work with JMU, EMU, and local industry, businesses, and other organizations (including churches) to reduce their contributions to the City's GHG emissions.
The 50 by 25 campaign originated in compassion for the earth and our neighbors, and moving toward a clean energy transition can help build a sustainable future. We are a group of Harrisonburg residents and neighbors based out of Renew Rocktown.