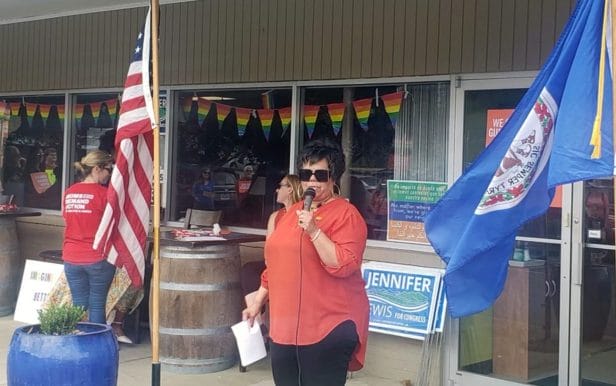 By Chip Lauterbach, contributor
Happening in conjunction with more than 400 "March For Our Lives" rallies around the United States over the weekend, proponents for gun safety called for tighter gun control laws in the wake of several mass shootings across the country.
Mayor Deanna Reed told the crowd of about 50 people who participated in the rally that gun violence epidemic is getting out of control.
"Since January 1st there have been over 200 mass shootings in this country," Reed said. "People shouldn't have to be afraid to send their kids to school."
Another focus of the event was a memorial made up of flowers with the names of the 19 children and two teachers killed May 24 after a gunman entered Robb Elementary School in Uvalde, Texas, and began firing.
Jennifer Lewis, the Democratic candidate for Virginia's 6th Congressional District, said gun violence has become worse since her time in high school more than 20 years ago.
"I was a senior in high school when Columbine happened. We thought that was the worst thing that could happen in this country — murdered at school," Lewis said. "But now it's become such a normal thing that we've had this many shootings."
Lewis also touched on her experiences as a mental health social worker and said people with mental health issues have become scapegoats in the wider debate over gun control.
"As a mental health worker, I have clients who had their lives saved because of red flag laws, so I would like to push for that nationwide," Lewis said. "Especially when a big portion of gun deaths are suicides. We are the only country that has these gun issues, so it has to be something that we change within our gun culture and stop making people seeking mental health out to be the scapegoats of society's problems."
The Harrisonburg Democrats hosted Saturday's "March For Our Lives" rally.
"For too long, Republican leadership has ignored this growing problem," said Alleyn Harned, chairman of the Harrisonburg Democratic Committee, who helped organize the rally. "They care more for their funding from the NRA than they do about the kids in our communities."
By Sunday, Republican and Democratic U.S. Senators who had been negotiating over measures aimed at curbing gun violence announced the framework for a bill.
In addition to Reed and Lewis, Liz Howley the head of the local Moms Demand Action chapter and Sabrina Abdulla, a rising senior at Thomas Harrison High School also addressed the crowd.
"The most important thing to realize is the fact that nothing is being done, these shootings keep happening and people are becoming so normalized to it, that they feel there is nothing they can do about it," Abdulla said.
After each speaker had their time, all who were present then began the quarter mile walk from the Harrisonburg Democrats headquarters to Courthouse Square. People marched carrying signs with slogans like "End Gun Violence Now" and "Votes save lives."
Across the country Saturday, thousands of Americans gathered to participate in "March For Our Lives," which began after a shooter killed 17 students and wounded 17 more at Marjorie Stoneman Douglas High School, in Broward County, Florida on February 14, 2018. The protest movement began with the student survivors of the attack, including David Hogg and Emma Gonzalez, and has gained support across the nation.
More than 45,000 people died as a result of gun violence during 2020, according to the Centers for Disease Control and Prevention. That year also brought record gun sales as the country was dealing with lockdowns due to the Covid-19 pandemic.  More than 19,000 people have died as a result of gun violence in the United States so far this year. Recently it was announced that gun violence is now the leading cause of death among school aged children.