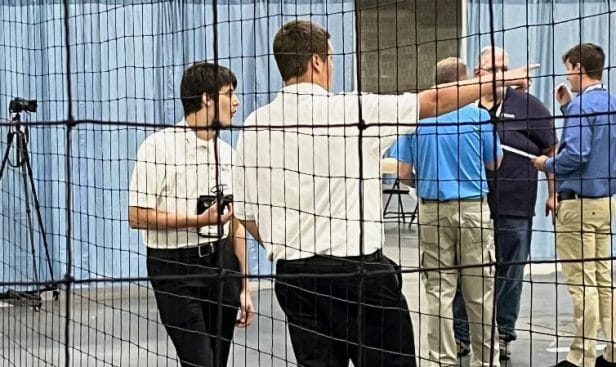 By Grant Johnson, contributor
Sam Satterwhite tapped his foot nervously as he gazed upon a vast convention center filled with nearly 13,000 students and teachers. Three unknown drone-flying courses awaited Satterwhite, backed by a novice drone coach in a new program.
Still, Satterwhite, a rising Turner Ashby High School senior and Massanutten Technical Center student, and his partner Levi Christian navigated air conditioning turbulence and WiFi interference to claim bronze in the first-ever in-person Commercial Drone Demonstration Contest at the SkillsUSA Championships last month in Atlanta.
Bud Richie, who served as Satterville and Christain's coach and has been an instructor in Massanutten Technical Center's cybersecurity program for 11 years, taught himself how to fly drones two years ago through "YouTube-ersity," short for the learn-it-yourself-approach at YouTube university, as he calls it.
The center's director became fascinated with drones after watching them at a state fair, Richie said, so when he saw Richie flying drones in his classroom for fun, Richie became the guy for the program.
It made medaling in Atlanta even more surprising, Richie said.
"Because it was our first year competing in drones, we just went in, you know, 'Hey, let's see what this is. Let's fly our best,'" Richie said. "We didn't really know what to expect going into it. We did not expect to place first."
Satterwhite and Christian represented Massanutten Technical Center, a career- and technical-focused school in Harrisonburg for high schoolers and adults, at nationals. Masonry, carpentry and 19 other of the center's programs serve as electives that 10th-12th graders in Harrisonburg City and Rockingham County public high schools can take every other weekday. Drone flying is part of its Cybersecurity Systems Technology program.
Karen Kitzel, associate director of SkillsUSA communications, said in an email that the SkillsUSA championships is for skilled trades students in high school and college and it is by invitation only; all competitors won their state contest earlier in the year. SkillsUSA held 108 contests in Atlanta from June 20-24.
While the students and coaches didn't know what the exact drone competitions would be in Atlanta, Richie knew the gist. There was an exam: the Federal Aviation Administration Part 107, which tested them on knowing drone-flying elevation laws and reading weather reports. 
Richie also put Satterville and Christianson through real-world scenarios in preparation of the in-action contests, like having the two take photos with drones by following a flight plan in MTC's 10-by-10-by-20-foot netted drone arena. Richie said he wanted Satterville and Christian to practice flying 2-3 hours per week before nationals and sometimes he'd have them race drones to make it interesting.
In Atlanta, the drone contest included three competitions over three days: manual flying, autonomous flight then maintenance and repair. On Day 1, operators had to land their drone on landing pads with varying visibility levels, fly through a hoop then land on a tower using their partners to call out obstacles and navigate around them. Day 2 involved programming a drone to take photos for a contractor who wanted a 3D map of the ground for their land. And the drone repair on Day 3, consisted of correctly attaching propellers and wires to its drone, Satterwhite said.
The team couldn't watch other competitors during the competition, so they didn't know where they'd land until the panel of judges from each of the three competitions — who came from companies in the drone industry — averaged the scores.
Most SkillsUSA competitions have large financial prizes for the winners, provided by companies in that industry who sponsor the event.
Ashley Armstrong, MTC's SkillsUSA adviser and cosmetology instructor for 10 years, said the cosmetology competition usually has huge support for its podium placers.
For the drone podium-goers, Satterwhite said they walked off the stage, and there were no prizes to claim. Satterville didn't know there was no money.
"It definitely wasn't the best feeling," Satterwhite said. "Right after we were kind of annoyed at it, but now it doesn't bother me that much."
Five MTC students besides Satterwhite and Christian qualified for SkillsUSA nationals. Before the pandemic, Armstrong said, MTC would often send more than two dozen students. Nationals is the culmination of a months-long process of district competitions in February and states in April. David Braziel, a diesel technology student from MTC, also won bronze in the Job Skill Demonstration contest, where the competitor demonstrates then talks about a technical skill.
Satterwhite said he won't be returning to MTC in the fall, even though he's eligible for one more year in the cyber program, because Richie is leaving MTC after taking a job as a cybersecurity specialist for the City of Harrisonburg. Satterwhite described Richie as "a really down-to-earth guy who you could just talk about whatever with."
"I know Buddy's leaving, and we're very sad about that, but whoever does come into that program will have the best of the best to make sure that the kids are successful in the future," Armstrong said. "The setup at MTC for the drones is amazing. It's new, it's state-of-the-art. That whole lab is set up for success for the students … It'll keep growing."
For Satterwhite and Christian, Richie said the sky's the limit — whether they're flying drones up there or tackling something else.
"Those two guys … when they find something that they really enjoy, they look into it, they pursue it," Richie said. "I know that they're going to be successful, whichever pathway they choose."
---
Journalism is changing, and that's why The Citizen is here. We're independent. We're local. We pay our contributors, and the money you give goes directly to the reporting. No overhead. No printing costs. Just facts, stories and context. We're also a proud member of the Virginia Press Association. Thanks for your support.