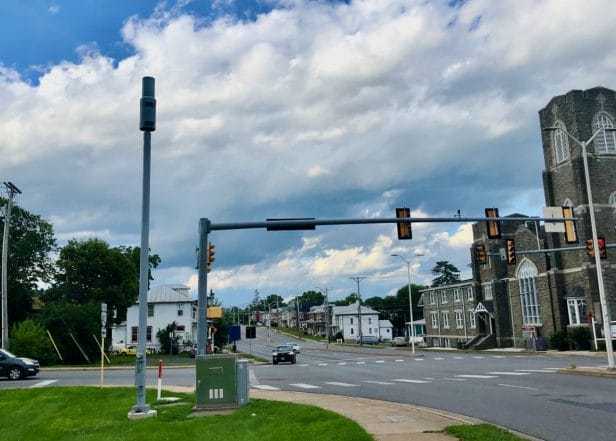 By Bridget Manley, publisher
What the heck is that new pole?
A few of these slender poles with larger cylinders on top have popped up across Harrisonburg so far this year. One is at the corner of High and West Market streets. Another is at the intersection of Maryland Avenue, Port Republic Road and Main Street. And a third is on East Market Street. 
It turns out, they will eventually deliver 5G broadband celluar service across the city.
PC Magazine says that 5G, which is the next generation of wireless technology, takes up a big band of radio frequencies over the airwaves. This allows for speedier transfers of data, as well as the ability to be more responsive and connect more devices at once.
5G, according to PC Magazine, has been slow to gain ground in the U.S., partly because of the complexity of the upgrade and partly because of the pandemic.  South Korea was the first country to implement widespread 5G service starting in 2019.
Michael Parks, the city's communications director, confirmed that the poles are owned and operated by AT&T and installed under a Public Access Permit.
A spokesman for AT&T confirmed that the poles are, in fact, part of a 5G upgrade that will happen soon but could not confirm a date. In a statement to The Citizen, AT&T said that while the company hasn't made a public announcement about when AT&T customers would see the "5G" at the tops of their phones, the poles — which AT&T calls "small cells" — are already providing boosts in service.
"We've added 18 new outdoor small cells to enhance the area's coverage and help give residents and first responders faster, more reliable wireless service. Small cells are a big part of our network," the statement said. "This equipment helps deliver increased data capacity, faster connectivity speeds and an overall better wireless experience."
They also will provide "the foundation for 5G," the statement added, as well as prepare for future technological developments.
AT&T published a North American map that shows its service and includes a list of states where 5G has already been implemented. While Virginia isn't yet included in the list, the 5G poles are part of a larger $700 million investment in Virginia. 
Harrisonburg does have an ordinance for wireless telecommunications facilities. The city's website says the goal is to provide minimal negative impacts to neighborhoods while providing the city with reliable service. In that spirit, companies must apply for a permit.
"Small cell facilities" — such as the new poles — are permitted in all zoning districts in the city with a permit. 
---
Journalism is changing, and that's why The Citizen is here. We're independent. We're local. We pay our contributors, and the money you give goes directly to the reporting. No overhead. No printing costs. Just facts, stories and context. We're also a proud member of the Virginia Press Association. Thanks for your support.