U.S. Secretary of Education Miguel Cardona visited Bluestone Elementary School in Harrisonburg on Tuesday as part of a multi-state, weeklong bus trip called the "Road To Success Back To School Bus Tour."
Harrisonburg was chosen for the tour, in part, because of the success of the city schools Dual Language programs and Home School Liaison programs, both of which are recognized state-wide for their success.
There are currently eight dual language programs in Harrisonburg City Schools, including at Harrisonburg High School, both middle schools and five elementary schools.
The Home School Liaisons work in city schools and provide communication facilitators and advocates that help families find support and resources.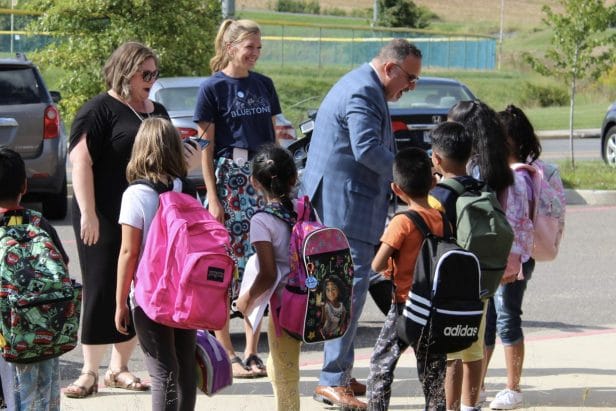 Before meeting Harrisonburg school officials, Cardona's first order of business was to greet students who were waiting for their bus. He gave out high fives and asked students about their day.
School Board Chair Deb Fitzgerald said that Cardona set the tone for the day by greeting students first as soon as he arrived.
"He was off the bus, maybe three steps, and the kids were waiting for the bus, and the first thing he said to us was 'wait, I have to go talk to the kids first'," Fitzgerald said. "It was marvelous."
Cardona met with Superintendent Michael Richards, Fitzgerald, and Bluestone Elementary School Principal Peter Norment.
Focusing on moving forward after the pandemic, the tour is visiting schools not only to highlight what systems are excelling at, but also to recruit and support educators, as schools face catastrophic teacher shortages.
Cardona, who met with and took photographs with Bluestone teachers, said that he told them he wouldn't stop fighting for fair pay and better working conditions.
"The culture right now across the country can be divisive, and unfortunately we still suffer from a lack of respect to our educators, despite the last few years with what they have been able to do, bending over backwards," Cardona said. "I still feel confident that the best days in education are ahead of us, that we can track and retain quality teachers."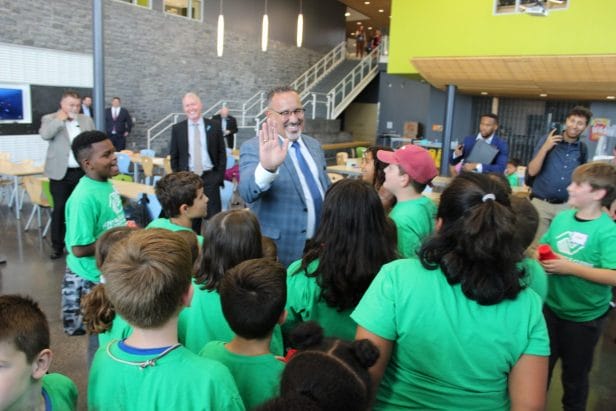 Cardona met with students participating Bluestone's Boys and Girls Club, and taking part in a few rounds of "Head, Shoulders, Knees And Toes."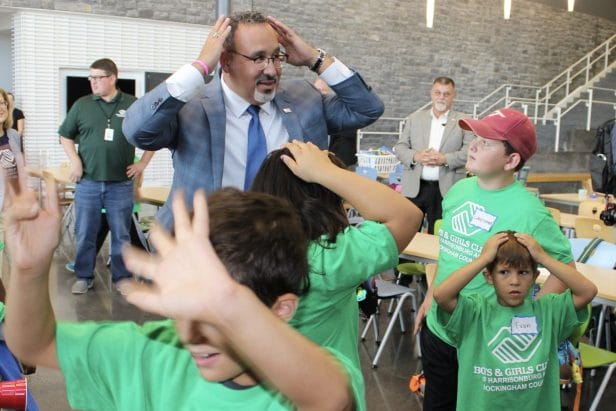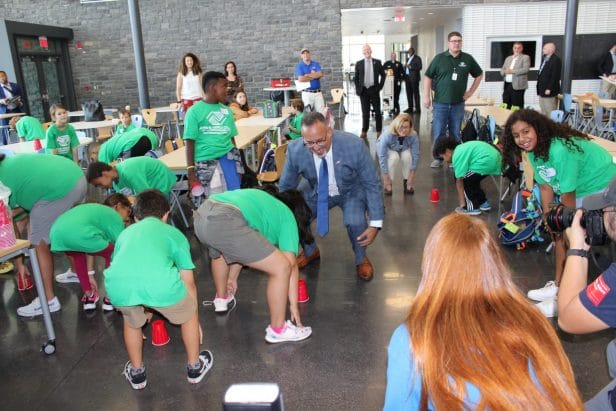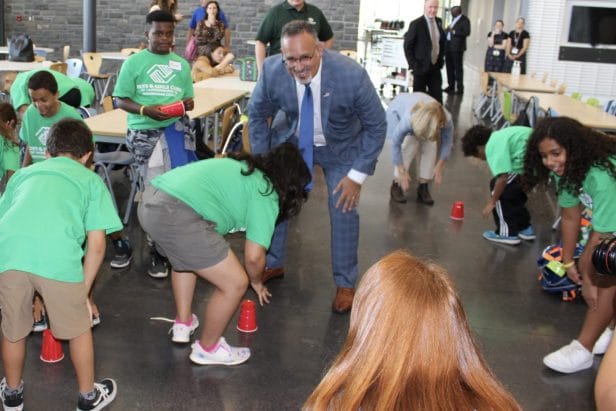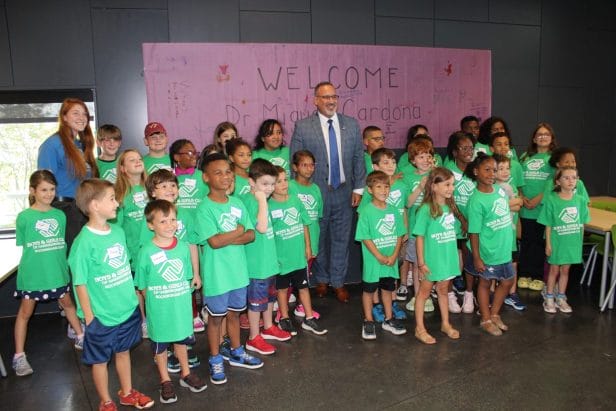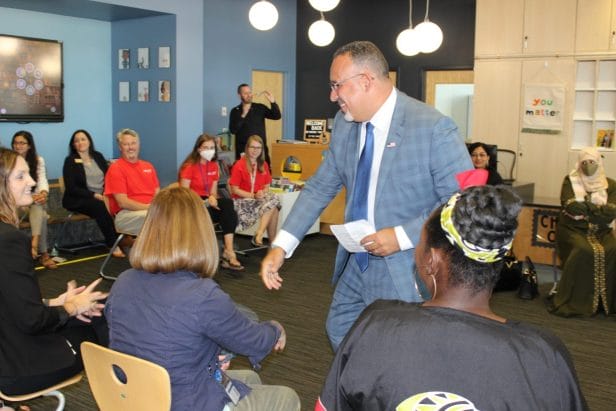 Cardona took part in a round table with parents, educators, home school liaisons, members of Harrisonburg City Council and officials from James Madison University.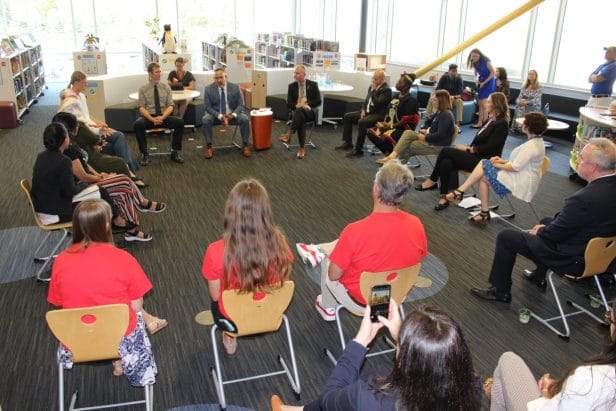 During the round table, Cardona heard from both educators and parents about the successes of the programs, and said that in his experience, the Harrisonburg School System is "much further along" than many schools systems.
"When I see that we are teaching students to learn in other languages, it really is preparing them," Cardona said. "I'm glad to see the school is doing [dual language programming] so well where kids are getting the experience from elementary through high school."
"It's not just language, it's culture," Cardona continued. "You can't separate language from culture. So, it's embracing a multicultural approach where all students feel seen and they see what they bring to the table as an asset, which is really important."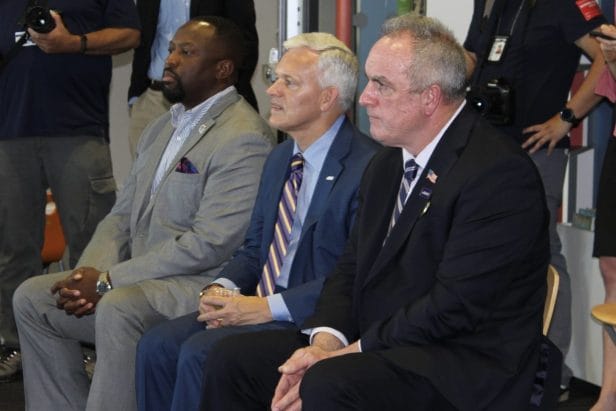 City Councilman Chris Jones, JMU President Jonathan Alger and Mark L'Esperance, Dean of JMU's College of Education, were all in attendance.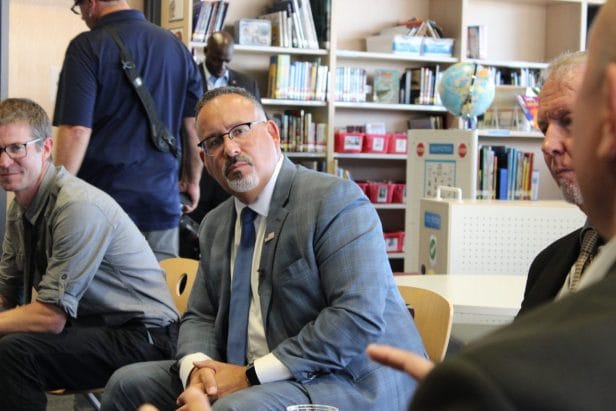 Cardona, who first taught elementary school in Connecticut, was previously the Commissioner of Education in Connecticut, where he championed dual-language programs, as well as expanded courses in Black and Latino studies.
"The things that he said to the parents, to the staff, to the superintendent, to the city council members, to Dr. Alger, sure indicates that he gets it, that he gets what we are trying to do here," Fitzgerald told The Citizen. "It was great to hear the encouragement."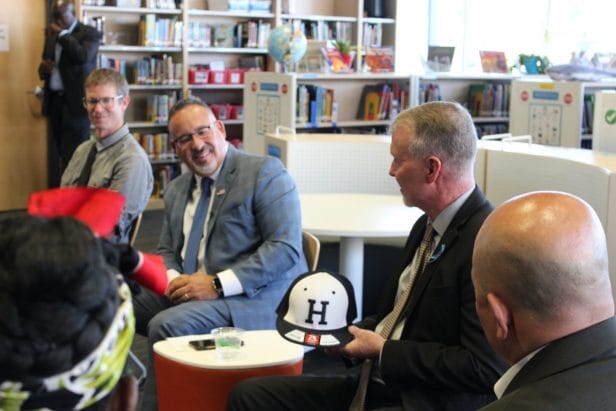 Richards presented Cardona with a Harrisonburg High School hat, and asked him to come back in two years for a Rocktown High School hat to add to his collection.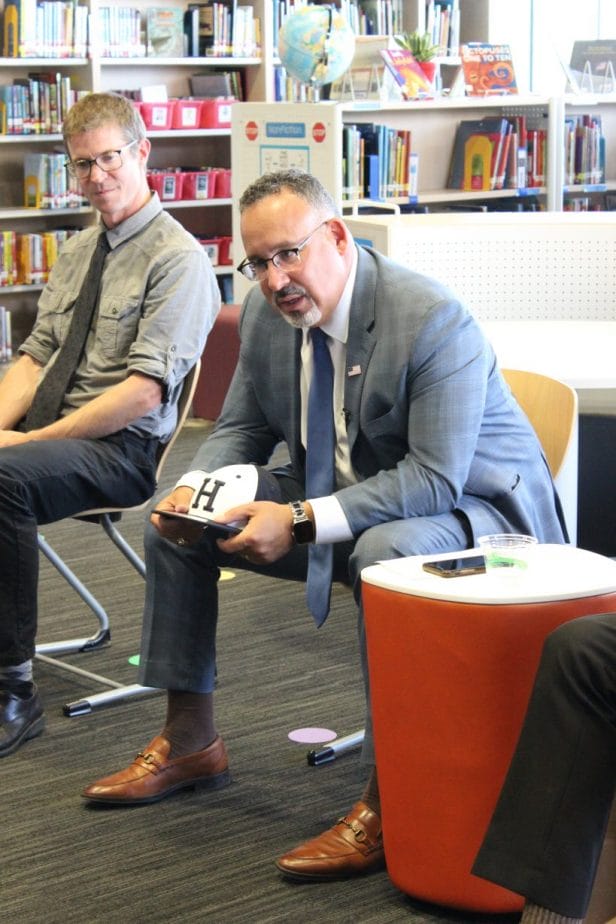 Cardona ended the round table by thanking those in attendance for their commitment to the students in the school system and for their support to the community.
"As we turn on the lights and open the doors after the worst of the pandemic, that the product we give our students is better than what they had before," Cardona said. "You're proving that day in and day out."