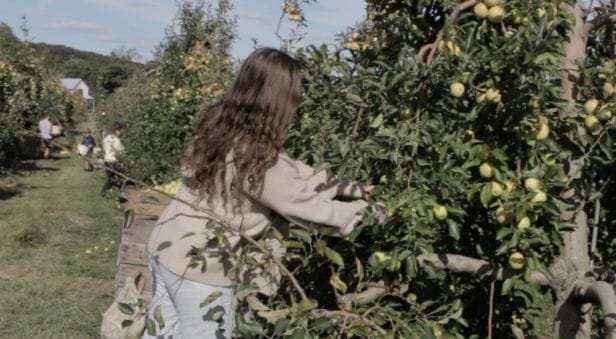 Video and article by Kevin Gorman, contributor
As the effects of former Hurricane Ian moved through Virginia this weekend, owners of an area apple orchard breathed a sigh of relief now that the storm couldn't ruin their apple crop.
And that was thanks in large part to an outpouring of community volunteers who showed up in droves Thursday and Friday to pick the apples before Ian's winds could blow them down.
Showalter's Orchard and Greenhouse in Timberville is family-run and grows more than 30 varieties of apples. They also press and bottle their own sweet and hard cider. After a bountiful summer for their orchard, a confluence of forces set up the orchard for a potential perfect storm, said Sarah Showalter, the orchard's co-owner.
After wreaking havoc in Florida, the now tropical cyclone was headed to Virginia over the weekend, bringing its high wind and severe rain. Storms like this are devastating for local farms and can set orchards back years if their trees get destroyed. At this time in the season, the Golden Delicious block of apples was ripe and ready to be picked. With the storm coming in and trees full of apples, the Showalter family knew they needed to act quickly to save the crop.
More than 200 volunteers responded to the orchard's Facebook post last Wednesday asking people to volunteer to pick apples.
Showalter said she wasn't sure how people would come out but was overwhelmed by the swift and strong reactions to help save their crop. At the time this article, the Facebook post garnered about 350 likes, as well as more than 100 comments and more than 700 shares.
Showalter said the family was grateful for the community's support.
---
Journalism is changing, and that's why The Citizen is here. We're independent. We're local. We pay our contributors, and the money you give goes directly to the reporting. No overhead. No printing costs. Just facts, stories and context. We're also a proud member of the Virginia Press Association. Thanks for your support.