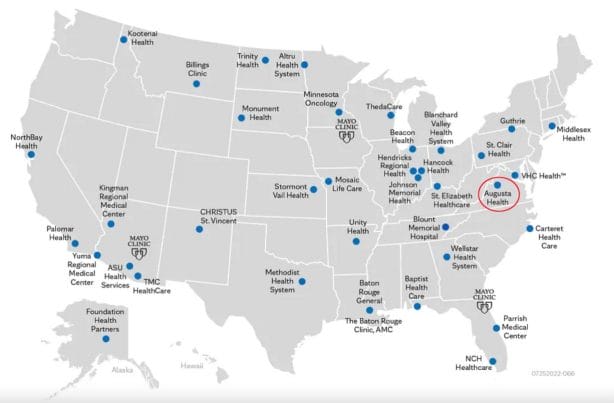 By Stephanie Spernak, contributor
As a member of the Mayo Clinic Care Network, Augusta Health physicians and their patients for the last year have had access to the Minnesota-based clinic's medical resources right here in the Valley.
Now, the independent non-profit health system, which operates a 255-bed hospital on its Fishersville campus, is celebrating the first anniversary of its membership in the Mayo Clinic Care Network in a public event Wednesday. Augusta Health and Mayo Clinic leaders, including Dr. Ryan Uitti, the medical director of the Mayo Clinic Care Network, will be "onsite to engage with providers, leaders, and Augusta Health teammates," said Kristen Printy, spokesperson for Augusta Health, in a statement.
Augusta Health, which serves patients in Augusta and six neighboring counties including Rockingham, joined the Mayo Clinic Care network in August 2021. Augusta Health is one of 37 U.S. health care providers that are part of the network, and one of two members in Virginia. The Virginia Health Center in Arlington is the other, and it joined the Mayo network in 2015.
Dr. Clint Merritt, chief clinical officer of population health at Augusta Health, said through the network, local physicians can get help with challenging cases or complex treatments from experts at the Mayo Clinic, which Newsweek's rankings had listed as the No. 1 hospital in the world for the fourth consecutive year.
Merritt said physicians treating any type of health problem, whether it's cancer, an endocrine disorder, or heart disease, will care for patients whose conditions differ greatly in medical complexity. Physicians treating patients with more complex conditions, he said, will face "more uncertainty and subtleties in diagnosis and treatment decisions."
The Mayo Clinic model of collaboration between "local, front-line" physicians and "outside" experts is central to modern health care, Merritt said.
"This collaboration between our local experts and clinicians at Mayo Clinic enhances the care Augusta Health offers patients in our community," Merritt said. "That way, the doctors can provide 'shared clinical thinking' to patients right here in Fishersville, Virginia."
Mark LaRosa, vice president and chief strategic officer at Augusta Health, said Augusta Health's membership in the network is not a merger or acquisition by the Mayo Clinic. It is a "network that supports clinically meaningful relationships, collaboration among care providers and knowledge sharing to benefit patients."    

Using modern tools for tapping expertise
Because the network concept extends the Mayo Clinic's brand, potential candidates for membership "must be high-quality organizations with a desire to remain independent and an interest in establishing a clinical collaboration," according to the clinic's description. Those health networks, like Augusta Health, submit information and data regarding areas such as quality, safety, and clinical practice.
Hospitals serve the community best, LaRosa said, by providing quality patient care services and their ability to address and exceed their patients' needs.
"When a patient has a very serious, rare or complex health care need, our doctors can tap into the knowledge of Mayo Clinic specialists through 'eConsults,'" LaRosa said, adding that it allows for patients "to get more of the care they need, from their trusted local provider, right here in our community, at no additional cost, but with added peace of mind."
During the first nine months of network membership, LaRosa said Augusta Health physicians requested 48 "eConsults" with Mayo Clinic specialists. Of these, more than half of the Augusta Health "eConsults" took place with Mayo endocrinologists, who specialize in hormone-related issues, and Mayo neurologists, he said. Another 17% of "eConsults" took place with Mayo oncologists, who work with cancer patients.
For every "eConsult" submitted by a provider, LaRosa said, the hospital follows up with a survey on the provider's experiences and whether the Mayo Clinic specialist confirmed the treatment plan or provided new information to change the treatment plan.
"Having another set of eyes on a given patient's case is another way we can give patients peace of mind that they are receiving the best possible care at Augusta Health at no additional cost," LaRosa said.
Another Mayo network tool frequently used by Augusta Health clinicians is called the "AskMayoExpert," a digital database with "disease management protocols, care guidelines, treatment recommendations and reference materials" that providers can use at the point of care. LaRosa said Augusta Health providers accessed the "AskMayoExpert" database more than 1,700 times in the past nine months.
Augusta Health patients also have a network tool available to them.  Hosted on the Augusta Health website, the Mayo Clinic Health Information Library contains more than 2,500 patient education documents and videos addressing medical conditions, treatments, and healthy behaviors.

Mutually beneficial connection
When exploring potential collaboration, Augusta Health formed a workgroup composed of its executives and health care providers, to review several potential clinical partners, LaRosa said.
But "it was evident that Mayo Clinic was the best fit," he said.
LaRosa said once the application and approval from Mayo Clinic and Augusta Health boards was complete, it took about two months to implement the solutions and services.
Augusta Health was formed in 1994 with the merger of the Kings Daughters Hospital in Staunton and the Waynesboro Community Hospital in Waynesboro.
LaRosa said Augusta Health has continued the tradition of "personalized care with small-town hospitality that began with those independent predecessor hospitals."
Typical of most hospitals, LaRosa said that patients are either directly admitted to Augusta Health by a physician who is credentialled on the Augusta Health Medical staff or through the Emergency Department.
Augusta Health has been the recipient of numerous awards and recognitions, including the 2021 Leapfrog Hospital Safety Grade A, a Leapfrog Top General Hospital in 2020, and the Best Regional Hospital in the Shenandoah Valley for 2020-21 by U.S. News & World Report.
LaRosa said because of its commitment to remaining an independent, community-based hospital that can offer wide medical resources like the Mayo Clinic connection, it is poised "to become a national model for community-based healthcare."   
---
Journalism is changing, and that's why The Citizen is here. We're independent. We're local. We pay our contributors, and the money you give goes directly to the reporting. No overhead. No printing costs. Just facts, stories and context. We're also a proud member of the Virginia Press Association. Thanks for your support.