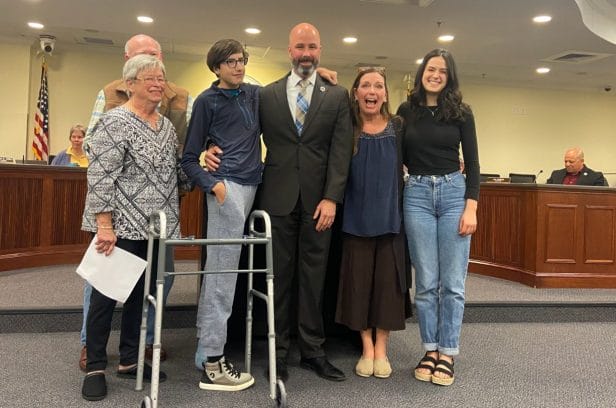 By Rachel Petterson, contributor
After spending five years as a deputy city manager and all of 2022 as an interim city manager, Ande Banks will shed the first word from those titles and become Harrisonburg's new city manager.
The city council announced Banks' hiring at the beginning of Tuesday's council meeting, after interviewing candidates for the job on Oct. 13. The job oversees the city's day-to-day operations and budget.
The city has been in the process of looking for a new city manager since the former city manager, Eric Campbell, stepped down at the end of 2021. Since Jan. 1, Ande Banks has served as interim manager.
"We were looking for someone that could lead Harrisonburg, who was committed and loyal and dedicated, not only to the city, but to the work and the staff," Mayor Deanna Reed said.
Reed offered a strong endorsement, telling Banks: "What makes you unique and special is your heart. You have a heart of service. You are a servant, and you love this community, you really do. And so I am so proud of you, and I'm so excited because you are exactly what we need at this time for this city."
Banks told The Citizen after Tuesday's meeting that the opportunity to be city manager is a "great honor."
"This is my hometown. I grew up here," he said. "I sought out the education and skills to try and make sure that I was keeping up with the industry and receiving a master's in Public Administration…from James Madison University to make sure that city council and city staff had a leader that was current in some of the best practices and concepts and governance and efficient government."
He has worked for the city since September 2009, first as director of special projects and grants management, then as an assistant to the city manager before being named deputy city manager in January 2017.
Banks said he knows there are "a lot of amazing managers out there across the country" but that someone coming in from outside might have inadvertently slowed progress on key issues city leaders have been studying and trying to address.
"So I really did it because I think we got a great thing going here, and I just didn't want to disrupt anything," he said. "So it is a great honor to serve my fellow residents and try to ensure that we're handing over a better community to our next generation than what was given to us. That's truly what I try to set out to do every day."

Council members request crime data
Vice Mayor Sal Romero requested data on recent crimes in Harrisonburg following two high-profile shootings in the last two weeks — one on Devon Lane in the early morning of Oct. 16 that injured eight people and another shooting that killed a 38-year-old man on Monday in the 200 block of Community Street. The Harrisonburg Police announced the arrest of one person in connection with the Devon Lane shooting and three people in Monday's shooting.
"I'm sure that people have come to all of us regarding crime," Romero said. "Any time there is a situation in the city — we've had a few recently — people feel that the city is not as safe as it used to be."
Therefore, he said, the council should see the crime data to field questions from residents.
"I think that we owe them that information in order for us to be able to answer things in a way that makes sense," he added.
Mayor Reed echoed his sentiments and also requested to see that data.
She said an uptick in certain crimes has become an issue in neighboring cities in Virginia, as well.
"It's not only us, but we're concerned about our community," she said. 

Mayor stresses commitment to Northeast Neighborhood
Karen Thomas, founder and president of the Northeast Neighborhood Association, told the council during the public comment period at Tuesday's meeting that she believes the council has been neglecting the historic New Town area, which is part of the Northeast Neighborhood. She asked for more support, specifically tree plantings, continuous sidewalks, street repaving and better stormwater maintenance.
"Black and Brown neighborhoods need to be put at the forefront of all city initiatives so that they can catch up with the rest of the city. So we can catch up with the rest of the city," Thomas said.
Council member Chris Jones responded, in part, by listing past initiatives aimed at helping the neighborhood, and council member Laura Dent mentioned that efforts to invest in underserved neighborhoods are part of the council's priorities for spending federal American Rescue Plan Act (ARPA) funds.
Reed said she has submitted to city staff a list of several potential projects that have to do with the Northeast Neighborhood, which she would like to see funded using some of the more than $20 million in ARPA funds Harrisonburg is slated to receive.
"I have asked for the Northeast Neighborhood, which is my neighborhood, to be a priority," she said. "I have put forward my projects of neighborhood beautification, and the majority of it is in the Northeast Neighborhood … Sidewalks, street paving, splash park, crosswalks, traffic calming — that's part of my package, as well as some others' on council. So I do believe that as a council we will make some upgrades in the neighborhood."
Projects submitted to city staff for vetting may or may not ultimately be funded with ARPA funds, but may be brought to the table at a later date for approval by the council after vetting.
Banks said Luke Morgan, the city's ARPA coordinator, would like to hold another meeting about how the city can best spend the ARPA funds. 

Annual Veterans Parade coming up
Harrisonburg Downtown Renaissance's Veterans Parade will take place Sunday, Nov. 6 from 2-2:45 p.m., starting at the Rockingham County Administration lot, then traveling south on Main Street to end at the City Hall lot. 
---
Journalism is changing, and that's why The Citizen is here. We're independent. We're local. We pay our contributors, and the money you give goes directly to the reporting. No overhead. No printing costs. Just facts, stories and context. We're also a proud member of the Virginia Press Association. Thanks for your support.