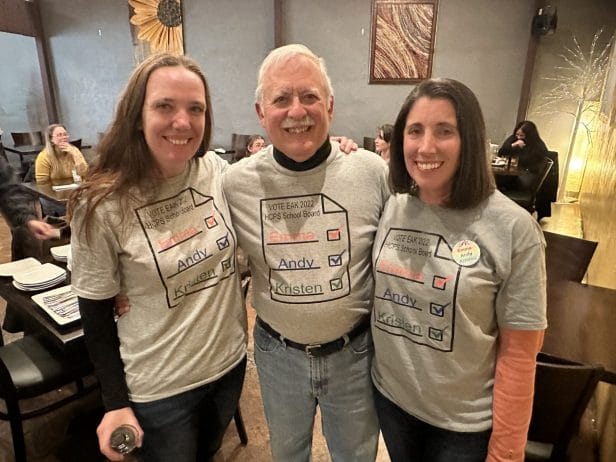 Editor's note: this story was updated at 10:44 pm. Additional detail may be added later.
With all precincts reporting results to the city registrar's office, Emma Phillips, Kristen Loflin and Andy Kohen have been elected to the Harrisonburg City School Board. The three candidates campaigned together on a shared platform, and finished atop a five-way race for three seats.
Phillips, who will be serving a first term on the school board, earned 5,372 votes, the most of any candidate. Loflin and Kohen, both current members of the school board, were reelected with 5,281 and 5,258 votes respectively.
Corin Jackson finished fourth with 3,690 votes, while current board member Obie Hill earned 2,818 votes.
Afterwards, Phillips, Kohen and Loflin celebrated their victory at Beyond, where they told The Citizen they were proud that city voters send such a resounding message.
"I was really proud of our city," Loflin said . "It means security and safety for our
kids and our teachers, and that's really important."
"I just feel really honored that the people of Harrisonburg showed up, and that they selected us, and they trust us to make good decisions regarding their children," Phillips said.
Both Loflin and Kohen noted that they repeatedly heard from voters that the "divisive message" from other candidates was not appreciated by the citizens of Harrisonburg.
"The voters understood that we were genuine, and caring and kind, and compassionate," Loflin said.
The three said that although their message was overwhelmingly chosen by the voters of Harrisonburg, they want to meet with those who disagree with their message, as well as those who have spoken recently at school board meetings in favor of book bans and against gender policies.
"We will educate people," Loflin said. "We will walk them into schools so they can see what is happening with their own eyes and ears. All you need to do is connect with someone who works with the school, and you will feel a lot better about what is happening at the school."
Reached by text on Tuesday night, Hill congratulated the winners and expressed his gratitude toward those who voted for him.
" Unfortunately, I didn't get the win today, but I would like to sincerely thank those who supported me in this election. It was great seeing and talking with kids and families from our community at the various voting precincts!" he wrote.
Jackson attended the city Republicans' election night gathering at El Charro, but left before The Citizen was able to speak with her.
— Reporting by Bridget Manley and Haley Thomas
---
Journalism is changing, and that's why The Citizen is here. We're independent. We're local. We pay our contributors, and the money you give goes directly to the reporting. No overhead. No printing costs. Just facts, stories and context. We're also a proud member of the Virginia Press Association. Thanks for your support.