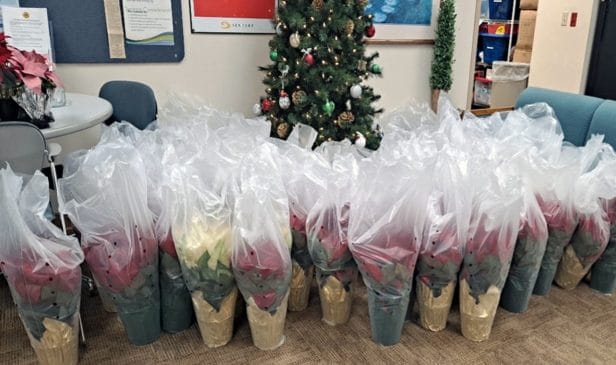 By Stephanie Spernak, contributor
Hundreds of brightly colored poinsettias arrived at the Sentara RMH Medical Center and Hahn Cancer Center on Friday afternoon, just in time for Christmas weekend.
Hospital staff and volunteers hand delivered each poinsettia plant to patients spending the holiday in the hospital.
Each year poinsettias are donated and delivered to Sentara RMH by Evergrowin' Greenhouses in Bridgewater, Riverside Plants & Mulch in Dayton, and Milmont Greenhouses in Waynesboro, a Mennonite-owned business near Stuarts Draft, according to Bob Grebe, corporate communications and public relations consultant at Sentara RMH.
Brightly colored poinsettias, native to Central America and southern Mexico are popular decorations for the winter months and considered the "official" Christmas flower, used in floral displays in homes, churches and many other settings.
Although the details vary, often the case with legends passed down by word-of-mouth over centuries, a Mexican girl, on her way to Christmas Eve church services stopped to pick a bouquet of weeds as her gift to the Baby Jesus. After placing her bouquet at the foot of the nativity scene in the church, the "weeds" suddenly transformed into the red and green "flowers" we recognize today as poinsettias.
According to botanists, however, what appear to be brightly colored "flowers" are actually the leaves of the poinsettia plant. Poinsettia plants are also considered "shrubs or small trees."
The poinsettia plant is said to be named after Joel Roberts Poinsett, the first United States minister to Mexico. He is credited with introducing the plant to the U.S. in the 1820s and is one of the most commercially important plants.
At one time, exposure to poinsettias was considered toxic, especially to children and pets. But scientists have since established that they are not poisonous, even if eaten, although in some cases mild nausea might occur.
For hospitalized patients, one study has shown that those who have flowers in their hospital rooms needed less pain medication, had lower blood pressure and were less anxious and tired than patients with flowers at their bedside. Another showed better outcomes for patients recovering from surgery. 
---
Journalism is changing, and that's why The Citizen is here. We're independent. We're local. We pay our contributors, and the money you give goes directly to the reporting. No overhead. No printing costs. Just facts, stories and context. We're also a proud member of the Virginia Press Association. Thanks for your support.