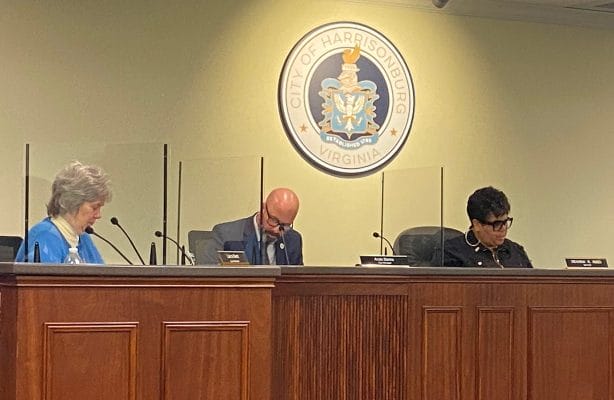 UPDATED: This article was updated later Tuesday with quotes from Mayor Deanna Reed and the additional actions the council took at Tuesday's meeting.
By Rachel Petterson, contributor
With its two new members officially sworn in, the Harrisonburg City Council on Tuesday morning voted for Deanna Reed to stay as mayor and appointed Laura Dent to become vice mayor, marking the first time that women will hold the top two positions.
"Hearing 'Vice Mayor Dent' — I just want to acknowledge the historic moment of the first ever female mayor and vice mayor," Reed said at closing of the organizational meeting.
The council unanimously approved the appointments, which extend through 2024.
Reed, who first won a seat in the 2016 election, has served as mayor for her entire tenure on council. That makes her the third-longest serving mayor in the city's history after Roy Erickson, who served seven two-year terms from September 1968-July 1983, and Walter Green III, who succeeded Erickson in 1983 and served through July 1992, according to the city's list that goes back to 1849.
"I want to say thank you for trusting me to serve as mayor for another two years. I appreciate the support from each one of you," Reed said. "I look forward to working with this new council. I think that we have the opportunity to do great things together."
Dent, who was elected to the council in 2020, will replace Sal Romero as vice mayor. Romero served one full four-year term on the council but didn't seek re-election in 2022.
Tuesday morning's reorganizational session was the first meeting for newly elected council members Monica Robinson and Dany Fleming. The five council members — all Democrats — unanimously appointed Reed and Dent to their positions and also doled out the council members' assignments to various city and area boards and commissions for the 2023-24 term.
This already was a historic council. It marks the first time the majority of the five council members are women and the first time the council has a majority of Black members. 
Reed also acknowledged those historic firsts and said she expects "great things to come."
"The way I like to lead is that we lead as a team and that I share my responsibilities," she said.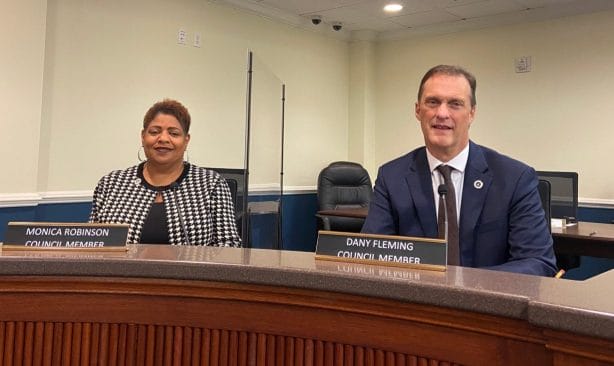 Scrapping an internal committee
So far, the five council members appear to be all on the same page with unanimous votes on Tuesday.
That included dissolving the council's finance committee. Dent said the process City Manager Ande Banks has used with council members recently — in which each council member reviews the budget individually — will serve as a blueprint going forward with the city budget process.
"To have each one of the council members preview the budget is, I find, far more effective than the finance committee ever was because the finance committee couldn't meet as a committee because it would have to be public and that would be public before the rest of the council had seen [the budget]," she said. "So I much prefer the new process that City Manager Banks has instituted."

Seeking more diverse applicants
The meeting's agenda also included the council appointing community members to various city boards and commissions. But council member Chris Jones requested bumping that back to the council's Jan. 24 meeting to "give a good solid three weeks to include more applicants."
"This is a charge to you all," he said to the public. "If we could have more folks applying for these boards and commissions, it would really help us diversify our representation."
Fleming, for instance, had served as chairman of the Harrisonburg Redevelopment and Housing Authority's board of commissioners. He said he only stepped down three days earlier, so he agreed that it would be best to give people more of an opportunity to apply.
The city council will continue to meet at 7 p.m. on the second and fourth Tuesdays of each month in the council chambers throughout 2023.  
---
Journalism is changing, and that's why The Citizen is here. We're independent. We're local. We pay our contributors, and the money you give goes directly to the reporting. No overhead. No printing costs. Just facts, stories and context. We're also a proud member of the Virginia Press Association. Thanks for your support.