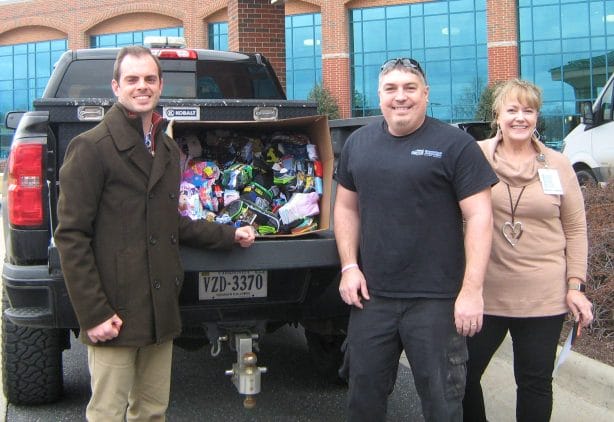 By Stephanie Spernak, contributor
Steven Faught has delivered about 12,000 pairs of socks to children hospitalized at Sentara RMH since he began this volunteer project in 2017.
He brought 800 pairs of new sock donations to Sentara RMH on Friday morning. Benjamin Craig, director of annual giving at the RMH Foundation and Mary Sherman, foundation assistant, accepted Faught's donation.
Faught said he begins collecting donations in December and delivers the proceeds to the hospital in early January.
Faught, owner of Shenandoah Automotive & Rittenhouse Auto Service on Erickson Avenue in Harrisonburg, has been a member of the RMH Foundation Advisory Board, Sentara RMH's philanthropic arm, for two years.
After seeing experiences of patients and health care providers when he assisted a friend through the travails of breast cancer diagnosis and treatment, Faught said he decided to volunteer and help the hospitalized and their providers.
When he asked Sentara RMH staff what type of donations they needed for their pediatric patients, they told him "socks and underwear." Many children admitted through the emergency department are not wearing socks when they arrive, they said.
Faught said he was advised by nurses to avoid donating stuffed toys because these items can be contaminated with dust, bacteria or other pathogens, which can be a particular problem for children with allergies and compromised immune systems.
Children also cuddle stuffed toys like teddy bears, especially large ones, which can interfere with medical procedures and accidentally pull out IV tubes.
Some of the youngest children have IV tubes inserted in their feet so they can't reach them. Socks provide a useful cover that reduces reinsertions, making the nurses' work easier. That makes for happier nurses, said Whitney Saulton, a pediatric registered nurse at Sentara RMH.
Socks also keep feet warm, which is an important factor for accurate measurement of body temperature. Cold feet can increase body temperature that is not associated with illness or injury.
Hospitals are often kept at lower temperatures than other facilities to prevent the growth of bacteria and viruses, which thrive in warm environments. Operating rooms and intensive care units are typically the coldest areas of a hospital.
Nurses also told Faught that socks were a "comfort item" for their young patients and "brightened their day."
Faught said many of his customers who donate socks each year tell him they have fun shopping for them. They look for colorful pairs with pictures of superheroes and other characters that children will enjoy.
---
Journalism is changing, and that's why The Citizen is here. We're independent. We're local. We pay our contributors, and the money you give goes directly to the reporting. No overhead. No printing costs. Just facts, stories and context. We're also a proud member of the Virginia Press Association. Thanks for your support.