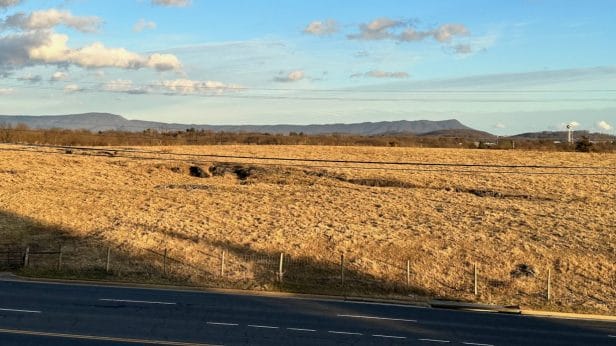 By Rachel Petterson, contributor
Following a contentious planning commission meeting last week, three residents brought concerns about the proposed Bluestone Town Center to Tuesday's city council meeting — as council members brace for the debate to come before them next month.
Elizabeth Jerlinski, who lives on Garber's Church Road near the site for the proposed Bluestone Town Center, told the council that it's the sheer size of the mixed-use development that concerns her for multiple reasons. The project includes nearly 900 housing units, as well as some businesses.
"Living on Garbers Church Road…near the adjoining 89 acres, we always knew we were going to get neighbors. In fact, we would welcome them," she said. "But we never knew — never expected — a city within a city. A giant city within a city."
Jerlinski called the housing project experimental and urged the city council to proceed slowly and with caution, saying she did not feel that planning commission took public comment sufficiently into account before making a "quick motion to approve" at their meeting.
The commission unanimously voted to recommend that the city council approve the Bluestone Town Center. The development, which would be built through a public/private partnership between the Harrisonburg Redevelopment and Housing Authority and EquityPlus LLC. In total, it would house an estimated 3,000 people. The city council is slated to vote on Bluestone Town Center at its Feb. 14 meeting.
Barbara Pyle, a math teacher and Harrisonburg resident, brought up numerous logistical and environmental questions, such as how the schools will handle an increase in population this large. She said throughout the planning process, HRHA and Equity Plus "have not meaningfully included the community in any dialogue." 
"I expected my students to think critically, show me their work in writing, and explain and share their thinking with the class. I'm going to ask the same of you," Pyle told the council. 
Vice Mayor Laura Dent, who sits on the planning commission, didn't respond to the comments during the meeting.
Council member Chris Jones responded generally, calling for a "holistic discussion."
"Our city needs to have some bigger conversations," he said. "We have a lot of big asks and requests in front of us, and it's important that we start to try to have more macro conversations."
After Tuesday's meeting, Jones expanded on what he meant by that in an interview.
"It's important that the schools have an opportunity to weigh in, that public safety has an opportunity to weigh in, other business owners, and most important, the residents and neighbors where these projects are physically located have an opportunity to weigh in," he said. "I share and agree with a lot of their concerns [regarding Bluestone]."
Jones said, as someone who will ultimately have to weigh in on approving or turning down the development, he's looking forward to "more in-depth answers to those concerns from the developers, from city staff as well, and from other residents."
Panayotis "Poti" Giannakouros, who is a frequent caller during city council meetings, said Powell and Jerlinski's public comments highlighted the need for more discussion.
"The compelling testimony that you've just heard points to a process issue in our city," he said. "I absolutely favor more public input."
Park partnership in progress
After advocating for years for turning a downtown plot of land into a park, the nonprofit group Build Our Park cleared a key hurdle Tuesday when the city council unanimously approved collaboration between the city and Build Our Park.
The proposed park would be in the city-owned grassy area and parking lot to either side of the pavilion that houses the farmers market, as well as where the pavilion itself is currently.
Erin Bishop, vice president of Build Our Park board and chair of the communications committee, proposed the idea on behalf of Build Our Park, asking for the council's approval to start a collaborative conversation, which would include public hearings.
This park would be privately funded but a public facility. Council members said they were enthusiastic about the proposal.
Jones and council member Monica Robinson emphasized equitable land use.
"My concern is that we have, as a city, separated into our individual neighborhood parks, and I don't want this to be another separator," Robinson said. "I would very much like to look at this park as a means to draw folks to the middle, to common ground. And I think in order to do that we have to very intentionally place equity above all other things when we're thinking about constructing the park."
Jones and Mayor Deanna Reed also said that just because they are supportive of this park does not mean they are abandoning previous plans to improve other park facilities, such as fields that adult athletes use.
Tax break for elderly and disabled residents
Also Tuesday, the city council unanimously approved personal property and real estate tax relief for the elderly and disabled people.
The last time this portion of the city code was revised was January 2020. Since then, as Karen Rose, commissioner of revenue, pointed out, the values of property and cars have increased — and so have the costs of necessary medicines.
Rose said her office hears from elderly residents "that they have to make a choice of buying their drugs, putting food on the table, paying our bills."
The tax relief would make it possible for those earning the least income to pay no taxes on personal property and real estate. The council approved a sliding scale of tax relief, so the higher of an income bracket someone falls in, the less of a tax break they receive.
'In a much better place' with COVID
Paul Helmuth, the city's deputy emergency management coordinator, told the council that Harrisonburg is "in a much better place today than where we were when it comes to community levels" of COVID-19 cases.
This contrast in case numbers was particularly striking between the first 24 days of this year and the first 24 days of January 2022, which saw a spike that forced public meetings back online for February and early March.
Harrisonburg is currently at a low risk level and is not seeing a surge like the wider region is. Graphs with specific data can be seen here.
However, both Helmuth and Michael Parks, director of communications, said they expect that the numbers are actually higher. For example, daily and weekly data may be skewed if the data incorrectly places residents in the city when they actually live in the county. Furthermore, reported data only includes lab tests and not at-home tests.
Towing rule changes
People whose cars are towed won't have to go to the county to pick them up, according to the new towing regulations the council unanimously approved Tuesday.
The changes also require towing companies to be available for car pick-up at all times in hopes of keeping the wait to a matter of hours instead of the prospect of having to wait until the next day. The new regulations also place a cap on towing fees.
The new regulations came from the recommendation of the Towing Commision, which comprises two police officers, two towing operators and two members of the public.
Commission and board appointments
After a closed session to discuss candidates for boards and commissions, city council came to the following unanimous decisions:
Richard Baugh for Planning Commission.
James Honeycutt Sr. for the Parks and Recreation Commission.
Laurinda Peters (full-term) and Michael Bowman (alternate) for Board of Equalization.
Environmental Performance Standards Advisory Committee appointment was tabled.
Harrisonburg Redevelopment and Housing Authority appointment was tabled.
---
Journalism is changing, and that's why The Citizen is here. We're independent. We're local. We pay our contributors, and the money you give goes directly to the reporting. No overhead. No printing costs. Just facts, stories and context. We're also a proud member of the Virginia Press Association. Thanks for your support.