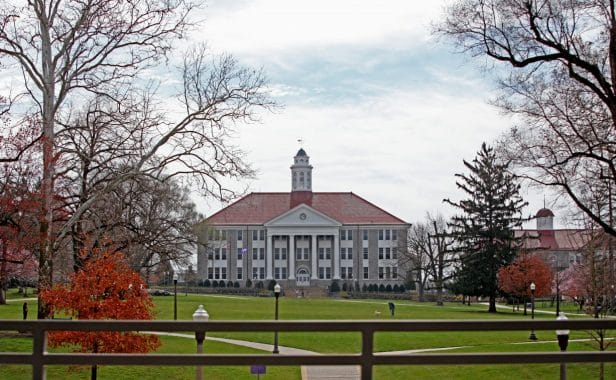 By Bridget Manley, publisher
A week after a letter was delivered to James Madison University President Jonathan Alger from Jewish faculty, faculty emeriti and staff concerned about a Holocaust Remembrance program at JMU, many are still asking why university officials pushed for JMU's "agenda and preferences" and held the event despite concerns from Jewish voices.
As first reported last week by The Breeze, JMU's student newspaper, 24 Jewish faculty and staff announced they would boycott the Jan. 26 program due to JMU not respecting or understanding Jewish expertise, experiences or perspectives.
Some of those faculty and staff, who spent more than 10 months planning for the same event last year, say they tried to raise concerns multiple times during the 2023 planning process to university officials about their feelings of isolation and lack of inclusivity.
"It was not a hasty decision for upwards of 10 Jewish faculty to co-write and craft the letter to [President] Alger," Frances Flannery, a Jewish Studies professor at JMU, said. "It came after repeated attempts by numerous Jewish faculty with expertise and/or experience to have a string of concerns heard about the aspects of both the program as it was originally planned and up to a week before it was held, and about the process by which the program had been determined."
The event, which included a keynote address by Alan Berger, a Holocaust expert from Florida Atlantic University, was held as scheduled last Thursday at JMU's Festival Ballroom.
Disappointment after successful event in 2022
Flannery was a member of the 2022 programming committee, which, she said, included three other members with expertise in some aspects of Holocaust studies, in addition to multiple members with family histories directly related to the Holocaust.
She said that after a successful 2022 program, she received an email inviting her to join the 2023 planning committee. She said she was one of only two members of the 2022 committee were invited to the new one, and that the other returning member was Jewish but did not have a background in Jewish Studies.
"We expressed profound concerns about why 10-12 … Jewish faculty from last year were not on the new committee," Flannery said.
The two Jewish committee members originally invited to the 2023 committee wanted wider involvement from other Jewish experts to ensure programming decisions dealt carefully with the complexities and the sensitive nature of Holocaust memorialization.
After an initial meeting in August, Flannery and the other committee member were not contacted again until October 12, when they were told the committee had been reformed through nominations, but were told they could nominate themselves to a Dean if they wished.
Flannery then told organizers that for personal reasons she would not serve on the committee, but would be "enthusiastically willing" to consult at any time. She said she never heard from committee members again.
In response to email questions from The Citizen, university spokesperson Mary-Hope Vass said, "It is important to note that a committee was formed through the recommendations of college deans as this was an academic event hosted by Academic Affairs. As with all committees, members were invited to serve based on their subject matter expertise, academic credentials and availability."
Resignations prior to letter announcing boycott
On Jan. 9, after their concerns about programming were not addressed, three Jewish members resigned from the 2023 committee.
In a statement sent to multiple outlets including The Citizen, Malika Carter-Hoyt, VP of Diversity, Equity and Inclusion and Chief Diversity Officer, said that while the university was sympathetic to the concerns raised in the letter sent on Jan. 24, her office had not heard about concerns prior to its arrival.
"Prior to receipt of this letter, neither my office nor the President's Office had received any notice about these concerns. While we do not fully know who is raising these concerns, we immediately reached out to a spokesperson for this group and scheduled a meeting to gain further understanding and collectively work on a path forward," the statement read.
In an email to The Citizen, Vass said, "there was a member of the committee who identified as Jewish and resigned in early January, after the majority of the event details and program had been planned and confirmed. Other individuals who identify as Jewish also participated in the planning along the way. In addition, other experts such as our distinguished guest speaker were involved in the discussions about the event and contributed their expertise to the planning."
One member of the committee, Rachelle Dorne, an Occupational Therapy Program Director at JMU, told The Citizen that there were indeed three members who resigned from the committee on Jan. 9. They received a confirmation email from a committee organizer of their resignation letter the following day, saying that the letter was forwarded to the Provost and Assistant Provost for Inclusive Strategies and Equity Initiatives.
The three former members of the committee received a response to their resignation from Narketta Sparkman-Key, Associate Provost for Inclusive Strategies and Equity Initiatives, on Jan. 13 acknowledging their resignation and asking them to meet to discuss their concerns.
The three members of the committee then met with members of the Provost's Office on Jan. 25 to discuss the programming.
Decisions for the 2022 program reemerge in 2023
Abe Goldberg, Associate Professor of Political Science at JMU, chaired the committee for the Holocaust remembrance programming in January 2022.
Goldberg said that while he was not fully comfortable leading the 2022 committee, in part because his academic expertise is not on the Holocaust, his role as Director for the Madison Center for Civic Engagement gave him the capacity to bring together experts.
"I wanted to make sure that we did this right," Goldberg said.
In March of 2021, Goldberg said that the committee was told that Coltman's office would provide a $5,000 budget to support their work.
The committee began searching for an appropriate speaker for the event, which led to a list of 20 names. The committee collected biographies, research areas and locations for the possible candidates. One of the 20 candidates, suggested by Coltman, was Alan Berger.
Over the course of several months, Goldberg said, the committee held several rounds of "deeply thoughtful and mission-driven" discussions about the choice of speaker.
Ultimately, three names rose to the top of the list. Berger's was not among them, according to Goldberg.
"Despite [his] having been nominated by Provost Coltman, I was not comfortable advocating for any speaker that was clearly not the choice of the committee, especially when state resources were involved, especially when the committee was so meticulous in its processes, and especially when it involved remembering the Holocaust," Goldberg said.
By August of 2021, the committee chose Oren Stier for the 2022 keynote address.
Also during the planning process for the 2022 event, Goldberg learned that Coltman wanted to play piano at the public lecture.
"I was not initially comfortable with the request, so I decided to vet the idea with a small group from the committee, as well as Dr. Oren Stier himself," Goldberg said. "It felt like a tricky situation because we had already rejected her speaker nomination."
Biblically, music is used in celebrations in the Jewish faith. Music is typically not used during Jewish funerals or during Holocaust Remembrance programming. According to the Jerusalem Post, which reported on the faculty boycott on Friday, the belief that music cannot be included in Holocaust remembrance commemorations is not universally held, and some include music written by Jewish composers as an act of resistance and remembrance.
Ultimately, Goldberg said that his conversations confirmed that having music at their event would have been inappropriate, and he relayed the decision to Coltman.
(The original plan for the 2023 event, for which Berger was chosen to deliver a keynote address, also included a piano performance by Coltman. Ultimately, that was removed from last week's program, however.)
Then, recognizing the importance of surrounding the public lecture with related learning opportunities, the committee began collaborating with other campus groups.
That resulted in film screenings and discussion panels, a display by special collections at JMU Libraries, an exhibit called "Out Of Darkness" that was created in partnerships with students, a podcast with the Cohen Center, a film screening and discussion, and a musical exhibit at the Forbes Center.
"Ultimately, I was so proud of what we accomplished together with this program," Goldberg said.
Ties to Florida Atlantic University
As JMU's Chief Academic Officer, Coltman "directs the development and delivery of all academic programs at JMU while overseeing the division's budget and personnel." According to her JMU biography, Coltman served as Dean of the Dorothy F. Schmidt College of Arts and Letters at Florida Atlantic University from 2011 to 2017.
Berger, the speaker chosen for this year's Holocaust Remembrance at JMU, has been with Florida Atlantic University since 1999. He serves as the Raddock Family Eminent Scholar Chair for Holocaust Studies, Professor of Judaic Studies, and Director of the Center for the Study of Values and Violence After Auschwitz.
Coltman turned down The Citizen's request for an interview through Vass, the university spokesperson.
Vass, however, sent a statement of support for the programming from Thursday night's keynote speaker Berger, saying in part:
"My goal in writing is to encourage your community and also correct misinformation I have seen about the event. I was honored to be included in an academic conversation occurring the day prior to Holocaust Remembrance Day and was deeply impressed by the committee organizing it. The program was inclusive, somber, reflective, academic, and appropriate. I endorsed the event's structure and can share with you that I was never pressured to limit or change my talk… In my nearly half-century as a Holocaust and Jewish Studies scholar, this event was reflective of the integrity of academic and Jewish commemorations on the Holocaust. My hope is that this impactful event will contribute to ongoing campus conversations about these important themes, to which I have dedicated my entire academic career."
In response to The Citizen's request for speaker fee and stipend records, Vass said in an email that, "last year's speaker was paid $3,000 plus travel expenses. This year's speaker was paid $2,500 and the university covered travel expenses for his participation throughout the day to include the lecture."
Provost facing faculty scrutiny in unrelated matter
Coltman is also facing other scrutiny for alleged retaliation against employees from the JMU Faculty Senate unrelated to the controversy surrounding the Holocaust Remembrance.
The Breeze reported last week that the JMU Faculty Senate introduced a resolution that – if passed – would condemn Coltman's "un-cordial and un-collegial" as well as "potentially unethical and illegal" behavior.
The Breeze reported that Coltman demanded publicly and privately that Faculty Senate disclose the author or authors of another resolution regarding the transparency and accountability of the Provost's office during hiring searches.
Antisemitism on campus, and missed opportunities
On Dec. 16, Virginia Attorney General Jason Miyares sent a letter to the presidents of public universities and colleges in Virginia warning them of the rise in antisemitic violence.
In the letter, Miyares said that because of the rise in discrimination and antisemitism on college campuses, many Jewish students have been forced to conceal their Jewish identities to protect themselves.
Rabbi Jeffrey Kurtz-Lendner of Beth-El Congregation in Harrisonburg said that this year's program looked to him to be opportunistic and insensitive, and that it was a missed opportunity given the rising antisemitism nationwide.
Kurtz-Lendner told The Citizen that for many Jewish people, the Holocaust is not only one of the worst examples of human evil in history, but deeply traumatic and personal for many who live in the Valley.
Kurtz-Lendner's grandfather was killed in a concentration camp during the Holocaust, and his father barely escaped the same fate.
"He never recovered from the trauma, and I have lived with his trauma my whole life," Kurtz-Lendner said. For Kurtz-Lendner and so many others, the Holocaust is not a historical event. The effects are still being felt today.
Dorne's father also survived the Holocaust. Having apprenticed as a printer, he was allowed to travel in and out of the concentration camps to deliver printed materials. He was able to smuggle food into the camp, trying to keep family members alive, but he was the only family member of a family of nine children to survive.
That deeply personal and living trauma is why such consideration was taken to selecting the programming and keynote speaker for JMU's Holocaust Remembrance Program in 2022, and why some on last years committee say they took over ten months crafting programming that honored the victims and held space for the community.
"Instead of commemorating an event and trying to heal from an event that traumatized our community, it really came across as being insensitive and my community feels hurt by it," Kurtz-Lendner said.
Kurtz-Lendner said that this event "could have been an opportunity to address the rising antisemitism," and he sees it as a lost opportunity.
Kurtz-Lendner says that he is still willing to work with the university on programming in the future.
Goldberg says that JMU has the opportunity to stand for what it believes in.
"I love that JMU says what it stands for, I really do," Goldberg said. "But taking a defensive position rather than one of outreach, engagement, reconciliation, and learning is probably not the most productive approach. We have at least two dozen faculty in a religious minority who feel alienated at a time when antisemitism is on the rise. That is a serious problem that needs to be solved and I think it can be."
Goldberg says that while he has not heard yet of a scheduled meeting to work on a path forward, he hopes it happens as a first step.
"My sense, though I can only speak for myself, is that my Jewish colleagues are eager to work with President Alger and [Chief Diversity Officer] Dr. Carter-Hoyt on this," Goldberg said.
---
Journalism is changing, and that's why The Citizen is here. We're independent. We're local. We pay our contributors, and the money you give goes directly to the reporting. No overhead. No printing costs. Just facts, stories and context. We're also a proud member of the Virginia Press Association. Thanks for your support.