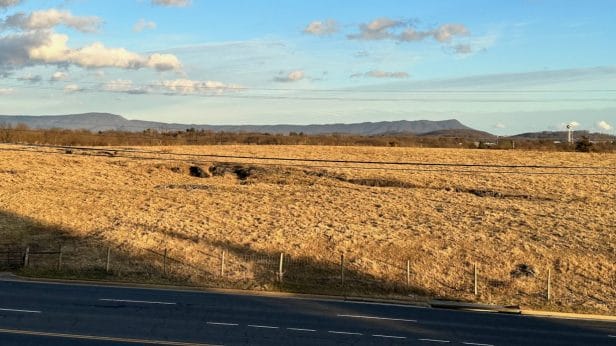 By Rachel Petterson, contributor
The city council on Tuesday voted 3-2 to approve zoning to allow for the Bluestone Town Center, a large mixed-use development off Erickson Avenue that is expected to add about 900 units, including affordable housing. Mayor Deanna Reed and council member Chris Jones opposed the proposed housing development, while Vice Mayor Laura Dent and newly elected council members Monica Robinson and Dany Fleming voted for it.
The proposed development's size and its mix of apartments, town-homes and single-family homes, attracted strong support and fierce opposition across Harrisonburg and especially among those living near the area at Garbers Church Road and Erickson where the development will be. The Harrisonburg Redevelopment and Housing Authority partnered with the company EquityPlus to propose the project.
Fleming, who served on the housing authority's board before being elected to the council last fall, said affordability and availability of housing remains paramount. He said he looked at the number of eviction filings and, according to what he saw, there were three times the filings in 2022 as in 2021.
"We are not making progress fast enough," he said. "And I know that if we don't, we're going to be back here again with a bigger problem, with maybe a bigger project, I don't know."
The council's decision comes after months of deliberation and debate in public meetings. Most recently, the last council meeting on Feb. 14 stretched well past 2 a.m. the next morning as residents and council members discussed the topic in a public hearing. Before this Tuesday's meeting, the council held an almost two-hour long work session to discuss the topic among themselves, along with comments from those representing the developers – particularly Michael Wong of the Harrisonburg Redevelopment and Housing Authority and Avram Fechter of EquityPlus – and city staff along the way. The council members then spent further time in the regular meeting justifying their respective stances and voting.
"I don't feel this is a rushed decision," Robinson said in explaining her vote. "I have spent hours upon hours upon hours of time researching, looking, calling, talking, trying to figure out as much as I possibly can in order to make a decision that is smart for our community."
Tuesday's debate included concerns similar to those some residents brought up Feb. 14. For example, the council members debated whether the city could adequately expand its infrastructure to accommodate a development of this size. Bluestone Town Center is set to be built over 8-10 years at a maximum rate of 100 units per year, according to Fechter, coming to about 900 units in total.
They sometimes disagreed over Bluestone's potential impact. Jones and Fleming, for instance, did not agree on how best to estimate the number of residents and new students in Harrisonburg's schools that Bluestone would house.
Regardless, Fleming argued that, based on his understanding of feedback given by the Weldon Cooper Center for Public Service at UVA, a development like Bluestone would already factor into projected population growth. However, upon hearing part of the email from Weldon Cooper read out loud, Jones said he wasn't convinced that was the center's point.
Jones mentioned that city staff didn't recommend approving the project, although Thanh Dang, assistant director of the Department of Community Development, clarified that staff recommended not approving Bluestone because the proposal was ambiguous about various items — not because of the development's size and scope. Still, Jones said council members shouldn't put city staff in a position to make a situation tenable.
Robinson said Harrisonburg City Schools already needs to add new schools regardless of whether Bluestone is built.
"We already are teetering on some problems that are now being blamed or used to foster the idea that BTC is going to be the reason that makes them explode," she said.
More than once in the meeting Reed said that she would likely have approved this project if it was not so large.
"If this development was 500-600 units, I'd probably be like, 'I'm all for it'" she said.
Reed said she didn't want to make a decision out of a sense of desperation and added that she was confident other, better opportunities would come up. She noted that the council approved 13 other housing developments, most of which have yet to be built for reasons outside of the council's control.
Jones repeatedly mentioned that making housing affordable is influenced by other factors, including wages.
"You know something that makes stuff real affordable? When you pay people more money," he said. He did not propose any specific action related to wages but made it clear that this was a multi-faceted issue.
In addition, Jones referred to the failure of Urban Renewal, or R4, which was a project that destroyed majority-Black housing and businesses in the northern part of Harrisonburg in the 1950s and 1960s. He said he was skeptical of making a large housing development that is geared toward people who are low-income and likely Black and Brown in one area separate from the rest of the city, saying that would set the area up to be underserved.
"I just want to make sure that at every opportunity I turn that I won't support something that is so closely aligned with something that hurt people that look like me," Jones said, referring to past damage done to Black and Brown communities, as well as to low-income white people. "This is just a modern-day version of [those projects], except this time the people are actually coming to us directly letting us know how much money they're making."
Robinson expressed hope that Harrisonburg has changed enough that a situation like Urban Renewal would not repeat and she sees Bluestone as a potential way to further inclusion.
Fleming suggested that this development could be considered mixed-income because it would include townhomes, as well as single-family homes geared toward home ownership, in addition to apartments.
Reed and Jones each said the vast majority of people who had reached out to city council via letters or spoken at meetings were not Black or Brown and that they were likely not the people who would move to this complex.
Reed said she had talked to officials from other municipalities and to people who this housing is targeted toward, and they were not jumping on it. Reed and Jones said those for whom the housing is meant haven't been well-represented in the public discussions. And they said they wanted their votes against the project to reflect attitudes they'd seen in other conversations they had had.
While Dent did not offer much justification for her decision during this meeting, she – along with Robinson and Fleming – voted to approve the development.
This means that a process that could take up to a decade will ensue, and council members will have additional opportunities to weigh in along the way. For instance, the council could ice the project by not approving bond issuances at various points along the way because the development is a public-private partnership.
But City Attorney Chris Brown suggested that these opportunities not be taken unless the situation is dire. Taking such a step could make Harrisonburg significantly less attractive for future developers and waiting too long could mean people have already made payments on a home in the development.
Council Approves New Apartment Complex on Peach Grove Ave.
In the same meeting, the council unanimously approved another housing project. This one is an apartment complex that would contain a maximum of 376 units with a minimum of 30% one-bedroom and studio apartments, an undisclosed percentage of two-bedroom and a maximum of 20% three-bedroom units. It would be within walking distance of the Food Lion on Port Republic Road along with the other surrounding businesses.
This complex would be open to both students and non-students.
Reed said it could help support young professionals in the area because it would have several one-bedroom and studio units. Adam Fletcher, the city's director of the Department of Community Development, said this complex would be market type C, which refers to developments with higher-than-average access to amenities, such as the businesses next door, but is also "the most affordable market type in the city." Fletcher said this was the smallest but fastest growing market type.
Because the land is currently associated with the James Madison University Real Estate Foundation Inc., council members said they were glad for not only another development that could help address affordable housing but also that it would create tax revenue from that land, which has been exempt from taxes under its current status.
---
Journalism is changing, and that's why The Citizen is here. We're independent. We're local. We pay our contributors, and the money you give goes directly to the reporting. No overhead. No printing costs. Just facts, stories and context. We're also a proud member of the Virginia Press Association. Thanks for your support.