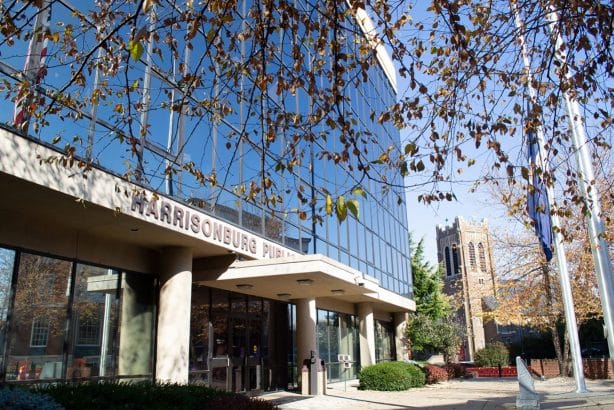 By Rachel Petterson, contributor
Later this week, the Virginia State Police Department will close out the 2022 data processing period, after which it will release a summary of crime in Harrisonburg, as well as the rest of Virginia, called "Crime in Virginia."
Olivia Moloney, crime analyst for the Harrisonburg Police Department, and Jackie Zayas, the department's records supervisor, are the ones who see all the data and say crime has been stable the past few years, which echoes the main theme of the presentation Chief Kelley Warner gave to city council on Dec. 13. (That presentation is included at the end of the article.)
In 2020 and 2021, for instance, simple assault was the crime with the highest number of reported offenses. In fact, the number was exactly the same for both years, at 357 — a little less than one each day. (Simple assault involves putting someone in fear of physical violence. It might include physical harm and minor injuries but does not always, such as in the case of threats.) Behind that were reported crimes of: destruction/damage/vandalism of property; drug/narcotic violations; and shoplifting.
Zayas said she hasn't seen a noticeable difference this past year either.
"It's been pretty steady. Nothing much has changed. With [COVID-19], everything was closed, so we had a little standstill, but other than that, it's been the same," Zayas said.
Zayas has been working with HPD for 14 years, whereas Moloney joined the team seven months ago. Moloney has noticed that crime in Harrisonburg "seems to be really seasonal."
"When big events happen. When something in the national news happens. When JMU students come back. When there's a big game– you know, it ebbs and flows," she said.
Part of Moloney's job is to look for crime hot spots. She gets information from Zayas, who has received and processed reports from officers and investigators, and she then generates and looks at the current statistics — including where most of the crimes are happening in the city and the frequency of certain offenses. If there's an increase, she will talk with her supervisor and they will respond accordingly, such as by sending patrols to those hot spots.
When Moloney talked with The Citizen at the end of February, she said vehicle tampering and theft have been happening throughout the city. In particular, theft of catalytic converters has been on the rise, as it has been nationally.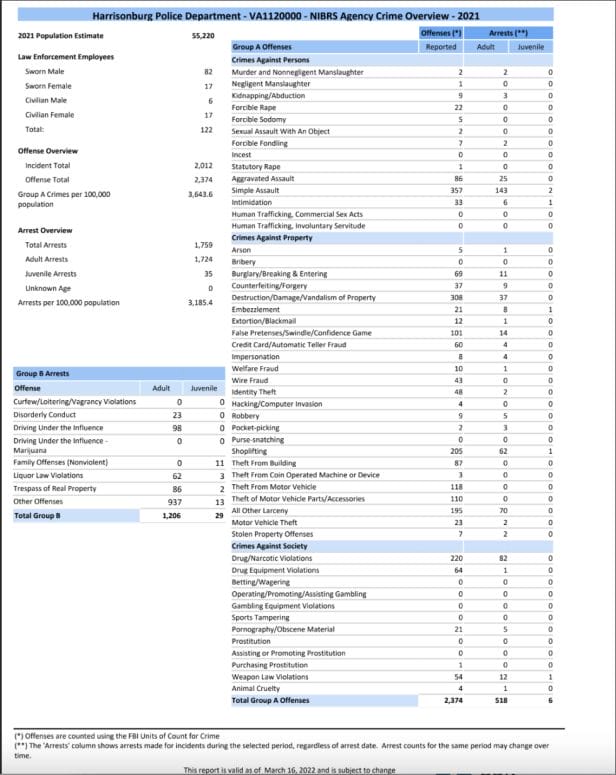 Looking at hot spots in the data and responding strategically is part of an approach called stratified policing.
"Hot spots can be because of noise. And that could be because the JMU kids came back to school. So it can be seasonal, so it's like short spurts," Moloney said. "But then we have things like catalytic converter thefts, and those can be in spurts, but then it's like long-term because it's been happening for over a couple of months."
Catalytic converters are found on the bottom of cars and contain precious metals, which makes them potentially lucrative targets for people who might saw them off to re-sell. Catalytic converters are expensive to replace.
"It really affects people," Moloney said.
These thefts have been crimes of opportunity and aren't concentrated in certain neighborhoods. When people stole catalytic converters from several vehicles in a parking lot, police installed cameras. They have also asked area businesses to install more lighting in their parking lots. In addition, the police department is using patrols, with the idea that police presence will deter further occurrences.
"We haven't found a pattern. It's a big crime of opportunity. So we have been brainstorming … ways to really combat that and put more manpower towards it," Moloney said.
Theft of motor vehicles and motor vehicle tampering, where someone steals items from inside the vehicle, are "really big in this area" too, Moloney said.
These crimes often involve taking advantage of when people don't lock their cars or when they leave the key in the ignition unsupervised. The police department has been making an effort to encourage the public to lock their cars.
"A lot of people leave their doors unlocked and leave their keys inside the vehicle," Moloney said. "People are also leaving high-valued items in their vehicles. People have left rifles in their vehicles, hunting equipment, jewelry … purses. If you don't want your identity stolen, if you don't want your really expensive rifle stolen, you should lock your car."
The Harrisonburg police's records department follows rules set by the National Incident-Based Reporting System, a program through the FBI. Monthly, the department sends data to the state to be checked for errors.
"They take all that raw data into their system, and they create all the statistics for the year," Zayas said. "So the numbers that we use to turn in anything for the chief, she uses out of those numbers."
The reporting system's rules standardize data reporting across the country. But there's more to the analysis than just the figures.
"Numbers don't always tell the full story, so you have to interact with records — interact with the police officers that are out on the street to get a better idea of what's going on," Moloney said.
For example, Zayas said the category of destruction of property could include a wide range of activities, such as someone throwing another's phone across the room or graffiti on buildings or smashing public property. In fact, she said the department receives a lot of reports of people destroying others' phones, and this does not have to be in the context of assault.
Two instances of gun violence occurred in the fall of 2022 that raised public alarm. An individual opened fire on Devon Lane, resulting in injuries but no fatalities, and then eight days later a homicide occurred on Community Street.
Moloney commented on public perception versus the trends that the police department sees. She does not see these events as part of a trend of increased shootings.
"Social media really will spotlight different events, right? So there was the Community Street shooting, and so that was like, everybody zooms in on that and like,'Oh wow, it's a really high uptick.' But in essence, we have such a low number of things like that happen here, but when it happens, it's [that] everybody's talking about it," she said. "And it causes people to think there's possibly more shootings than normal."
While shootings remain rare in Harrisonburg, Zayas said it's not uncommon for violent crimes to happen on weekends, especially when some people in town are attending parties.
Data collection depends on accurate and thorough reports that officers submit.
Moloney, Zayas and the records department communicate with officers to get all the information in the formats they need, both for Moloney's analysis and complying to the state's standards.
"We cannot say there's a shoplifting and an assault and just report a shoplifting," Zayas said. "You have to report the shoplifting, the assault, the destruction of property. We have to report everything. By the state, we're mandated to do that."
Sometimes this means that there needs to be extra communication to make sure they have all the information both of them need in the format they need it.
If a crime is not reported, it cannot be included in the data.
Warner, the chief, told The Citizen the department is working to start a program this year that would further involve community members in the process of making sure offenses are reported. This process would involve further community outreach with the aim of building trust between the department and the community. Warner sees this project as a big opportunity to get services and help to "victims of crime that are just going unreported."
Warner explained that this program would act as a conduit between the police department and the public. She said that perhaps someone wouldn't feel comfortable reporting directly to an officer "just because they don't know us, because we're in a uniform, because the color of our skin may be different or the language that we speak is different. They should be able to feel that they can go talk to someone, maybe in their community, that they trust."
In December, Warner presented crime data to the city council, and council member Chris Jones asked about rates of domestic violence.
Domestic violence is not reported as its own offense. On the yearly report, there is only a category is written as "family offenses (nonviolent)," which is defined as "unlawful, nonviolent acts by a family member (or legal guardian) that threaten the physical, mental, or economic well-being or morals of another family member and that are not classifiable as other offenses, such as Assault, Incest, and Statutory Rape," as written in "Crime in Virginia 2021."
For example, aggravated assault is reported as such regardless of the situation, but officers could report a family relationship between the victim and perpetrator and a circumstance of "domestic violence." Such instances are included in data in the statewide "Crime in Virginia" report. Offenses potentially involved in domestic violence may not have these details reported alongside them, making the picture of domestic violence available diffuse and ambiguous.
On the end of records, "there's no assumptions made. And usually if it's domestic violence, there's going to be simple assault attached to it. And that's where we will report a simple assault," Zayas said. "So unless the officer says in the narrative, this is domestic violence … it's a simple assault."
While other cities have seen instances of human trafficking, none have been reported in Harrisonburg between 2018-2021.
For both Zayas and Moloney, accuracy is key.
"We want to have our stuff perfect," Zayas said."We just got audited. We just got the results a few days ago. He said, yeah, we only got one mistake out of so many reports, and it was something little tiny."
Moloney said she communicates if data stands out to her.
"If I see something that I don't understand or that looks kind of inconsistent, I always go and ask questions and then we check to see, Okay, is this because our system is not pulling it correctly? Is it because something was going on that month?"
"Reporting something incorrectly is not something we would take lightly," Moloney said. "No one would do that."
---
Journalism is changing, and that's why The Citizen is here. We're independent. We're local. We pay our contributors, and the money you give goes directly to the reporting. No overhead. No printing costs. Just facts, stories and context. We're also a proud member of the Virginia Press Association. Thanks for your support.