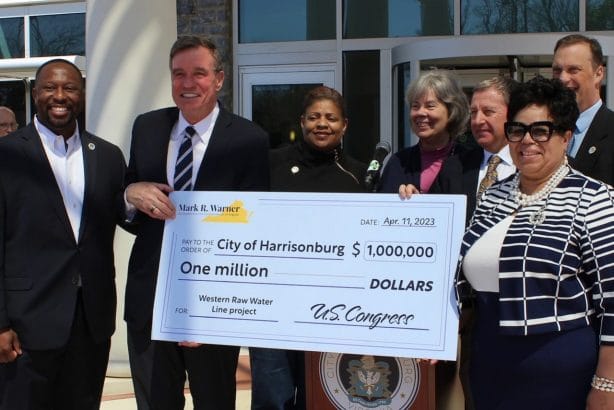 By Bridget Manley, publisher
Federal money is arriving just in time to replace a more than century old pipe that, just this week, inconvenienced people in part of Harrisonburg and cost time, energy and money to fix for the umpteenth time.
U.S. Sen. Mark Warner stopped in Harrisonburg Tuesday to deliver a check for $1 million dollars, which will be used to replace and expand a potable water pipe in the western part of the city.
The current water line, which was one of the first three that the city of Harrisonburg constructed, will retire pipe that was laid in the 1890s.
Warner's stop is part of a two-day statewide tour to meet with local officials and discuss infrastructure needs and deliver funding allocated from the Fiscal Year 2023 Budget Bill.
Warner said the water line was part of a larger push by federal officials to update infrastructure across the US.
"For a long time, I think we have under-invested in our infrastructure," Warner said. "When it comes to water lines, that's not very sexy, but when these water lines get this old, the potential for enormous degradation and harm that could come about … by having these federal dollars, that are oftentimes matched by state and local dollars, it's really important."
The more than century-old water pipe has been a problem for city officials in recent years. It has broken multiple times, including twice Monday morning, prompting city officials asking those in the affected area to conserve water until it was repaired.
City spokesman Michael Parks told The Citizen that line repairs not only cost money and drain resources, but they disrupt service for city customers, and modernizing the line will have many benefits.
The city plans to stop using the century-old line that was laid by pick-and-shovel and create a new water line utilizing fresh water from the Dry River, which runs southeast along Route 33.
Public Utilities Director Mike Collins said the new line will focus on sustainability, continuity and water quality.
Collins said customers in that area can access water for the next hundred years with "zero risk of contaminates from the raw water source."
"That water at Dry River is pristine," Collins said. "There is no human activity there, and there is no industrial activity there."
The water comes into the Dry River completely by gravity, according to Collins, which will save the city 2,000 to 3,500 kilowatts of electricity for every million gallons brought from the river.
Warner told Mayor Deanna Reed and members of city council that he continues to work to bring funding for infrastructure and broadband internet access to Virginia.
City council approved the resolution for the application for federal funding in April 2022.
Dates for ground-breaking or construction have not yet been set, but Collins said he is ready to get to work.
"Where workers stood 125 years ago with a shovel and pick, we are going back there and we are going to repeat it with modern technology and equipment," Collins said.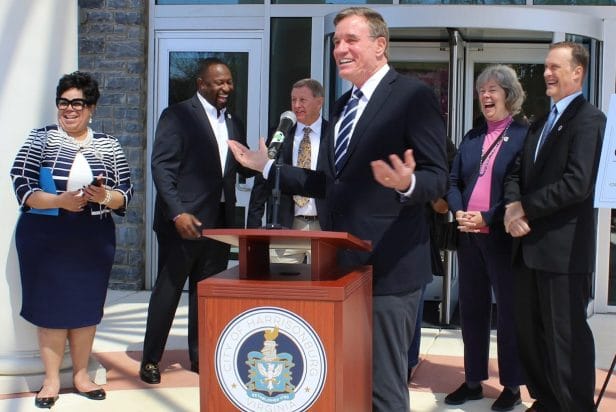 ---
Journalism is changing, and that's why The Citizen is here. We're independent. We're local. We pay our contributors, and the money you give goes directly to the reporting. No overhead. No printing costs. Just facts, stories and context. We're also a proud member of the Virginia Press Association. Thanks for your support.