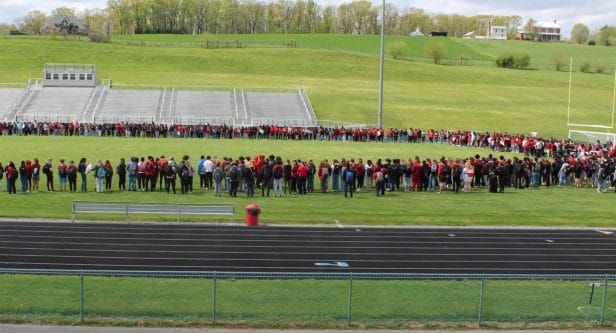 Story and photos by Bridget Manley, publisher
Following the death of 17-year-old Calour Fields over the weekend, students from Harrisonburg High School staged a walkout Monday afternoon to honor Fields' memory and to call attention to the ever-growing crisis of gun violence in America.
The early Saturday morning shooting left two dead – D'angelo Marquise Gracy, a 22 year-old from Rocky Mount, North Carolina, and Fields, a junior at Harrisonburg High School. The shooting occurred in off-campus housing, although neither victim was a student at JMU.
At 2:05pm, the entire student body poured out of the school and onto the football field, where many carried signs begging for an end to gun violence.
Most of the students wore red, Calour's favorite color. Some wrote #85 on their faces – Calour's number on the HHS football team – and some carried his photo.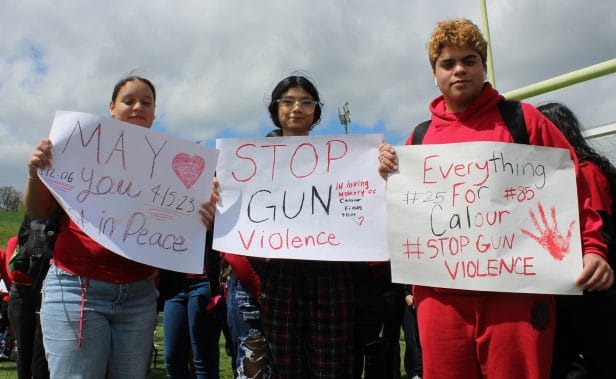 Over the weekend, HPCS Superintendent Michael Richards and JMU President Jonathan Alger released statements expressing condolences and offering counseling and support for anyone who might need them.
Richards, who heard about the student-led walkout earlier in the day, was on site to offer support to the students, faculty, staff, and members of Calour's family, who were also invited.
Richards said that the feelings of love and support in the HHS community mixed heavily with grief and loss of their friend.
"It's a very somber day," he said.
Calour was beloved by students and staff, according to Richards, with an "infectious smile that brightened the room."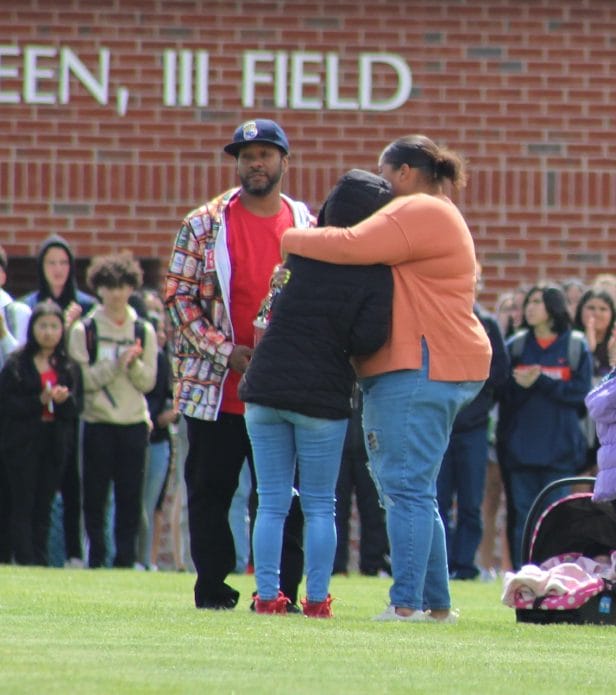 The students lined up in a massive circle around the football field, and stood quietly while Calour's mother, Candice Strother, and other members of his family were escorted into the field. As the family wept and embraced each other, they were quickly surrounded by friends from school.
The student body, while huddling close to each other, then began chanting, "Long live Calour."
There was a heavy police presence at the school during the walkout, and Richards said that the school was working with HPD to ensure that students felt safe in the coming days.
Although there have been no arrests in the weekend shooting, Richards said that according to the Rockingham County Sheriff's office and HPD, there are no heightened threats to the general public or the school community.
Still, he said, they take extra precautions around tragedies such as this to ensure the safety of students.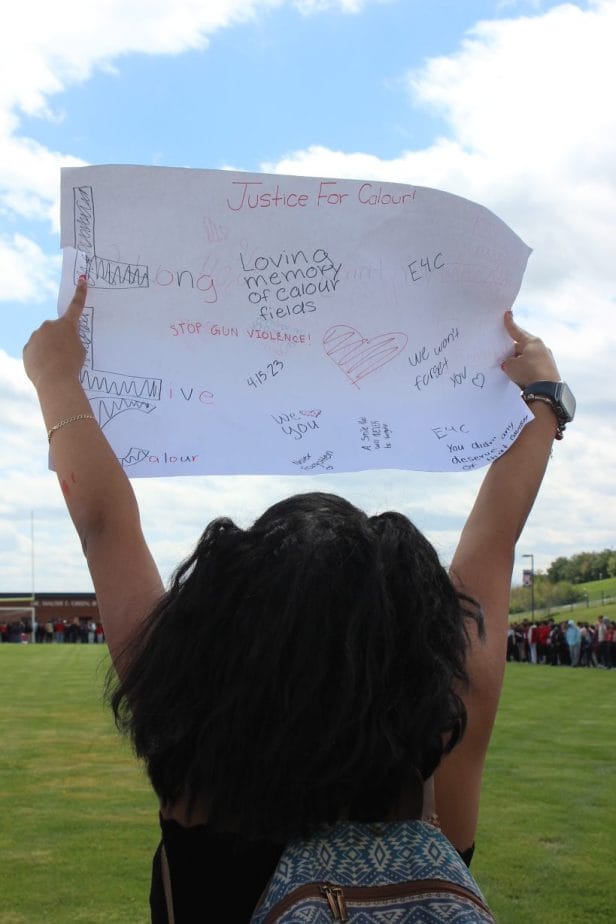 Gun violence has reached staggering levels – the Washington Post reported that purchases of guns had rose to record levels in 2020 and 2021 – and that while mass shooting like Uvalde and Nashville garner national attention, gun deaths like Calour's have skyrocketed across the nation.
According to the CDC, firearms are the leading cause of homicides and suicides in the United States.
Harrisonburg is like many other cities battling the rise of gun violence. Last October, eight people were injured in a shooting on Devon Lane, one person died in a shooting on Community Street, one person was injured in a shooting last July on College Avenue, and police are currently investigating after a man arrived at Sentara RMH with a gunshot wound earlier this month.
Richards said that the walkout signaled to him that society needed to "do more" to combat the surge in gun violence in the country.
The family has set up a GoFundMe to help pay for Calour's funeral.
---
Journalism is changing, and that's why The Citizen is here. We're independent. We're local. We pay our contributors, and the money you give goes directly to the reporting. No overhead. No printing costs. Just facts, stories and context. We're also a proud member of the Virginia Press Association. Thanks for your support.