By Bridget Manley, publisher
After finding him asleep at the wheel of his car late May 2, police arrested Harrisonburg City Council member Chris Jones and charged him with driving while intoxicated, according to court documents.
Jones has been a councilman since 2014. According to court records, this is Jones first DWI offense, which is listed as a class one misdemeanor.
Late Tuesday evening, an officer with the Harrisonburg Police Department responded to a call for a vehicle stopped on Maryland Avenue with a driver asleep behind the wheel.
The officer located the vehicle, which was still running but stopped in the traffic lane.
Jones was the only occupant inside the vehicle, and after administering field sobriety tests the responding officer found reason to take Jones into custody on a charge of driving while intoxicated.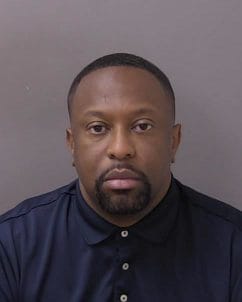 The court documents show that Jones refused a preliminary breath test in the field and was subsequently placed under arrest.
Officers took Jones to the Harrisonburg-Rockingham County Jail, where he submitted to breath testing, which yielded a .04 per 210L of breath on the EC/IR II breath test.
Jones responded to The Citizen's interview request with a statement he first released to WHSV, where Jones works as an advertising account executive. It said he was "grateful that the outcome was not more severe than it was" and that he was searching for "clarity on how I can move forward from this moment and create positives from this negativity." 
"I have long been called to make this community a better place, and I do not want any of my actions to impact that important work. I am dedicated to serving this community and using this experience to remind me of the importance of the position I hold, and the responsibilities I have to the people I serve," he wrote. "I am grateful for the words of compassion people in our community have shared with me throughout this experience, and I say to them and all in Harrisonburg that I remain focused on working hard for all of you."
City Spokesman Michael Parks sent a statement to The Citizen about the arrest, confirming the details of the arrest but further saying, "per direction of the Page County Commonwealth's Attorney, which has been designated as special prosecutor on this matter by the Rockingham County Commonwealth's Attorney, the City of Harrisonburg will not be releasing any additional information or records, or addressing any additional questions, related to this incident at this time per Virginia Freedom of Information Act – 2.2-3706.1 concerning disclosure of law-enforcement records, criminal incident information and certain criminal investigative files."
Virginia has some of the strictest drunk driving laws in the nation. According to the Virginia Department of Motor Vehicles, all drivers with a blood alcohol content of .08 percent or higher are considered to be driving while intoxicated.
However, if drivers 21 and older are impaired with a blood alcohol content of lower than .08 percent, they also can be charged.
According to the Department of Motor Vehicles, simply by operating a vehicle on Virginia highways, drivers "have consented to a breath or blood test upon arrest for DUI."
If a driver refuses a breath or blood test, Virginia law requires the court to suspend your driver's license for one year. A second breath or blood test refusal can result in a three-year suspension, and second breath test refusal is also a Class 1 misdemeanor.
During the traffic stop, Jones told the officer he had been at Heritage Oaks Golf Course and the Ridge Room, and that he had approximately 3-4 beers while playing golf.
Jones is scheduled to appear in Harrisonburg/Rockingham General District Court at 10 a.m. Monday, May 15.