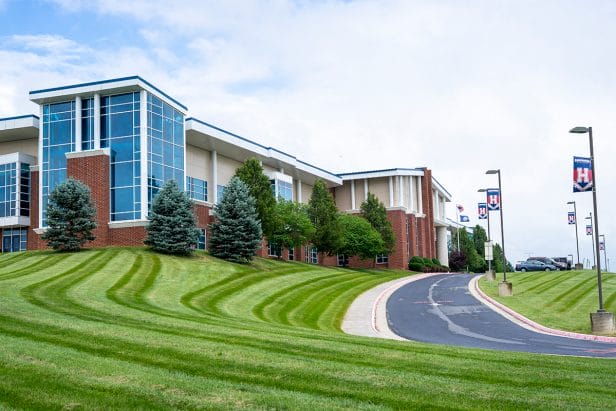 By Kayla Brown, contributor
Harrisonburg High School is slated to try a new monitoring system that uses artificial intelligence to recognize weapons in hopes of preventing a school shooting and reducing police response times.
So far, the district has looked at three companies to potentially partner with, but one — Philadelphia-based ZeroEyes — emerged as the most-mentioned firm at Tuesday's school board work session at Keister Elementary School.
ZeroEyes, whose site says it was founded in 2018 by Navy SEALs, integrates an AI weapons detection model into existing security cameras to try to identify threats and stop mass shootings before they start. If a weapon is detected, a human ZeroEyes analyst must confirm the potential threat from the video before alerting first responders and the school.
Within the last year, Harrisonburg High School has seen an increase in unfounded threats, taking an emotional toll on students and faculty and stretching police resources. Nationally, there have been 19 school shootings in 2023, according to Education Week's 2023 School Shooting Tracker.
The district's chief operating officer, Shawn Printz, said these new safety features are unrelated to increasing gun-violence nationally and locally.
"It's more of the next evolution in making sure we're protecting kids," he said.
Superintendent Michael Richards assured parents that this technology does not use AI facial recognition and is programmed only to identify weapons.
Implementing the advanced technology is "still in the early stages," but the district will pilot the technology at Harrisonburg High School in the fall. Printz said it could be used at other schools by the spring of 2024, but will definitely be a feature at Rocktown High School, which is scheduled to open to students in fall 2024.
Additionally, summer renovations at Harrisonburg High will include switching manual keys to a key-card entry system, eliminating the hassle of lost keys for employees while also allowing front-office workers to better keep track of who is accessing the building.
"We'll be able to know from the swipe of a key whose in the building and we can cancel a key if we need to for security reasons," Richards said. 
The board also reviewed other safety features that have been installed over the past year at all Harrisonburg schools.
For instance, the district developed a digital mapping system to provide first responders with a map of each school that would allow them to know exactly where to go during an emergency.
The district installed an impact resistant film over glass at each entryway of school buildings. Richards said with the film, it would take "quite the effort" for someone to break a window or door and enter the schools.
Harrisonburg Chief of Police Kelley Warner, who also attended Tuesday's work session, said she was grateful for the safety changes.
"It shows that it is a partnership and that's necessary in order for us to have a safe community, because that's what this is- it is a community. I am excited about the efforts the school division is putting forth to further ensure the safety of our children through technology."
Also at Tuesday's school board work session:
Richards announced Basil Marin will be the new principal at Thomas Harrison Middle School. Marin, who is from Harrisonburg, has spent the last year as a principal at a high school in Griffin, Georgia, and earned a Ph.D. at Old Dominion University.
Sal Romero, coordinator of family and community engagement, presented an addition to the Language Access Plan that will allow families to request interpreters in their language at each school board meeting. In an effort to increase parental involvement, videos that are in development will help families understand the different elements of the board and each role.
The school board gave the go-ahead for Chief of Finance Tracy Shaver to ask the city for nearly $852,000 more in next year's budget to cover school nutrition costs. The board also moved $1.37 million within the district's budget from the instruction area to cover additional administration, health, attendance and transportation costs, as well as completing a new roof at Keister Elementary and covering outstanding debts. Board member Andy Kohen made it clear that teachers would not be affected by moving funds from the instruction budget. The funding for both moves approved Tuesday comes from grants and do not affect taxpayer dollars. 
---
Thanks for reading The Citizen, which won the Virginia Press Association's 2022 News Sweepstakes award as the top online news site in Virginia.
We're independent. We're local. We pay our contributors, and the money you give goes directly to the reporting. No overhead. No printing costs. Just facts, stories and context. Thanks for your support.