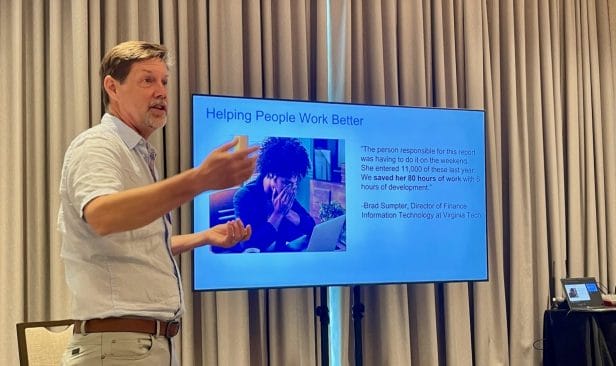 By Michael Russo, contributor
When Chris O'Brien prepared his presentation on artificial intelligence and automation for attendees at this week's Valley TechCon.23 conference, he turned to ChatGPT to determine what information he should include, which reduced the time he would've spent researching and using search engines.
O'Brien led a session on the topic "Preparing Your Organization for an Automated Future" and how the arrival of AI and robotic process automation aren't to be fear. Instead, he encouraged local business leaders to experiment with how best to use these new tools, just as he did in gathering information for the conference and in his work as director of user experience at Jenzabar, a Harrisonburg-based higher education software company.
"I think we need to move faster, right? I mean, technology's not slowing down, so we've got to learn to move fast with it," O'Brien said during his session. "How can we plan for this AI revolution if we don't have time to think and engage with our people on how we're going to be successful with it?"
He was one of 24 business leaders, educators and tech experts from across the Valley and the commonwealth who presented at the tech conference Thursday at Hotel Madison and Shenandoah Valley Conference Center. Valley TechCon, organized by Harrisonburg Economic Development with several co-sponsoring organizations, returned for the first time since 2019 with about 150 attendees.
As O'Brien described the workplace's transition to automated systems, he compared it to the moment in "Star Wars" when Han Solo wants to jump to lightspeed whether the Millennium Falcon was ready or not. Chewbacca, as a co-pilot, might be skeptical about it working, but the right pilot makes the jump successfully.
However, such a shift in the ways workplaces operate — and with such potentially large ramifications — doesn't come without controversy. Another session at the conference addressed cybersecurity and how technology practitioners can adapt to potential threats that involve AI, such as more advanced phishing attacks that make it harder for someone to distinguish reality from malicious actions.
Artificial intelligence and programs that rely on it have been developing for years but have particularly attracted attention — and public debate — in recent months since the firm OpenAI launched ChatGPT in November.
On the same day O'Brien presented about automation in Harrisonburg, Microsoft's president, Brad Smith, spoke at an event in Washington, D.C. to encourage regulation of AI and minimize its possible risks, according to The New York Times. Microsoft has increased its investment in AI. And Smith's call to action comes just over two weeks after Microsoft released its Work Trend Index Annual Report, which revealed that AI can free up people's time to enhance productivity and creativity, and "AI aptitude" and critical thinking skills will become vital for employees' success moving forward.
So as the landscape of how people work and AI's integration seems to be in flux, O'Brien provided some takeaways for how organizations can approach implementing automated systems.
Opportunities for efficiency
Automation can offer more advantages when incorporated in specific tasks and used in certain sectors more than others, O'Brien said. Finance, in particular, presents many avenues for AI to provide efficiencies.
Scenarios with if-then statements, even ones with more complex rules, are strong candidates for AI to become a benefit, he said.
Rule-based tasks have boundaries that focus AI or automated bots on achieving the desired outcome, and O'Brien said they're often better than humans at not making mistakes. Using bots for repetitive tasks that one might perform weekly or daily can add value, be scaled up for larger projects in the future and save time that could be dedicated to more innovative work. To that end, anything that deals with high volumes of materials or uses up resources also present opportunities for automation to enhance productivity.
The key, he told attendees of the session, is being deliberate about how best to incorporate AI — and that it's not scary.
"We're gonna learn it's easier than we think," he said.
Microsoft's report on AI cites an international survey of 31,000 people in 31 different countries it conducted to determine how people feel about AI and its potential advantages in the workplace. 49% of respondents were concerned AI could pose a threat to their jobs, but 70% said they'd use its capabilities to decrease their workload.
For those concerned about losing their jobs to AI, The Wall Street Journal has also reported on the conversation with a look at a study that researchers at OpenAI, which created ChatGPT, and the University of Pennsylvania conducted. That study said at least half the tasks in almost 20% of the jobs analyzed — which included accountants, writers and mathematicians — could be done faster with ChatGPT and other AI tools.
Ways to help, not hurt
O'Brien said bots and AI can function like a co-pilot, or a "buddy."
When explaining how he used ChatGPT to develop his presentation, he said the chatbot can handle complex prompts that do more than just spit out a research paper. If a user gives ChatGPT specific, detailed criteria for their desired outcome and how it'll be presented, O'Brien said the AI will produce better results, which can take on any format it's instructed to.
And as the software's name implies, having a conversation with the AI and giving it feedback on how to improve its outputs is essential to maximizing its potential, O'Brien added.
With this in mind, O'Brien made a distinction between attended and unattended bots and what those different AI tools are designed to do.
Attended bots act like assistants that work alongside someone. If a bot's processing invoices, for example, it will have checkpoints where it can show the employee something that looks unusual. Or it can write draft emails that a human would review before sending.
Unattended bots are free to complete tasks independently after receiving instructions, but they don't receive as much user input while working.
Two attendees in O'Brien's presentation said their local marketing company is already examining how it can automate more processes, like posting social media content or sending recruitment messages to potential employees on LinkedIn.
Ultimately, they said, their goal is to automate as much as possible to increase the company's profits and maximize employees' time.
Responsibilities of implementation
As someone who works in user experience, O'Brien said it's important to maintain a human element as automation continues to grow and develop.
If an organization wants to introduce automated systems in its workflow, he said that includes first getting everyone in the organization on board and having a team of people navigate how to incorporate it in their tasks.
O'Brien also hit on other key factors that come with implementing automations as a benefit and curtailing any risks. He said organizations should be transparent about using it — as he was about using ChatGPT in his presentation — and hold themselves accountable by addressing potential privacy implications regarding how information is processed and as well as educating others about how exactly automation is at play.
In one last call to action, O'Brien said having good people involved in automation's arrival with the right intentions is necessary to prevent misuse.
"We have new tech and cool tech, and it always starts out that way. I want good tech. I want human tech," O'Brien said. "So, I just challenge you all to … implement this in a human way, in a way that makes work better for everybody."
---
Thanks for reading The Citizen, which won the Virginia Press Association's 2022 News Sweepstakes award as the top online news site in Virginia. We're independent. We're local. We pay our contributors, and the money you give goes directly to the reporting. No overhead. No printing costs. Just facts, stories and context. Thanks for your support.