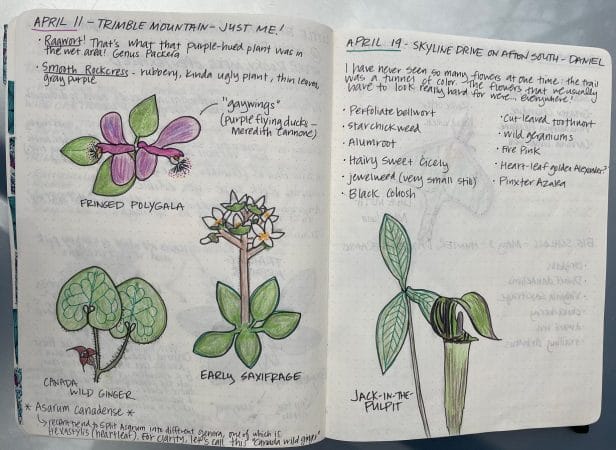 By The Harrisonburg Citizen
This piece, the photos and the audio stories it contains are part of the Shenandoah Valley Ever Green radio project, produced in partnership with WMRA. This seasonal program focuses on the environmental and natural systems of the Valley.
Don't just stop to smell the flowers when you're on your next hike — sketch them. That's what Nichole Barrows does.
Barrows is the director of education at Project Grows, a nonprofit with a vision for building access to healthy food with garden-based education, and she's also a frequent hiker. She keeps a journal of the flora she spots and frequently relies on the iNaturalist app, which is an initiative of the National Geographic Society and California Academy of Sciences that allows people to better identify — and chronicle — what they find in nature.
This spring, Barrows allowed contributor McLaren Reed to tag along on a family hike. Here's McLaren's audio story:

It's more than dirt
The soil is actually alive, as Thomas Benzing, professor in JMU's College of Integrated Science and Engineering, explains.
Contributor Sidney Roth interviewed Benzing about what all goes on down there — and why it matters to you and your yard.
There's a lot we can learn from our soil. And keeping it fertile can yield better plants, according to the Virginia Department of Conservation & Recreation yard care tips.

Enjoy the range of plants at your local Arboretum
Looking for native species you can add to your yard or garden? Seeking inspiration about what to plant? Or just want to enjoy a range of what nature has to offer?
Contributor Sam Game talked with experts in curating native plants at a couple of the Valley's natural sanctuaries.
For more stories and to listen to the entire Shenandoah Valley Ever Green program that aired May 30, go to the project's page on WMRA's site.
---
Thanks for reading The Citizen, which won the Virginia Press Association's 2022 News Sweepstakes award as the top online news site in Virginia. We're independent. We're local. We pay our contributors, and the money you give goes directly to the reporting. No overhead. No printing costs. Just facts, stories and context. Thanks for your support.