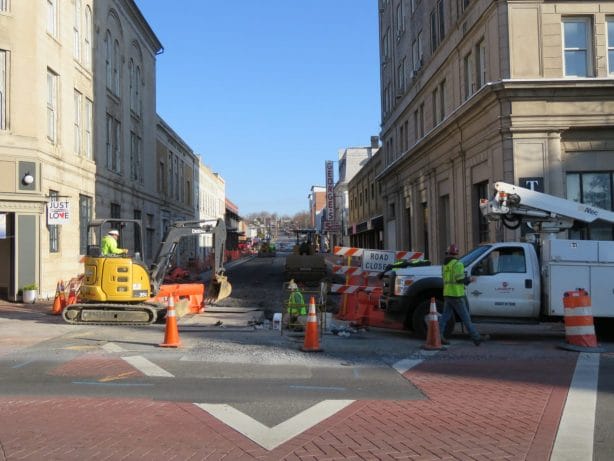 By Rachel Petterson, contributor
The average residential customer's water and sewer bill will go up by about $2.50 a month after the city council unanimously signed off on an increase Tuesday.
The price of water and sewer from the city of Harrisonburg will increase by 20 cents for every 1,000 gallons of water used and by 30 cents per 1,000 gallons for the sewer rate.
The increase in the water bill will increase the average customer's water bill by about $1 a month while generating $475,000 in annual revenue for the city, according to the city memo regarding the increase. The sewer increase, meanwhile, will add about $1.50 to the average customer's monthly bill while generating $575,000 more a year in revenue.
This increase will go toward regular maintenance of water and sewage systems, as well as funding the efforts to replace pipes across the city that are from that late 19th century. Because of the COVID-19 pandemic, the city didn't increase rates in 2021 or 2022 as originally planned.
The council signed off on the increases with a 4-0 vote. Council member Chris Jones was absent. There were no comments from the public at the meeting regarding this increase.
Approval of new apartment building
The council also approved an apartment building to be built at 1846 Evelyn Byrd Ave., between the Texas Roadhouse and stormwater detention facility, which is an area of land that dips down and is designed to control run-off rate and volume. The apartments' developer, a company called NERD, asked for a special use permit to construct the apartments on that plot.
The proposed building would have up to 20 units, with two being one-bedroom apartments and the rest having two-or three-bedrooms. One unit will be accessible for those with disabilities. The developer agreed to a maximum of 1.45 parking spaces per dwelling unit on-site. In addition, a bus stop will be added to the site.
This apartment complex would be across Evelyn Byrd Avenue from a proposed mixed-use development with high-end apartments to be built in part of the Regal Harrisonburg's parking lot. The council approved that project in February 2022, although construction hasn't begun.
Upcoming events
This Saturday is Harrisonburg's Best.Weekend.Ever, put on by Harrisonburg Downtown Renaissance. Events will last from 11 a.m. to 6 p.m. at various locations downtown.
Best.Weekend.Ever also will include activities, food, and performances related to World Refugee Day from 3-6 p.m. at the Turner Pavilion.
Monique Tshibola, who relocated to Harrisonburg from the Democratic Republic of Congo as a student and is now a part of Virginia Immigrant Voices, was among those present Tuesday night as the city council approved a proclamation declaring June 17 World Refugee Day.
Tshibola told The Citizen that these events are an opportunity to "show the world [immigrants] are not just here to come take over what is not ours."
Instead, she said, they are often here to seek safety and additional resources.
Rodrigue Makelele, who also immigrated here from the Democratic Republic of Congo and is involved with Virginia Immigrant Voices and Church World Service, emphasized that these events are an opportunity to celebrate refugees, their resilience, and their contributions to the community.
On Sunday, people can celebrate Juneteenth at a block party on North Liberty Street from 3-8 p.m. The block party will be a collaboration between Magpie Diner, Sagebird Ciderworks, Outskirts Food Truck, Mayor Deanna Reed, and council member Chris Jones.
Reed said Tuesday she's excited for the event. She also thanked Kirsten Moore, the owner of Magpie Diner, saying that Moore closes the diner for two days to prepare for the event, which she has been involved with the past two years. Moore doesn't make a profit from the event — but rather loses money, Reed said.
"It's her way of giving back to the community," she said.
Also at Tuesday's meeting:
The council reappointed Peirce Macgill as assistant director of economic development for the Shenandoah Valley Partnership.
The traffic lights on JMU's campus have been put under city control and will be brought up to the same specifications as the other traffic lights thanks to a $155,700 payment from JMU. JMU will also provide the funds for upkeep of the traffic lights. 
---
Thanks for reading The Citizen, which won the Virginia Press Association's 2022 News Sweepstakes award as the top online news site in Virginia. We're independent. We're local. We pay our contributors, and the money you give goes directly to the reporting. No overhead. No printing costs. Just facts, stories and context. We value your support.