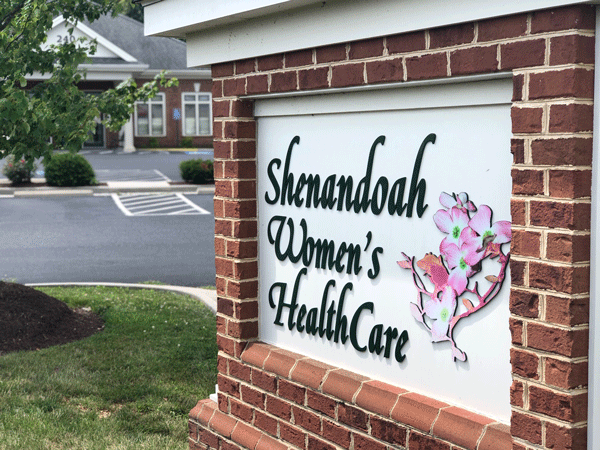 By Bridget Manley, Publisher
Shenandoah Women's Healthcare, a Harrisonburg-based obstetrics and gynecology provider, will become part of the Augusta Medical Group Practice starting Aug. 1. The merger will allow the doctors and midwives from both practices to share on-call duties in hopes of staving off burnout among OB-GYNs.
While Shenandoah Women's Healthcare will keep its footprint in the city, some of the group's patients who are due after the switch takes effect say they're concerned they might not know the person helping them in the delivery room unless they drive to Augusta Health in Fishersville.
In a letter emailed to patients last month, Shenandoah Women's Healthcare said the Harrisonburg office would remain open and that current gynocology patients would not experience any changes because of the switch to Augusta Health. 
However, Shenandoah Women's Healthcare will lose admitting privileges at Harrisonburg's hospital, Sentara RMH, because of the switch to Augusta Health, a competitor to Sentara. For expectant mothers due after the August 1 cutoff, the news means that some patients now must decide if they want to make the longer drive to Augusta Health in Fishersville when they go into labor.
Admitting privileges are "formal agreements between a physician and a specific hospital allowing the physician to directly admit patients to the hospital and provide services to their patients in that hospital as medical staff," according to the American College of Obstetricians and Gynecologists.
Shenandoah Women's Healthcare patients can still give birth at Sentara RMH, but they will not have their OB-GYN from that practice there to assist them. Instead, other providers on call will be brought in to assist with those births.
Gina Yost, chief nursing officer of Sentara RMH Medical Center issued a statement to The Citizen, which said the hospital staff were "saddened that Shenandoah Women's Healthcare decided to partner with another hospital."
Yost's statements said Sentara "worked diligently to keep them connected to Sentara RMH Medical Center and our community."
"We have a history of exceptional maternity services and will continue to work diligently to provide maternity services to our community regardless of where prenatal care is received," she said.
In an email to The Citizen, Augusta Health representative Kari Lightner said, "patients will be notified well in advance about their delivery location as we transition. Those delivering after August 1 will receive detailed information as deliveries and operations will be at Augusta Health."
A move to restore work-life balance
Tracey Barb, Shenandoah Women's Healthcare's practice manager, told The Citizen that a major driver behind teaming up with Augusta Medical Group was to share the on-call duties with Augusta Health doctors.
"There is a call share with the physicians at Augusta Health Care for women," Barb said. "These are eight doctors that are collaborating and working together to talk about high-risk patients…physicians are trying to collaborate together and share more calls," Barb said.
That approach could help retain and attract physicians, as many states face a growing OBGYN shortage.
Practitioners used to be on-call 24 hours a day, 7 days a week, Barb said. But as medical treatment evolved, sharing those on-call duties with other doctors and midwives in the practice became the standard, even though the on-call schedules could be demanding.
Still, many physicians are now seeking more of a work-life balance, especially after the extra grueling years during the COVID-19 pandemic.
Barb said it was important for the patients and the community to understand that because of the collaborative approach, the doctors and midwives would meet regularly and work together to update each other about high-risk patients and other individual patients' needs. 

Stress and anxiety for expectant mothers
Several expectant mothers told The Citizen that while their prenatal care has been exceptional at Shenandoah Women's Healthcare, they are anxious and stressed about their options for when they give birth. Many had expected to go to Sentara RMH, and the drive to Augusta Health in Fishersville is causing concern.
Taylor Wenger, who is pregnant with her first child and has been a patient at SWH since 2016, said she has had good experiences with the staff and doctors for her prenatal care.
Wenger is due Sept. 6, a month after the switch. She said she is trying to shift her mindset from driving 10 minutes to Sentara to a 40-minute drive to Augusta. Having another unknown to think about adds additional challenges to her pregnancy.
"It's certainly not the end of the world but has added one more stressor to the table," Wenger said. "I wish they would have communicated a bit more about what my options are. I received the generic message that all patients received in early May, and I figured they would follow up with me at my next appointment which was a few weeks later. Unfortunately, it didn't feel like they were very proactive to further address it or provide helpful information. I had to initiate and facilitate the conversation about my options. And honestly, as this is my first pregnancy, I really am not sure I even know what questions I need to be asking."
Barb, practice manager at Shenandoah Women's Healthcare, said the clinic's employees that are listening to patient concerns about a longer drive when they go into labor, but they are talking with patients individually to explain the changes and their options for care. She said the doctors understand that travel time can be essential and will have strategies in place for patients who live farthest away from Augusta Health.
"They may ask the patient to come in a little earlier, depending on their location, they may keep the patient rather than sending them home to labor at home," Barb said.
Barb noted that babies are delivered at Sentara RMH from as far away as Winchester and that many area patients in labor travel up to an hour to reach hospitals.
Ashley Hensley, another Shenandoah Women's Healthcare patient who is pregnant with her first child, also praised the care she has received but said she is worried about her upcoming delivery and what choice she will make. She is due Aug. 12 — less than two weeks after the practice will become part of August Health.
"It makes me very nervous, not because I don't trust Augusta but because I don't know them, and I had fully planned on giving birth at Sentara RMH," Hensley said.
Hensley lives 10 minutes from Sentara but 50 minutes from Augusta Health.
As an employee of Sentara, she receives an employee discount. Hensley is considering other factors, such as whether Augusta will honor her Sentara employee discount and insurance and how urgently she will need to get to a hospital when she goes into labor.
Lightner told The Citizen that Augusta Health is currently not out-of-network with any major insurance company, and do not plan to be in the future.
"Augusta Health is not out-of-network with any major payer currently," Lightner said in the email. "We publish an insurance plan participation guide on our website, which shows all insurance plans we are in network with."
Misty Ward, a midwife and owner and clinical director of Brookhaven Midwifery and Natural Birth Center in Harrisonburg, has noticed an uptick in consultations since Shenandoah Women's Healthcare announced the switch to its patients last month. 
Ward, whose center has been operating since 2010, said her practice has had to increase the number of days and available times for offering consultations and tours.
"I think it's a little too early to say how much our numbers might be impacted, but the buzz is definitely there," Ward said.
The center has heard from expectant parents who are concerned about the drive to Augusta, as well as concerns about who the medical provider in the delivery room will be — and if they will have even met that person before when they deliver at Sentara RMH. 

Changing options for care
Shenandoah Women's Health was one of the first practices to merge the services of midwifery, obstetrics and gynecology in the Valley. The practice recently celebrated 20 years of service in the Harrisonburg/Rockingham community.
While it will still have an office in Harrisonburg, patients from the city or much of Rockingham County who want to give birth their babies closer to home will have one fewer option now.
Ward said the Valley has been losing options for prenatal care and delivery for decades.
Brookhaven specializes in prenatal care, delivery and post-partum care for mothers as well as newborns up to six weeks old, and Brookhaven's personnel have delivered more than 900 babies over its 12 years.
As midwifery and home births have become more popular, Brookhaven has hired more midwives and recently broke ground on a new birth center.
Sentara is also working to fill a void in local care.
"Going forward, we are enhancing our obstetrics programs and will be bringing new services on board to our hospital and region," Yost said.
Yost said Sentara RMH maternity patients have 24/7 access to either OB-GYNs or certified nurse-midwives, as well as to neonatologists and pediatric hospitalists. As part of the hospital's services, there are operating rooms within Family Birthplace and mothers can choose anesthesia and low intervention pain management options.
And Shenandoah Women's Health will still provide OB-GYN care to women as they always have in the same location, according to representatives.
"There are many challenges in healthcare, and we are here to meet the needs of our community," Lightner said. "Augusta Health leaders, like me, understand the importance of maintaining the exceptional care of existing community provider teams like Shenandoah Women's Healthcare. This partnership does precisely this, while also expanding Harrisonburg's access to the premier care and resources of Augusta Health."
Barb said that out of all babies born in Harrisonburg, medical professionals from Shenandoah Women's Health delivers three-quarters of them, and the practice's leaders hope to continue that level of care in the future.
And for other gynecology patients, nothing will change unless they need surgery, Barb said. The practice will continue to accept the same insurance.
"We have a high standard of care for our patients," Barb said. "We want to take care of them."
— Contributor Stephanie Spernak provided additional reporting to this article.
---
Thanks for reading The Citizen, which won the Virginia Press Association's 2022 News Sweepstakes award as the top online news site in Virginia. We're independent. We're local. We pay our contributors, and the money you give goes directly to the reporting. No overhead. No printing costs. Just facts, stories and context. We value your support.