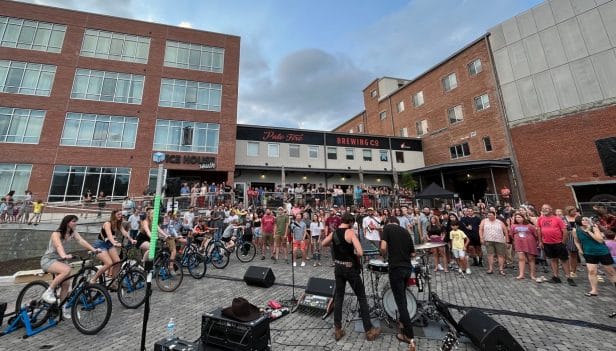 Essay and photos by Sarah Golibart Gorman, contributor
It's Wednesday and I'm rattling up I-81 in a Ford Transit bound for Newport, Rhode Island. Our cargo? Six bikes, eight solar panels, four guitars, one drum kit, and five people. This weekend will be Virginia-based rock duo Illiterate Light's second time hosting Newport Folk Festival's bike stage. To prepare for the festival, the band hosted a pop-up show at Pale Fire Brewing on Monday evening.
Around 200 Harrisonburg fans and families came out to try their hand, or legs, at the bike powered music set up. Bike-powered music has been something drummer, vocalist Jake Cochran and guitarist, vocalist Jeff Gorman have been refining for years. They built their first bike-powered generator in 2011 and debuted their first Illiterate Light pedal-powered show with two bikes at the Golden Pony in August 2021.
Since then, the band has expanded to six bikes, partnering with Jamis Bicycles and incorporating solar power. They also upgraded the capacity of their system made by Rock the Bike, a company based in Oakland, California, and included a pedalometer equipped with ascending and descending LEDs that allow bikers to see how much power they are generating.
"My dad said when they hit the bass drum, we'll need to bike harder," posited one pre-teen pedaler. To confirm that, I turned to Austin Bell, co-owner of Skyline Van Design whom Jake and Jeff brought on to help refine their electrical system.
Bell twirled the pointed ends of his copper mustache while recounting how he first met Jeff and Jake during the filming of their "Light Me Up" music video at a local house show venue. After a tour of the band's van, Bell was hired to install a roof vent fan, which I can personally vouch for after enduring numerous hot nights sharing a bunk with Jeff.
Allow me a Bridgerton-esque moment, dear reader, to explain that Jeff Gorman is my husband of five years. We fell in love in a milking barn on either side of a lovely dairy cow named Raspberry. But that's another story.
For Illiterate Light, the focus is on bringing people together to create a unique and kinesthetic musical experience.
"We're artists, not engineers. We love the simplicity of jumping on a bike to power a show," as Jake put it.
Added Jeff: "Moving our bodies is tremendously important. Since our modern way of life is more sedentary, being connected to each other kinesthetically can be a radical thing."
Whether folks are dancing or biking, the energy of an Illiterate Light show is a force fans do not soon forget.
Converting kinetic energy into electricity is rare in the music industry. To understand the system Illiterate Light has been working on for years, I had to dive deeper into the science.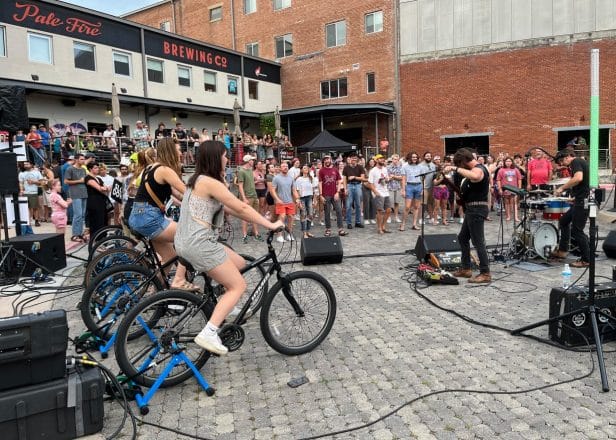 The setup consists of six bikes mounted on trainers with electromagnetic generators. As bikers pedal and the trainer wheels spin, electricity is generated and sent through wires, akin to water flowing through a hose. This energy is then stored momentarily in a capacitor, functioning as a temporary battery, before being inverted from direct current (DC) electricity to alternating current (AC) electricity, enabling the band to power AC-operated devices such as amps and speakers.
The Pale Fire show lasted a brief 25 minutes, just like the upcoming performance Illiterate Light will have on their bike stage at Newport. It served as a test for the system that Bell fine-tuned, ensuring it could handle Jake's frenzied drumming and Jeff's soaring guitar. With the support of solar-powered batteries, Harrisonburg bikers demonstrated that the pedal power is in excellent working order.
"It's such a cool conversion of energy," gushed Matt Hassman, a local bike advocate who has worn many hats, or should I say helmets, in the Harrisonburg bike community over the years. Now working as a mechanic at Bluestone Bike & Run, Hassman contributes to the bike stop's outreach efforts of refurbishing donated or affordable bikes, listing them for reasonable prices, and offering maintenance and replacement parts to support low-income bikers.
Harrisonburg is an excellent place for bikers, and it's continually improving, thanks to the efforts of the Shenandoah Valley Bicycle Coalition and other local stakeholders. Initiatives like converting one lane of Liberty Street into a bicycle lane are making biking in the city even more enjoyable and accessible.
Illiterate Light is bringing a taste of Harrisonburg's bike culture up north this weekend to Newport Folk Festival's bike stage, with an impressive lineup featuring Grammy-nominated Valerie June, along with Nashville artists Erin Rae and Ian Ferguson, and the rising indie folk trio Palmyra from Richmond. This follows last year's successful event with Langhorne Slim, Maddie Diaz, and Sarah Lee Guthrie. If you can't make it to Newport, I suggest filling a growler with your favorite Pale Fire brew, tuning in to your music streaming app of choice, and savoring these incredible Americana voices. Oh, and blast some Illiterate Light too.
Editor's note: Sarah Golibart Gorman is a new contributor to The Harrisonburg Citizen and is married to Illiterate Light singer-guitarist Jeff Gorman.
---
Thanks for reading The Citizen, which won the Virginia Press Association's 2022 News Sweepstakes award as the top online news site in Virginia. We're independent. We're local. We pay our contributors, and the money you give goes directly to the reporting. No overhead. No printing costs. Just facts, stories and context. We value your support.