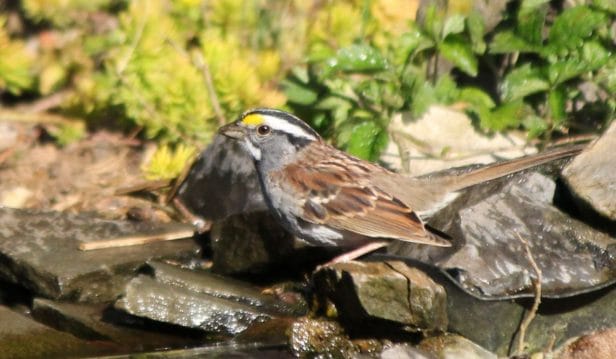 A contributed perspectives piece by the Climate Action Alliance of the Valley (CAAV)
Editor's Note: This is the latest installment of a regular series of contributed news roundups about statewide environmental and energy news. This piece highlights, with links to further coverage in various media outlets, recent environmental news stories of significance to Virginia, with a focus on energy and the environment.
To begin, CAAV is pleased to announce that we "received a $35,000 grant from Clean Virginia and intends to partner with local organizations working with populations who struggle with high energy bills."
Energy
A) State Corporation Commission (SCC)
"A major reform of how Virginia regulates the electricity monopoly Dominion Energy is cutting power bills [effective July 1]. It [ends] three surcharges.… it clears the way for a program to ease the impact of Dominion's pass-through of fuel costs to ratepayers and gives the … [SCC] more power to see if the utility's base rate is justified, a move the legislation's advocates say should bring down that rate, which accounts for about two-thirds of a monthly bill."
To address "the issue [of] … the profits Dominion earns from the money its customers pay," the SCC "formally launched [a biennial review to] … determine if … [Dominion] is charging too much or not enough to cover its costs and the investments it needs to make in its system."
"State regulators granted Dominion Energy permission to expand its Time of Use [TOU], or Off-Peak, Plan — an experimental program that incentivizes customers with smart meters to use less electricity during peak hours." The SCC approved expansion of the program from 10,000 to 20,000 customers. "Program participants do not pay the same rate for their electricity as a typical Dominion customer. Instead, the cost of electricity fluctuates throughout the day — TOU customers get a discount for using electricity in off-peak hours and pay a premium to cover anything used on-peak." As part of the biennial review, "Dominion seeks SCC approval to charge customers who opt out of smart meters."
Notwithstanding the Governor's imminent final regulatory action to withdraw VA from the Regional Greenhouse Gas Initiative (RGGI), scheduled for July 31, Dominion received SCC approval "to charge customers again for carbon market participation [and] residential customers will see an additional $4.44 monthly charge … to cover the utility's costs of participating in the market between July 31, 2022 and the end of this year…. Dominion initially recouped its costs through a bill rider that cost the average residential customer $2.39 per month. But in May 2022, Dominion asked regulators to suspend the rider due to Youngkin's desire to withdraw from the market. The charge was halted July 31, 2022." Noting the state's scheduled withdrawal from RGGI, Cardinal News summarized numerous projects in Southwest and Southside VA that benefited from RGGI funds for both community flood preparedness and energy efficiency and weatherization improvements for low-income residents.
B) Fossil Fuels
"Environmentalists oppose [a Dominion-proposed] gas-burning power plant in Chesterfield County. "Construction on the plant could start as early as 2025, with full operations starting in 2027…. However, climate activists say according to the Virginia Clean Economy Act passed in 2020, Dominion will need to be fossil fuel free by 2045." Dominion is also facing opposition to a proposed new 26-mile power line near Chase City, in Mecklenburg County. The SCC approved the proposed route; opponents objected during public hearings.
"A Surry County farmer is concerned the Virginia Reliability Project will destroy his land and livelihood…. The project plans to replace two sections of the Columbia Gas Transmission pipeline…. The pipeline project will go through … [his farm, which] is protected by an open-space easement with the Virginia Outdoors Foundation, which protects the stream, timber and forest through which the project is planned."
C) Nuclear Power
"Gov. Glenn Youngkin visited Surry County on July 10 to celebrate the 50th anniversary of Dominion Energy's Surry nuclear plant [and] … to tout nuclear's place in his 2022 "all of the above" energy plan, which calls for at least one small, modular nuclear reactor, or SMR, in Virginia within the next decade."
Sharing "his vision for nuclear energy at Surry power plant [the Governor indicated he] wants Virginia to embrace emerging nuclear energy infrastructure, calling it the state's 'moonshot.'" "Lynchburg-based BWX Technologies … will make a nuclear reactor and fuel for the world's first demonstration spacecraft to use nuclear thermal propulsion." "A collaboration involving Lynchburg-area and Southwest Virginia groups will make the case that the region's nuclear industry is the right candidate to receive tens of millions of federal dollars through a new economic development program called Tech Hubs." "Environmentalists and Southwest Virginia residents are concerned about proposed sites for small modular nuclear reactors. The LENOWISCO Planning District's final feasibility study [highlighted in CAAV's June Perspectives Piece] shows these reactors will be near local businesses, schools and residential neighborhoods.
D) Data Centers
Dominion's 2023 Integrated Resource Plan projected "carbon emissions rising as electric use soars." "As more data centers come online and more electric vehicles hit the roads, Dominion Energy's state-set goal to slash carbon emissions to zero by 2045 looks to be out of reach," according to "a Richmond Times‑Dispatch analysis of the company's latest long-term plan …."
"More Data in the Cloud Means More Centers on the Ground to Move It. The need for data centers has soared, fueled by remote work and the growth of high-speed streaming. The Suffolk News-Herald Editorial Board said "Go all out for data centers." But finding the necessary land and energy could be a challenge and, depending on the energy sources used, could significantly increase Virginia's greenhouse gas (GHG) emissions, including methane. Virginia's data center "fevers" continue and may be "spreading" as evidenced by a "Catlett-area rezoning application [Fauquier County]", maybe to Frederick County and King George County, and even to Southwest VA: "Elected boards from five Southwest Virginia localities … approved resolutions of support for efforts to attract data centers to the region, … [highlighting] their commitment to welcoming data center investments …."
Spotsylvania County "is a popular target for proposed developments…." Its Supervisors passed "data center comprehensive plan updates … [officially incorporating data centers] into Spotsylvania County's long-term plans." "A planned data center on the south side of Route 50 near Stonecroft Blvd [in Fairfax County] is already stirring up some controversy, well ahead of a hearing before the Fairfax County Planning Commission." Prince William County Board of Supervisors will consider whether to designate two historic farms "county registered historic sites … at the request of the Board's appointed historical commission, which is trying to force the supervisors to hold a public discussion about opening local historic areas to data centers. The designation could offer some protection from industrial development, such as data centers, because the county's "Cultural Resources Plan" suggests that such areas be developed only for residential, transportation, agricultural or recreational uses."
Looking beyond large data centers, Loudoun County "planners, supervisors look ahead to large-scale energy storage … [as they] prepare to dive into an overhaul of the county's zoning ordinance … [and consider] how to regulate what might be the next big thing: utility-scale energy storage." However, "County supervisors … accelerated a project to lay out new rules on where data center development will be permitted, likely at the cost of further delaying the ongoing Zoning Ordinance Rewrite because of staffing constraints." Hampton Supervisors "narrowly" approved a "use permit" for a battery storage facility, "which stores electrical power in large lithium-ion battery cells … [allowing] generated power to be stored for later use in the electrical grid."
Piedmont Environmental Council (PEC), which focuses on land use over a wide swath of northern and central Virginia east of the Blue Ridge, noted that "The explosive growth of the data center industry represents a major challenge to achieving a clean energy future in Virginia." It laid out its concerns about "Data Centers and Energy Demand" on its website.
E) Offshore Wind
A "Virginia Economic Development Partnership … competitive grant …[will assist] Virginia manufacturers entering the offshore wind supply chain by offsetting capital expenditures in equipment directly related to positioning the company to provide goods to the industry." "The grant … will help assist manufacturers who are entering the supply chain by offsetting the cost of equipment needed to provide goods … [and] will run for a three-year period…." The Virginian-Pilot's Editorial Board believes "Hampton Roads can be a clean-energy hub," noting that "Offshore wind development is set to play a key role in the shift away from the carbon-based fuels to renewable, greener energy sources" and "Solar energy, too, has great potential, and it also offers possibilities in this region."
F) Solar
Dominion "has an interest in developing smaller-scale solar projects … requiring five, 10 or 20 acres of land" and is beginning to hold meetings in rural areas to drum up landowner interest. Such projects are used for community solar projects, such as this one in DC that "Focuses on Equity for Virginia Climate Goals." Dominion will build its second Virginia solar farm on re-used land "on [an] Ivy landfill", near Charlottesville, with another one on an old coal mine in Southwest VA. Dominion and [German-based] RWE Clean Energy, LLC, signed "300 MW PPAs [for RWE] to provide solar power to Dominion … across seven projects, which include two currently under operation, one under construction and four under development." One of the projects, Harrisonburg Solar, is a 15 MW project proposed in Rockingham County.
"As Dominion Energy looks to expand its commitment to distributed solar projects by leasing small plots of land for solar installations in Virginia, a coalition of solar stakeholders has petitioned state regulators to make it easier for entities other than Dominion to connect distributed solar to the grid." In a formal petition to the SCC for relief, the Distributed Solar Alliance (DSA) argued "that Dominion's interconnection rules have led to small-scale solar project delays" and cancellations. The petition is "asking that the rules be suspended until the SCC can rule on their legality."
The Alliance for the Shenandoah Valley (ASV), which focuses on land use issues in the Shenandoah Valley, like PEC, wants Virginia to "get it right with solar". Both organizations support distributed solar for residences and businesses. ASV hopes that "With the right local and state guidelines in place … solar projects in the Shenandoah Valley … [will] minimize negative impact and even benefit local communities." ASV showcases a Shenandoah County farm that meets these criteria. Virginia Tech researchers will use a Department of Environmental Quality (DEQ) grant to "study the environmental effects of utility-scale solar installations." One focus area of DEQ's efforts will be gathering data on large-scale solar facilities' effects on stormwater runoff.
Despite fierce opposition, commercial solar is coming to Staunton. "The City Council approved a 15.75 megawatt utility scale solar energy facility and a 5 megawatt community scale solar energy facility…." "Residents brought up [a] wide range of concerns, but the most prominent included the perceived rush to push the solar facility, issues with the comprehensive plan, and the impact the solar farm will have on surrounding properties and property values."
"After delays and deferred votes, the [Norfolk] City Council … approved a large-scale solar farm at a former landfill site. In March, the city's Planning Commission voted to delay a vote on a recommendation to council so the Washington, D.C.-based company building the solar field, Community Power Group, could engage with and educate nearby residents about it. The Campostella Landfill on Norfolk's south side, behind the Diggs Town public housing development, was selected for development into an 8-megawatt solar field array."
"At the same time Albemarle County supervisors are considering plans for a solar farm that could conservatively power more than half of the county's households, they are also considering new ordinance amendments that could scale back the future of solar in the area. Local solar developers and climate advocates fear those regulations might unnecessarily limit Albemarle's capacity for the renewable energy and make it more difficult to complete projects such as the 650-acre, 135-megawatt Woodridge Solar project in southeast Albemarle."
Culpeper County's Planning Commission, in split votes, both approved a utility-scale solar facility and confirmed that "it does not comply with [the County's] comprehensive plan." Chesapeake's City Council approved two new solar "farms" on farmland. "Isle of Wight County supervisors … voted unanimously to approve what will be the county's seventh solar farm." Hanover County supervisors are evaluating "land-use policies … that would allow the integration of solar energy facilities in parts of the county … while striving to maintain the county's rural aesthetic and scenic resources." "Mecklenburg County Board of Supervisors voted … to cap development of solar projects in the county at 2,325 acres despite calls from local landowners to allow small-scale or community solar projects." Brunswick County supervisors approved "a conditional use permit for a 350-megawatt (MW) utility scale facility …." Madison County Supervisors and Planning Commissioners denied an application for a proposed solar farm that had been under discussion for several years. "Members of the Clarke County Board of Supervisors say solar facilities are taking away land needed for farms and open space. They're ordering county planners to make changes to the county zoning ordinance that will prohibit any more from being established." "The Henry County Board of Supervisors … approved … [a] zoning ordinance amendment that will limit the total amount of acreage that can be permitted for solar farm development to one percent of the total land mass of the county.
G) Transportation
"Amtrak ridership in Virginia saw more than [a] 50% increase in April 2023 compared to April 2022.
Recent ridership numbers show interest in regional passenger rail may be at an all-time high."
Despite "Virginia's interest in extending Amtrak service — pending support from Tennessee", a "newly released Tennessee report doesn't paint a rosy picture of the likely success of extending passenger rail service to Bristol."
"The Shenandoah Rail Trail Exploratory Partnership continues to take steps toward its goal of creating a multi-use trail through Warren, Shenandoah, and Rockingham counties…. Following a series of 10 community input meetings held from February through April, the Exploratory Partnership has continued working with the Virginia Department of Transportation (VDOT), the Commonwealth Transportation Board (CTB), and other state agencies to move the project forward…."
"The Northern Virginia Transportation Commission's latest Commuter Choice grant round includes $48 million for transit projects across the region. Last month, the Commonwealth Transportation Board approved the NVTC's list of 13 projects aimed at reducing congestion through improved transit service."
The Valley Interfaith Action is exploring the feasibility of on-demand transportation in Rockingham County. Such a program exists in Southwest Virginia, called Mountain Empire Transit.
Climate and Environment
A) Chesapeake Bay
"The Virginia Marine Resources Commission voted … on catch rules for striped bass and blue crabs…. The commission also voted to increase blue crab catch limits slightly…. Catch limits were significantly lowered last year after the blue crab population reached a record low…. This year's survey showed modest recovery in the population…. The vote lowered the maximum allowable size of striped bass … to comply with a May emergency action by the Atlantic States Marine Fisheries Commission."
Researchers believe "osprey in the lower Chesapeake Bay are failing to successfully reproduce … [and that] the osprey's steep decline is due to increasing scarcity of menhaden tied to overharvesting…. Environmental and sportfishing groups have been pushing in recent years for a total ban on the menhaden harvest in the bay, arguing that it's taking away the important fish from other species, including striped bass and osprey."
Scientists studied "natural processes affecting Eastern Shore aquifers [because] 'Environmental conditions that lower, recharge, or cause increases in groundwater withdrawals can have negative effects on groundwater resources'" They concluded that "'Withdrawal patterns appear [to] have been fairly steady for the past decade or so, with fluctuations based on changing environmental conditions.'"
"The U.S. Environmental Protection Agency [EPA], environmental groups and state governments filed a notice in the U.S. District Court for the District of Columbia … dismissing the 2020 lawsuit [alleging] that federal officials weren't doing enough to stop Chesapeake Bay pollution originating in Pennsylvania…. The settlement requires EPA to, among other things, look for ways to reduce pollution from agriculture in Pennsylvania — the state's biggest source of pollution – and stormwater runoff. As part of the settlement, EPA also commits to increase compliance and enforcement efforts. Under the settlement, EPA will prioritize efforts in Pennsylvania focused on the counties that contribute the most pollution to, or have the largest impact on, local rivers and streams…."
Maryland's governor "announced a new tack in trying to restore the Chesapeake Bay, shifting away from broad-stroke efforts to return the nation's largest estuary to its heyday. Instead, the state will focus on targeted strategies that rehabilitate specific, shallow-water habitats. The change to focus on many smaller sources of pollution — often flowing off private property — will require more coordination to implement." Several Virginia, Maryland, Pennsylvania, and West Virginia senators, along with some Virginia and Maryland representatives, introduced the "Chesapeake Bay Science, Education and Ecosystem Enhancement (SEEE) Act [that] aims to restore the health of the watershed, strengthen fisheries management and expand environmental education programs for residents." The senators included Senator Manchin!
According to a study by the Virginia Institute of Marine Science, "Underwater grass in the Chesapeake Bay continues to recover…. Grass volume is a good indicator of the watershed's overall health…."
"A Department of Defense-supported program designed to combat climate change came to Virginia … [on July 10]. The Sentinel Landscape Partnership is tackling two new landscape projects in Virginia abutting its Maryland project, the Middle Chesapeake Landscape. The commonwealth landscapes comprise public and private lands in a swath of nearly three million acres that includes 10 military installations and stretches from Maryland to North Carolina…."
B) Flooding
A recent study concluded that the so-called "100-year floods" are happening with increasing frequency, indicating "that some "100-year flood" estimates may not reflect a changing climate…. Data from the study will be integrated into Risk Factor's platform by the end of the month. Risk Factor's data tools allow users to search for their home or ZIP code to view environmental changes and risks of major natural events, such as floods or fire."
There are concerns about the recent "formal agreement between the city of Norfolk and the U.S. Army Corps of Engineers to move ahead with one of the biggest infrastructure efforts in city history: a $2.6 billion floodwall project dubbed Resilient Norfolk…. The new floodwall project largely won't protect against the kind of flooding Norfolk sees regularly, which is caused by high tides or heavy rain and exacerbated by sea level rise. Instead, the project is meant to shield the city from being devastated by a catastrophic storm. It specifically targets storm surge — the abnormal rush of water generated during major storms like hurricanes." The project "overlooks current climate risks, critics worry." The Hampton Roads Sanitary Commission believes that "flooding threatens sewage infrastructure in Hampton Roads. [Its] new climate plan is their attempt to [answer] 'how would we respond to a catastrophic event like that?'"
C) Land and Water
The U.S. Forest Service, through its Forest Legacy program, awarded the Virginia Land and Water Conservation Fund (LWCF) $7.1M to protect 4,000 acres "next to the Shenandoah National Park at the southern tip."
"Virginia DEQ [Department of Environmental Quality] … worked out an approach to splitting the difference between economic development and protecting wetlands and streams in light of the … Supreme Court decision in Sackett vs. U.S. Environmental Protection Agency. The ruling … limits Clean Water Act protection for wetlands to those with a "continuous surface connection" to other "Waters of the United States," which will remove federal protections for the majority of the nation's wetlands." DEQ offered "wetland permit guidance following [the] … ruling, [which creates uncertainty over who will determine wetlands boundaries."
Action Alerts:
Check out …
Why not …
The Climate Action Alliance of the Valley (CAAV) is a non-profit, grassroots group in the Central Shenandoah Valley that educates legislators and the public about the implications of the Earth's worsening climate crisis.
---