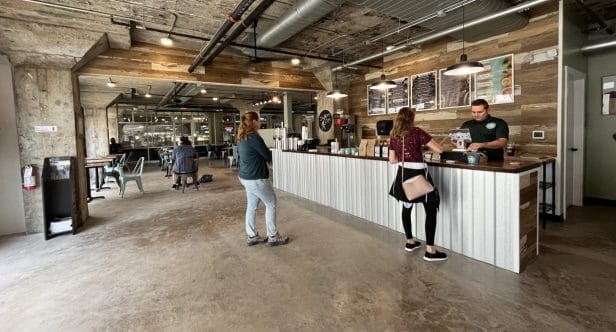 By Sarah Golibart Gorman, contributor
Lexy Shifflett, wearing a green and white tie-dyed Drifters Cafe t-shirt, aligned a fresh countertop while her father-in-law guided the saw. She and her husband, Lukas Shifflett, were hard at work earlier this month transforming the Ice House location, which previously housed Black Sheep Coffee, now relocated at 80 E. Market St. And as of Tuesday, Drifters was open for business, adding to Harrisonburg's growing coffee culture.
A graduate of Turner Ashby High School, Lukas moved to Montana for a change of scenery. In addition to having an impressive view of the Northern Rocky Mountains, Lukas' time in Montana allowed him to meet Lexy, a Bozeman native. They moved near Jacksonville, Florida, where Lexy helped open a coffee shop and bakery — and developed a real love of coffee.
Upon returning to this region, the Shiffletts found a serious lack of palatable coffee near their home in Wardensville, West Virginia. In April 2022, they set out to solve the problem by flipping a pop-up camper into a mobile cafe.
"We started as a food truck and would 'drift' around" converting dedicated Folgers drinkers one by one, Lexy said. Five months and many lattes later, they proudly opened a brick-and-mortar storefront in Wardensville.


In April 2023, Drifters retired its original food truck and expanded its offerings with a 16-foot event trailer. The trailer is fully functional as a food truck serving Moorefield, West Virginia, throughout the week. So far, the trailer has served attendees at festivals, weddings, and pride events.
Looking to continue their expansion, Lukas began searching for another area to open a Drifters. He first looked to Winchester, home of Lone Oak Coffee Company — the source for their espresso and house blend. However, Lukas' attention shifted when he learned of Black Sheep's plans to relocate.
The appeal went beyond Harrisonburg's status as a coffee-loving college town located an hour south of Shifflett's Wardensville spot.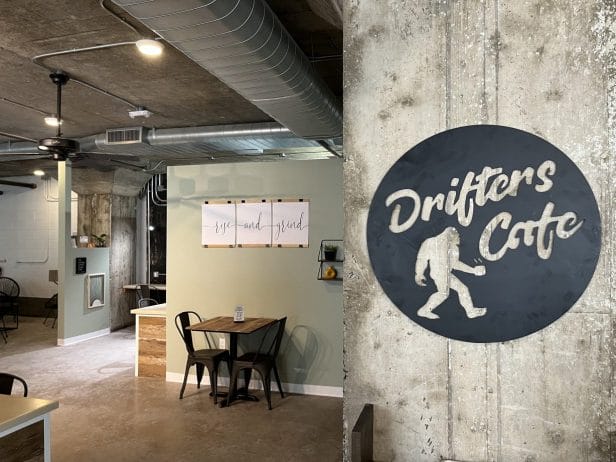 "We liked that it was already an established coffee shop and not just a blank, empty building," Lukas said.
The size of the space marked a significant leap for the couple, transitioning from 600 square feet to 2,300. Nevertheless, the Shiffletts embraced the challenge. Lukas' father, an experienced woodworker, joined them, as did one of Lukas' childhood friends who owns a contracting company.
"It's truly a friends and family affair," he said.
Don't expect a Black Sheep look-alike when stepping inside. The space maintains its warehouse ambiance but with a personalized touch from the Shiffletts.
Lexy, with the assistance of her father-in-law, skillfully crafted live edge countertops using walnut sourced from Neff Lumber Mills. The countertops are positioned further out, allowing more space behind the counter for staff to prepare coffee, smoothies, and menu items for breakfast, lunch and dinner.

Drifters mirrors Black Sheep's 7 a.m.-to-7 p.m. schedule, so while there isn't a dinner menu, the kitchen remains open, ready to whip up breakfast and lunch delights, such as sandwiches, wraps, salads and grain bowls.
The space is designed to cater to coffee dates, meetings, students and remote workers alike. Workstations are equipped with USB plugs and access to four distinct Wi-Fi networks, each with a speedy 75 Mbps upload speed.
There are family-style tables for collaborative work or meals and a cozy lounge area with comfortable seating. For entertainment, there will be a TV for streaming JMU sports and even a stage that serves as a platform for local artists to shine.
"We welcome anyone who has something that they want to show off or share or sell," Lukas said. "People who are just starting to sing and don't have anywhere to sing, let us know."
Chloe Kirk, the Drifters Wardensville manager, volunteered to relocate to The Friendly City to oversee the new store. She's already infusing Rockingham County flavors into Drifters after discovering Crazy Fox Roasting Company at the Farmers Market.
Lexy shared plans to include their smooth cold brew on the menu. Drifters also sources beans from Blue Elk Coffee Company in Elkton.
If Drifters' Rancilio espresso machine goes down, you'll have your double shot in no time. Both Chloe and Lexy are certified espresso machine maintenance and repair technicians. This facet of the business is known as Drifters Design, reflecting the Shiffletts' ambition to outfit food trucks and offer services to other restaurants.
"We're competitive and we want our business to stick out, but at the same time we want to help our neighbors if their machine is acting up," Lukas said.

Settled in and serving up
If Black Sheep's Nuova Simonelli decides to throw a tantrum, Black Sheep owner Chance Ebersold might just dial Drifters Design, but for now, things are brewing smoothly in the coffee shop's new location.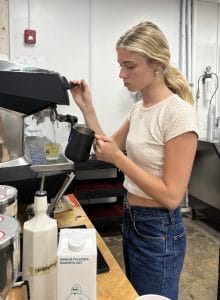 Following a few construction delays, Ebersold shifted from the historic Ice House site, with original brick dating back to 1934, to the 80 E. Market St. location — a site with a less documented history.
"According to the city and the state, it's not historical," Ebersold said. "It is excluded from the historic district because of the modern facade out front that was added in the '90s."
During construction, Ebersold uncovered charred wood from a long ago fire and exposed plaster and old brick to showcase the building's heritage and bring a Black Sheep-esque industrial feel to the space. Ebersold also added four one-bedroom apartments above the coffee shop.
The biggest advantage of owning this new location is a chance to invest in kitchen equipment.
"In the old space we had a baker's oven, a hot plate, and a panini press. That's what we used to cook everything," Ebersold said.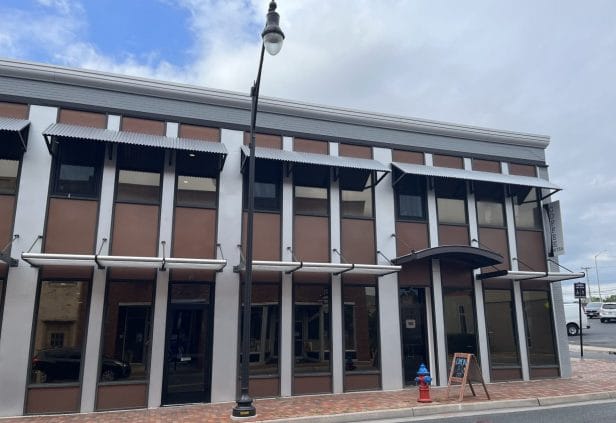 Now, upon entering Black Sheep, the first thing visible is the open kitchen's massive hood over a flat top griddle and a six-burner range equipped with multiple ovens underneath. Customers can enjoy a front-row seat watching bakers mix cookie dough, cut biscotti or fill muffin tins with sweet treats destined for the bakery case.
Not every piece of kitchen equipment is fresh out of the box. If you happened to be an early riser on Black Sheep's moving day, you might have caught a glimpse of Ebersold and his dedicated crew rolling a hefty double-door fridge, oven, beverage case and prep tables three blocks down the street to their new home.
Despite the kitchen upgrades, don't expect a menu change right away.
"I'm not a real big, quick change type of person. Like I am a much more gradual evolving change kind of guy," Ebersold said.
He said he wanted to give his employees a chance to adjust to the new space and also see what ideas they bring to the table. In the past, employees have initiated incorporating Ryan's Fruit into baked goods or improvising with veggies from Season's Bounty's weekly CSA.
When Black Sheep first opened its doors in 2015, Ebersold was in a league with only Starbucks and Greenberry's.
As the local coffee scene continues to blossom with more cafes and roasteries, Ebersold maintains his shop's status as the "black sheep" thanks to his distinctive approach of curating an array of coffee roasts.
Red Rooster Coffee's espresso remains a fixture, but otherwise you might find regional beans like Blanchard's out of Richmond or Lexington's Roadmap Coffeeworks or roasts from Germany, Philly, Brooklyn, or Maine — Ebersold's home state.
"We have variety. And if people don't like something, we've got something else they can try," Ebersold said. "They aren't pigeonholed into having to like one."
---
Thanks for reading The Citizen, which won the Virginia Press Association's 2022 News Sweepstakes award as the top online news site in Virginia. We're independent. We're local. We pay our contributors, and the money you give goes directly to the reporting. No overhead. No printing costs. Just facts, stories and context. Thanks for your support.