By Stephanie Spernak, contributor
A surgery that used to require a day or two of recovery in the hospital now routinely results in patients going home in a matter of hours with a newly reconstructed joint. 
"Patients can now discharge home in as little as two hours after leaving the operating room from a hip or knee replacement," said Dr. Mark D. Williams, an orthopedic surgeon at Sentara RMH, in an email response to The Citizen.
Williams specializes in total joint replacement of the hip and knee and said he does about 8-10 outpatient surgeries a week.
"I believe it is a safe, effective way for patients to have surgeries performed without any increased risk of adverse outcomes," Williams said.
When he arrived at Sentara RMH in 2021, Williams said the hospital wasn't performing outpatient joint replacement procedures.
Now, he said, "the majority of hip and knee replacements are performed this way at Sentara RMH, a major shift in our joint surgery care."
Although most patients are candidates for same-day discharge after a total hip or knee joint replacement, Williams said it might not be the best option for every patient seeking this surgery. Factors, such as caregiver support and medical history, are important to consider.
As a result, every patient must complete a "Preoptimization Medical Clearance" process two weeks before the surgery in which the patient's medical history, lab results, EKGs, chest X-rays, urine tests and MRSA screenings show that person would be suited for joint replacement surgery. A team of nurses and physician assistants oversee the appointment before surgery and communicate directly with the patient's surgeon.
He said patients should be in good health — for instance, they shouldn't have significant heart and lung conditions that could cause them to have postoperative complications. They should also have "adequate caregiver support at home and the durable medical equipment needed for a safe recovery."
The hospital recommends that patients line up at least 24-72 hours of post-operation care once they leave Sentara RMH, Williams said, because anesthesia and the use of pain medications can alter one's mental state.
"I talk through the options regarding outpatient versus overnight stay with each patient individually at a preoperative consultation and we make a mutual decision that is in the best interest of each patient," Williams said.
"In my opinion," he said, "patients recover best when they are the most comfortable and for most people this is in their own bed and environment at home with family. They get better sleep in their normal surroundings with less distractions which is an advantage for outpatient hip and knee replacements."
Williams said that surgical outpatients will have two weeks of home Health visits with a nurse and physical or occupational therapist to check on them after the surgery.
A Continuum of Care
Sentara RMH provides an integrated care experience that covers the entire episode of orthopedic surgery, said Tonya Turner, a registered nurse and former orthopedic operating room nurse who works with Williams and is a manager of the Orthopedic Programs at Sentara RMH.
She said the OrthoJoint Team includes nurses, therapists, case workers and hospitalist physician assistants who coordinate all aspects of a patient's care from the time the patient is seen in the office until the post-op recovery period.
She said each surgery patient is assigned an Orthopedic Patient navigator to answer questions and provide other assistance.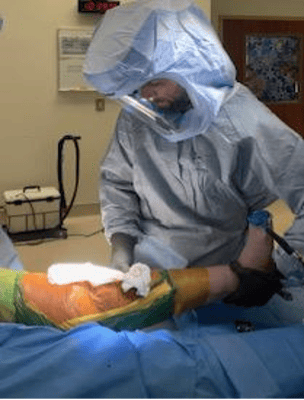 The patient navigator also conducts a class for patients before their surgery to explain what to expect along the way. It's important, Turner said, that joint patients and their caregivers know how to prepare the home, especially because many recovering patients will have limited mobility.  
"Even though you can go home the same day," Williams said, "this is still a serious surgery to recover from."
Williams said that common outpatient surgery risks can include difficulty controlling pain, infection, blood clots or pneumonia.
Studies show patients who are appropriately screened for outpatient joint replacement surgery have lower rates of complications and higher satisfaction with the procedure than those who stay in the hospital to recover.  

Hospital procedures shifting to outpatient settings  
Like many hospitals, Sentara RMH is shifting to perform more outpatient surgeries.
They now make up about 80% of all surgeries at Sentara RMH, compared to 20% inpatient surgeries, said Catherine Hughes, Sentara RMH's vice president of operations.
"Advances in medicine, new drugs, technology, and changes in reimbursement all play a role in the industry shift," Hughes said. "And we continue to evolve as an organization to meet the changes in our industry."
The evolution of surgical tools, anesthesia and pain management now allow surgeons to perform more "minimally invasive surgery."
Instead of a deep cut to open up the body for the operation, minimally invasive surgery uses small incisions around the site. An arthroscope — a slender tube with a digital camera — is inserted into one of the incisions, which allows the surgeon to view the surgical site on a video monitor.
The benefits of minimally invasive surgery include less damage to the body, less pain, less bleeding, a lower risk of infection and fewer complications than traditional "open" surgery which requires inpatient admission and recovery.
Minimally invasive outpatient surgery costs also are lower than those incurred for round-the-clock, full service, inpatient surgical recovery. Healthline reported that insurer Blue Cross Blue Shield estimated that the average cost of an inpatient knee replacement procedure in 2019 was $30,249, compared with $19,002 as an outpatient.
In addition to orthopedic surgeries, Sentara RMH offers outpatient procedures such as gallbladder removal, colon resection, fixing hernias, appendectomies, some neurosurgery procedures, as well as specialized cancer-related surgeries. Physicians at the hospital also perform outpatient procedures for aesthetic and reconstructive surgery, spinal surgery, thoracic surgery, vascular surgery, and weight-loss (gastric bypass and gastric sleeve) procedures.
The Augusta Health system in Fishersville, Va, about 30 minutes south of Harrisonburg, also performs many procedures and surgeries on an outpatient basis. August Health recently opened an Outpatient Pavilion on its campus next to the hospital to accommodate more outpatient services. The Pavilion houses a Surgery Center, an Imaging Center, and Breast Center.
Mary N. Mannix, Augusta Health's president and CEO, said in a news release announcing the pavilion in January that it's important to "move away from an outdated focus on inpatient care to a model of specialized outpatient care that will reduce costs and enhance the patient's experience."
Mark LaRosa, Augusta Health's vice president of business development and chief strategy officer, said the most common minimally invasive procedures at Augusta Health are: gastroenterology endoscopic procedures, cataract procedures, pain management procedures, and minimally invasive orthopedic procedures.
Augusta Health data show about 70% of patients receive a variety of outpatient care services and their care patterns are "consistent with [outpatient] data reported by other health care systems," Mannix said.
The UVA Health system in Charlottesville provides an even wider range of outpatient surgeries at its outpatient surgery center near the University of Virginia's main hospital and medical school.
Eric Swensen, public information officer for UVA Health, reported that the UVA Health Outpatient Surgery Center treats more than 11,000 patients a year.

Potential growth ahead
The need for surgical procedures, especially joint replacements, isn't expected to slow.
By 2030, hip replacements are expected to reach 635,000 — a 171% increase — while knee replacements could reach nearly 1.3 million (a 189% increase), according to the Arthritis Foundation. The expected increase will be driven by a population that is aging and heavier than in the past, as well as patient satisfaction with these surgical procedures, the foundation reported.
More advanced technology is now available for use in outpatient joint replacement, such as robot-assisted surgery, which Williams said he can perform and hopes "to bring to SRMH at some point."
"I think that most patients are candidates for outpatient joint replacement and orthopedic procedures in general, he said, and as our understanding of pain control strategies evolves further I believe that we will continue to see a trend of increasing outpatient joint replacement procedures in the U.S. and across the world."   
He said orthopedics is constantly evolving with innovative technologies that caused many changes in less than a decade since he entered the field. Williams is a 2015 graduate of the Philadelphia College of Osteopathic Medicine and completed his residency in 2020 at the Good Samaritan Regional Medical Center in Corvallis, Oregon.
He said he landed in Harrisonburg after seeing the opening at Sentara RMH and he and his wife decided the community "was the perfect place to settle and begin both our family along with my career as an orthopedic surgeon."
"I saw the job as a great way to be a part of a dynamic group of young surgeons who are all highly motivated to provide top notch care for their community," he said.  
---
Thanks for reading The Citizen, which won the Virginia Press Association's 2022 News Sweepstakes award as the top online news site in Virginia. We're independent. We're local. We pay our contributors, and the money you give goes directly to the reporting. No overhead. No printing costs. Just facts, stories and context. Thanks for your support.

­­­­­­­­­­­­­­­­