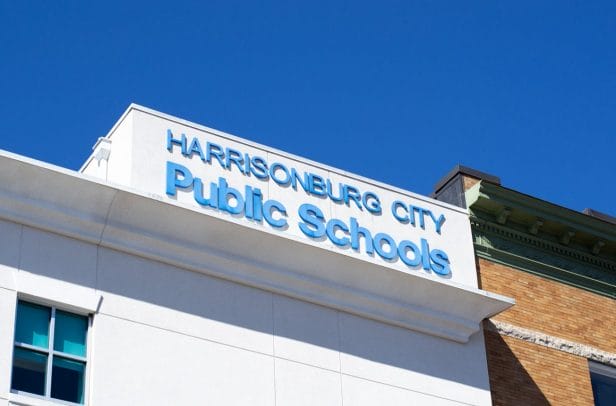 By Calvin Pynn, contributor
Harrisonburg city school employees can expect a raise next year and more funding for support staff through amendments to Virginia's two-year budget, which Gov. Glenn Youngkin signed last week.
Tracy Shaver, the Chief Financial Officer for Harrisonburg City Schools, broke down the numbers for the Harrisonburg City School Board during Tuesday's work session at Skyline Middle School.
"It's going to bring some substantial increases in state aid to us," Shaver told the board. "Based upon the legislation, it's looking like we're going to bring an additional $5 million to Harrisonburg."
That's from a total of $645 million promised to public schools across Virginia in the amended budget. Shaver has only estimates and won't know the final numbers until he receives a calculation template from the Virginia Department of Education in the coming weeks.
But he said the additional funding for the city's schools will come in three categories.
The first is a 2% salary increase for staff that will go into effect on Jan. 1. Shaver said he anticipates that will be about $350,000 for HCPS. He said because the raises will go into effect halfway through the school year, the salary increase percentage will be calculated based on an employee's pay for the remainder of the year.
"In essence, that's half a year, which equals half a salary, so that 2% will be based on half of [a school employee's] salary," Shaver told The Citizen after the meeting.
The next category will increase the cap on support staff in Virginia's public schools, which dropped from 27 to 21 staff members per 1,000 students during the Great Recession and held steady over the past 13 years. Those staff include custodians, teacher's aides, and front office staff, among others.
Harrisonburg City Public Schools employs 228 support staff members across the district, of whom 134 are funded through state money, while local tax funding cover the salaries of the rest. Shaver said he estimates that the increase in state aid for support staff will cover about 153 of the current support positions to the tune of $900,960.
The largest portion of state aid will cover about $3.6 million of per-pupil flexible funding, which the district will need to spend by July 2026. Shaver told the board that those one-time funds could help cover the cost of necessities such as tutors, curriculum, classroom supplies and equipment.
Because that category would consist of one-time funds, Shaver said they will not be used to hire more staff.
"If we bring out a bunch of people, this funding will go away, and we'd have to lay off those people," Shaver said. "We may look at doing that for short periods of time, but not to bring on people who will come in perpetuity."
A report from the Joint Legislation Audit and Review Commission (JLARC) earlier this year revealed significant under-funding from the state for public education in Virginia, which prompted school board Chair Deb Fitzgerald to write a statement urging legislators to increase state funding. Although the recent budget amendments fall short of the numerous recommendations in the JLARC report, Shaver said they still cover some crucial needs.
"It's going to take time to implement many of those recommendations because some of them are very costly, but it's going in the right direction," Shaver said.
Fitzgerald agreed.
"The JLARC report recommended eliminating the support cap," Fitzgerald said. "This gets us part of the way there."
Shaver expects to bring the supplemental appropriation of funds before the School Board and Harrisonburg City council once he has the official numbers. But for now, he considers the budget amendments a win.
"It's great news," he told The Citizen. "We'll always say yes to more money."
---
Thanks for reading The Citizen, which won the Virginia Press Association's 2022 News Sweepstakes award as the top online news site in Virginia. We're independent. We're local. We pay our contributors, and the money you give goes directly to the reporting. No overhead. No printing costs. Just facts, stories and context. Thanks for your support.