A contributed perspectives piece by 50 by 25 Harrisonburg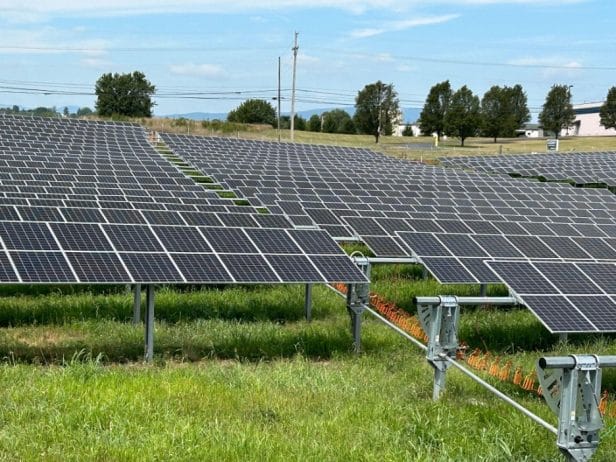 Harrisonburg is lucky to have a public utility. Harrisonburg Electric Commission (HEC) does a wonderful job keeping the lights on for all of us. We have a problem, however. The American energy landscape is evolving, while HEC is tied to a long-term contractual relationship with Dominion Energy, exposing ratepayers to risk, and preventing Harrisonburg from enjoying the economic, environmental, and health benefits of modern clean energy technology.
WHY HEC BILLS HAVE GONE UP
HEC has always prided itself on low electricity prices, but this is no longer the case. Beginning in September 2021, HEC residential electricity costs shot up 28% over just 13 months, driven mainly by the "Fuel Cost Adjustment" (FCA), appearing as a separate charge per kilowatt-hour (kWh), in the upper left on monthly HEC bills. For many years, the FCA was small enough to overlook, less than half a cent per kWh. In the last two years, however, gas-generated electricity prices have soared as Europe has turned away from Russia and toward the United States for natural gas, driving up demand and costs. While demand has dropped somewhat during the summer months, price volatility will be the new normal for the foreseeable future.
The FCA is a pass-through cost; HEC tacks it on to its published rate schedule. While making more sense than adjusting HEC rates month to month, this approach makes it difficult to calculate what individual customers are actually paying per unit (kilowatt hour) for electricity.
WHY HEC BILLS WILL CONTINUE TO GO UP
HEC customers are highly exposed to the fluctuations in the price of natural gas because HEC buys electricity from Dominion Energy and Dominion prioritizes the burning of natural gas for a large proportion of the electricity that it produces. While HEC works to keep electricity rates as low as possible, its current contract limits its ability to keep rates low.
Under HEC's current contract (until 2031), 100% of HEC's electricity must come from Dominion. In 2020, Dominion projected a price increase of 3.6% per year for ten years, for a total increase of over 42%. HEC has little choice but to raise our prices more or less in keeping with its rising wholesale cost. Because all of its power must come from Dominion, HEC cannot protect Harrisonburg residents from Dominion's rising fossil-fuel generation costs. Currently, HEC residential customers are paying about 11.05 cents per kilowatt-hour (including fuel cost); we can expect that to go up to at least 15 cents by 2030.
SOLAR IS CHEAPER, AND STILL FALLING
Solar power has no fuel cost because sunshine is free. Solar power is cheaper today than traditional fossil-fuel electricity virtually everywhere in the United States. Even in our highly restricted situation in Harrisonburg, buying HEC solar power from the Dominion-owned Friendly City Solar Program is just slightly higher than the price of conventional electricity. If we owned it locally, the electricity would be cheaper – a lot cheaper.
According to the US Department of Energy's "SunShot Initiative," solar power is on track for a 90% cost reduction from 2010 prices. So far, the US-DOE has hit every milestone on or ahead of schedule. Their projected prices for 2030? For residential solar power, 5 cents per kWh; for commercial scale solar, 4 cents; for utility scale, 3 cents. The price we are paying for Dominion-produced energy? 9.2 cents plus the fuel factor of 1.852 for a total of 11.05 cents.
THE PRESENT DOMINION CONTRACT IS A BURDEN TO OUR COMMUNITY
Unpredictable energy costs are a real problem for our community. Harrisonburg has a high proportion of low-income residents with nearly 60% being Asset Limited Income Constrained Employed (ALICE) or below the poverty level. Families, friends and neighbors in this category are harmed by rapid inflation in energy prices. A 28% rise in the price of electricity, as we have seen in the last two years, forces painful decisions between paying for energy and paying for basic necessities such as food, clothing, housing, and healthcare.
HEC is presently required to obtain 100% of its power from Dominion until the current contract expires in 2031. In the meantime, HEC is prohibited from seeking competitively priced solar power from other providers, and likewise cannot develop low-cost community solar programs that could become the energy of choice for low-income residents.
THE NEXT CONTRACT
We can't afford another restrictive long-term contract when the current one expires. Harrisonburg residents deserve access to today's declining cost of clean energy; our low income residents deserve protection by our public utility from the burden of rising energy costs; and we have a moral obligation to honor the City's established clean energy commitments and aspirations, and to develop a low-cost low-carbon municipal electric grid.
In 2020, Harrisonburg City Council unanimously adopted a resolution to pursue a goal of 100% clean, renewable energy in our electricity sector by 2035. The US and Canadian governments have set this same goal. While the 2020 Virginia Clean Economy Act (VCEA) has pushed Dominion toward increasing its clean energy investments, Dominion is considerably behind schedule, Governor Youngkin is moving Virginia in the opposite direction through actions such as removing Virginia from the Regional Greenhouse Gas Initiative, and the legislature could change or eliminate the VCEA. It would be foolish to assume that Dominion will accomplish Harrisonburg's goals without our community doing its part in bringing about these changes.
So, how are we going to meet these goals? In a follow-up piece (Part 2), we will suggest actions that we can take right now in Harrisonburg to lower electricity costs and greenhouse gas emissions. And there is a lot we can do within the confines of our existing contract with Dominion Energy. Ultimately, we will need a new contract to meet our goals. It is not too early to start thinking about what our utility's next contract should include.
HEC is a municipal utility; it is our utility. We encourage all Harrisonburg residents and stakeholders to let their voices be heard and let City Council and HEC's Commissioners know that we think our next HEC contract needs to enable us to enjoy a low-cost and low carbon future. We offer the following as some possibilities:
Include a locally generated renewable energy carveout of at least 30% of our peak energy demand (phased in over time). Locally produced solar energy is now the least expensive energy available in our region. Local ownership can make it cheaper still, enhancing the resilience of our regional economy. Currently, $50 million dollars leaves our community each year to pay for Dominion-produced energy. What if 30% of this $50 million were to recirculate in our local economy?
Allow Power Purchase Agreements. A Power Purchase Agreement (PPA) is an arrangement in which a third-party developer installs, owns, and operates an energy system on a customer's property. The customer then purchases the system's electric output for a predetermined period. A PPA allows the customer to receive stable and often low-cost electricity with no upfront cost, while also enabling the owner of the system to take advantage of tax credits and receive income from the sale of electricity.
PPAs are one method to access lower cost renewable energy without prohibitive upfront costs. Due in large part to the VCEA, PPAs must be permitted in all Dominion service territories in the state. Other communities and businesses in Virginia are already taking advantage of them to meet their renewable energy goals. Even though we get our electricity from Dominion, PPAs are currently forbidden under HEC's contract with Dominion. Businesses that have sustainability goals and are looking to control their electricity costs through PPAs are less likely to consider expanding into areas that don't allow PPAs.
Allow battery storage for demand management. Battery storage would enable HEC to address the intermittency of solar and wind power and deploy energy at night and when the wind isn't blowing. This proven technology must be utilized to aid in the transition to clean energy. Without storage, we will remain shackled to fossil fuels.
Provide an Escape Clause. Currently, the VCEA requires that Dominion Energy achieve 100% renewable energy by 2045 and carbon neutrality by 2050. Our next contract, be it with Dominion Energy or some other provider, should state that if that provider is not meeting the benchmarks laid out in the VCEA as they currently exist, then the contract can be nullified and HEC enabled to purchase energy elsewhere. The VCEA is potentially subject to weakening or repeal by the legislature and the Governor or through delay or non-compliance by Dominion Energy. Harrisonburg is in a position to affirm the goals of the VCEA as HEC negotiates its next contract. Will we seize the moment and insist on continuing the transition to clean energy?
We currently have a once in a generation opportunity to shift the direction of this community's energy use. We can carry on with the status quo, getting most of our energy from the burning of fossil fuels OR we can empower our community to become more resilient, economically prosperous, and environmentally responsible.
If you want to help in this important effort, please reach out to one of the partner organizations:
Shenandoah Group of the Sierra Club ([email protected])
Climate Action Alliance of the Valley ([email protected])
Voluntary Gas Tax ([email protected])
Shenandoah Valley Faith and Climate ([email protected])
50 by 25 Harrisonburg ([email protected])
The 50 by 25 campaign originated in compassion for the earth and our neighbors, and moving toward a clean energy transition can help build a sustainable future.