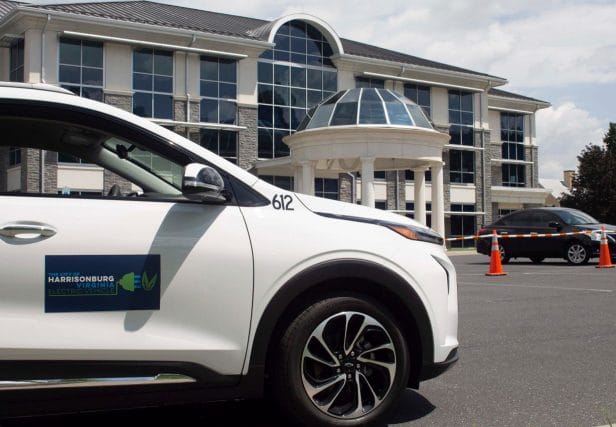 By Calvin Pynn, contributor
People who live and work in Harrisonburg will be enlisted to help reduce carbon emissions, now that the city council voted Tuesday to add a set of community engagement goals to the city's Environmental Action Plan.
The council followed up on the city's Environmental Performance Standards Committee (EPSAC) recommendation in July to adopt the new goals, which aim to slash greenhouse gas emissions by 45% by 2030, and reach carbon neutrality by 2050. EPSAC is a committee of community members and city officials who are charged with studying and suggesting ways the city can be more energy efficient and conserve the environment.
Those goals EPSAC recommended include:
Promoting the reduction of greenhouse gas emissions at a speed and scale consistent with current science.
Ensuring the transition to lower carbon emissions is effective, affordable, equitable,and inclusive and to prioritize actions that increase financial stability in Harrisonburg households and businesses.
Promoting adoption of clean, renewable energy.
Prioritizing actions that have intersectional benefits with other environmental and city priorities.
Promoting public engagement in greenhouse gas reduction emission planning, including increasing public education, awareness and involvement.
Promoting local climate resiliency and adaptation measures.
Keith Thomas, the sustainability and environmental manager for the city's Public Works Department, presented the goals as a way to mitigate the most severe impact of climate change. He said that while his staff doesn't have a specific strategy to implement the goals at the moment, they have a rough idea of how they might encourage the community to embrace them.
"Total emissions are what matter at the end of the day, so that's what we're focusing on," Thomas said during his presentation to the city council. "This is in response to climate change making our world warmer, wetter and weirder."
So far, those plans emphasize educating the community on more environmentally friendly lifestyle choices, such as reducing car travel. Thomas also said there has been some interest in working with the Harrisonburg Conservation Assistance Program to plant trees in parts of the city that lack them — such as the historically redlined Northeast neighborhood in Harrisonburg, which is prone to the urban heat island effect during hotter months.
"Trees are where we're seeing a lot of interest take off," Thomas said.
Council member Monica Robinson said she wasn't sure how effective some goals would be regarding environmental justice or how they would reach and benefit Harrisonburg's most vulnerable residents. She said changing the language in the proposed goals would be necessary to include them, referring to residents in the Northeast Neighborhood.
"We're talking about a group of folks who have been historically overlooked," Robinson said of the second proposed goal. "Something needs to be inserted into this goal that lets me know you're going the extra mile to reach the folks in these neighborhoods you're talking about. If we ever want to have everyone on the same page doing all the same page for a better world, then we need to reach everyone."
Council member Dany Fleming said the city's Environmental Action Plan is a dynamic document that could be clarified in the future, and the city council voted to approve the amendments with inclusion of the community goals.
While Thomas and council members agreed that reaching carbon neutrality by 2050 would be a lofty goal, Vice Mayor Laura Dent said its high ambition is worthwhile.
"It's what we need to do, it's hard to do, and that's all the more reason we've got to do it," Dent said. "It's better to have a goal that's too ambitious than one that's too easy and ends up accomplishing nothing."
Before the proposed amendments, Thomas presented a report that showed greenhouse gas emissions in Harrisonburg over the last two years. The amount city-owned services and buildings emitted during that span dropped by 5.5%, while the community's emissions — which includes residents and businesses — fell by 4.8% since 2016.
Other highlights from the meeting:
The council voted to appropriate more than $80,000 for the police and recreation departments. More than $17,000 of it comes from State Asset Forfeiture Funds and will pay for an electric golf cart the police can use during downtown events. The rest — more than $63,000 — comes from the city's Reserved Funds Balance and will be used to repair the irrigation pond liner at Heritage Oaks Golf Course.
The council also approved several appointments to three different boards and committees. Stanley Jezior will join the Harrisonburg Transportation and Safety Advisory Commision, while John Shepereel was reappointed; Jalal Maqableh and Kyle Glenn were appointed to the Economic Development Advisory Committee while Chance Ebersold and Edna Reid were reappointed; and John Butler was reappointed to the Blue Ridge Community College Board of Trustees.
---
Thanks for reading The Citizen, which won the Virginia Press Association's 2022 News Sweepstakes award as the top online news site in Virginia. We're independent. We're local. We pay our contributors, and the money you give goes directly to the reporting. No overhead. No printing costs. Just facts, stories and context. We value your support.