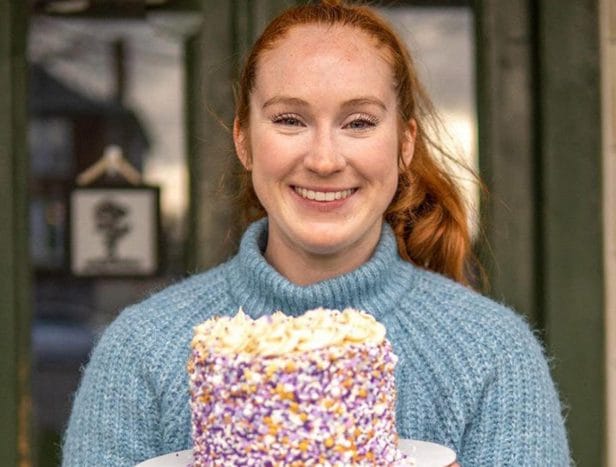 By Sarah Golibart Gorman, contributor
If you've savored BMC Bakes' pastel macarons, sugar-coated donuts or neatly packed layered cakes in a jar, you might not have realized they were gluten-free. That's precisely how Sarah Baker prefers it. 
And now customers who have come to appreciate those delicacies through Baker's stall at the Harrisonburg Farmers Market can satisfy their taste buds at her brick-and-mortar bakery, which is set to open late October or early November in the retail space beneath Kavanaugh Flats on North Main St.
Baker's decor is dramatic and as rich as her chocolate cake, with deep blue walls, gold accents, comfortable seating, and pink neon signs encouraging customers to "go against the grain."
BMC Bakes will be an allergy friendly space that is peanut free, soy free and, of course, gluten free. She'll also serve vegan options for those with dairy or egg allergies. And customers can enjoy locally sourced coffee, a cup of tea or a glass of champagne or wine with a thick slice of cake.
Baker says she plans to cater to people with and without allergies who crave an indulgent experience.
"We're in the year of the Barbie movie and Taylor Swift. There are these untapped markets of people who we don't think of having all this money," she said. "Female spending power is so overlooked. For food allergies in general, people don't think about the fact that they will pay more to be able to eat what everybody else can."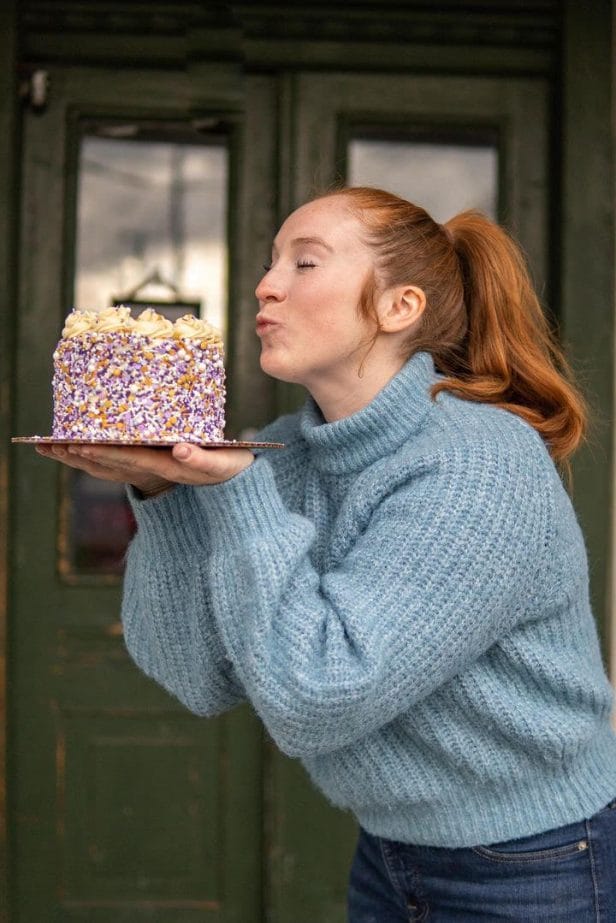 And while she didn't dream of being a baker, it's a delightful coincidence that her last name matches her craft. In fact, she intended to follow her mother's footsteps into the Army.
"I wanted to give back to my country," she said. "I wanted to springboard my life in the way that she did."
With a strong interest in the law, Baker set her sights on becoming a JAG officer, or Judge Advocate General, responsible for providing legal advice, support and advocacy within the military.
Everything was going according to plan until Baker fell off a wall and broke her ankle during basic training. She continued her path of leadership as the commander of her injury recovery platoon. But as she trained and recovered, Sarah faced a difficult choice: Risk this injury getting worse by rushing the recovery to be military ready or go to law school while allowing the ankle to recover at its own pace?"
Baker chose the latter and returned to Harrisonburg, where she had graduated in 2019 before joining the Army. She found a job as manager of Heritage Bakery & Cafe.
"Every part of that path took me to where I needed to be," she said. "I don't think I ever would have entertained opening a bakery if I didn't work at Heritage."
Baker said she flourished under owner Isabel Vento's open, caring work environment,
"She really gave me the foundation for starting [my business]. She gave me the professional skills I needed to bake outside of my house," Baker said.
Baking has always been a part of her life, whether it was licking the spoon used to make her mom's pistachio cake or her grandma's caramel cake. The bakery's name, "BMC Bakes," is derived from both of her mothers' last names, Baker and McEvilly, with the Irish tradition of using both the "M" and "C" in an abbreviation.
After her time at Heritage, Sarah continued to bake out of her home while she managed Cuban Burger but found that she missed baking full-time. She incorporated BCM Bakes in April 2022 and soon after became a vendor at the Harrisonburg Farmers Market, filling the gap for allergy-friendly baked goods. 
Baker first became aware of her gluten allergy in 2016. A doctor suggested that she stop eating gluten to help her eczema flares. "I was absolutely not going to do that," she recalled. "It took me another two years to even entertain the idea that maybe I shouldn't eat gluten."
When Baker finally embraced the gluten-free lifestyle, she was frustrated by the lack of quality baked goods. And that provided an opportunity. Baker sought to dispel the misperception that gluten-free items are all dry, hard or sandy.
Her boyfriend Chase Bailey, who does not have a gluten allergy, makes sure of it.
"I don't sell anything unless he says it doesn't taste like it's gluten free," she said.
And as an unapologetic gluten lover, I recently tried one of Sarah's gluten free brown sugar cinnamon doughnuts at the farmers market. It was moist and tender — and completely surprised me.
When she first started vending at the farmers market, Baker didn't overtly advertise that items were gluten free. Not wanting to scare people away, she displayed a small "GF" on her labels so that the people who needed to know would know.
"I had lots of people who would come back a couple weeks later and be like, 'I did not know you were all gluten free,'" she said.  
---
Thanks for reading The Citizen, which won the Virginia Press Association's 2022 News Sweepstakes award as the top online news site in Virginia. We're independent. We're local. We pay our contributors, and the money you give goes directly to the reporting. No overhead. No printing costs. Just facts, stories and context. We value your support.