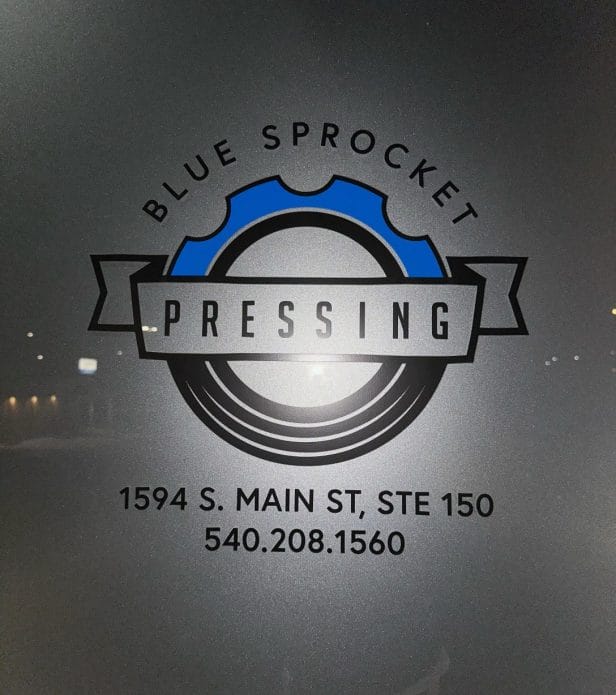 By Bridget Manley, publisher
The employees at Blue Sprocket Pressing, a vinyl pressing plant located in Harrisonburg, have voted to unionize, joining Teamsters Local Union No. 29 based in Verona.
The move comes during a year of labor unions scoring victories for better pay and benefits for workers, and as other groups – like teachers in the HPCS system – work for their own seats at their respective tables.
Vince Paixao, a press operator for Blue Sprocket Pressing, has been working for the company since 2021. He and ten other employees voted for union representation on October 16 and are now working through the next steps in meeting with the company and negotiating a collective bargaining agreement.
Paixao said that for many employees, they began working at Blue Sprocket during COVID after burning out at other jobs. For the employees, working for Blue Sprocket was the first place of employment they really enjoyed.
"I think that once a lot of us started working at Blue Sprocket, we found a job that we really, really liked," Paixao said. "We realized that we as workers should have a right to have a voice in the conversation in regard to how we get paid."
Paixao said that the owners – Chris Jackson and Logan Stoltzfus – are, "the best bosses I've ever had." He said the move to unionize was intentional to have more collective bargaining power as a unit.
"We just thought that having a union would be a really good opportunity for us to further democratize our workplace and also give us the kind of bargaining power that we would need to get a better contract for the work that we do," Paixao said.
In a statement to The Citizen, Jackson said, "Our employees are and have always been an important part of delivering on our mission to make top-quality vinyl records for artists at all levels."
"We respect their right to self-determination concerning union representation," Jackson continued. "We are committed to good-faith negotiations with the union in hopes we will reach a mutually beneficial agreement moving forward."
Matt Martin, a representative for the Local 29 Teamsters, told The Citizen that when employees vote to unionize, they can get more than just better pay.
"Organized labor is more than just wages," Martin said. "It's about involvement, mutual respect, improving working conditions, monitoring health and safety standards, and an overall improvement in the lives of the workers and their families."
The vote to unionize at Blue Sprocket was unanimous, according to Paixao. Employees had been discussing and working on plans to organize for two years.
Martin said that Local 29, which was established in 1963, has more than 1,400 members in various trades with over eight companies located within 19 counties of Virginia, including workers at Danone North America, UPS, ABF, Yellow Freight, National Fruit, Packaging Corporation of America, Marshalls, PET Dairy, and Valley Milk Products.
Blue Sprocket Pressing has clients ranging from individual artists to record companies, and have pressed records for Alanis Morrissette, Sturgill Simpson, The Lemonheads and Edie Brickell. Paixao said that they currently run two pressing machines, with two more in house that will be in operation soon.
Now that the workers have voted, they plan to negotiate for better communication, including documentation for vacation time and benefits, as well as for training, hiring, and promotions.
"Sometimes those things aren't written out but are just told to you when you are hired," Paixao said. "We want those things in writing."
Blue Sprocket Employees will have to appoint a grievance officer and learn other processes for working within union protocol. Paixao said that union dues are based off how much each employee makes on their monthly income.
Paixao said that from a labor perspective, employees see things differently on the ground than they do at the top, and they want to be a part of making the best product they can.
"Giving workers the right to represent themselves on an equal footing with management is very important for all of us," Paixao said. "I think it shows great initiative from workers that they want to make their workplace better. They want to improve where they are working because they like working there."
"These workers came to us with the need for their voice to be heard and a desire to have better working conditions," Martin said.  "We are more than happy to assist them in this effort."
---
Thanks for reading  The Citizen, which won the Virginia Press Association's 2022 News Sweepstakes award as the top online news site in Virginia. We're independent. We're local. We pay our contributors, and the money you give goes directly to the reporting. No overhead. No printing costs. Just facts, stories and context. We value your support.