Editor's note: This is part of a series of profiles for each of the five candidates running in the Nov. 6 election for Harrisonburg City Council. The profiles will run between Nov. 1 and Nov. 3.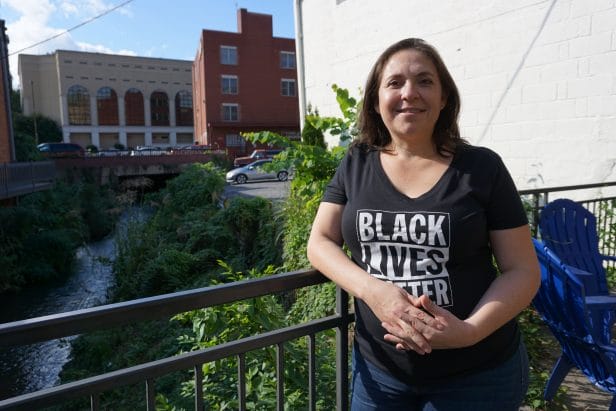 By Randi B. Hagi, contributor
As an independent running to the left of the other four candidates in Harrisonburg's city council race, Paloma Saucedo is basing her platform on her experiences as a mother, immigrant, educator, and healthcare provider.
Improving local education
Saucedo's decision to enter the council race can be traced back to January, when the city council voted to postpone construction of the second high school from 2021 to 2023. Two of her three children are students at Harrisonburg High School, and after the vote, she decided to get involved in local politics.
"I believe that if we're not happy with the decisions being made, we should run and change things," says Saucedo, who moved to Harrisonburg in 2010. Saucedo cites overcrowded conditions, with students eating lunch on the floor due to a lack of seating, as proof that the new high school should be built as soon as possible. If elected to city council, Saucedo hopes to bump the high school construction date back up to 2021.
Saucedo was born in Coahuila, a state in northern Mexico that borders Texas. Before emigrating the United States in 2001, she worked in Mexico as an English teacher and a Spanish tutor. In 2016, she began working as a substitute teacher in Harrisonburg elementary schools.
Healthcare
Another of Saucedo's platform goals is to "promote universal health care for all individuals." Her experience as a healthcare provider includes volunteering as a hospital-trained doula (birth assistant), a medical interpreter, and a Promotora de Salud (Health Promoter) through James Madison University's Area Health Education Center. Currently, she is a therapeutic day treatment counselor at Blue Ridge Elementary – a certified social worker position which provides one-on-one counseling to students to help them make "strong behavior choices."
In 2015, Saucedo joined the Valley AIDS Network as testing and outreach coordinator, later serving as executive director from 2016 to January 2018. She says it gave her valuable experience in organizational budgeting and management, but does not mention her employment there on her main campaign website bio; Saucedo told The Citizen that the omission was a simple oversight.
During her time as executive director, she says that the nonprofit increased its number of medical case managers from one to four, and significantly increased its incoming grant funds.
Last fall, while Saucedo was on maternity leave, the Valley AIDS Network was rehoused under the Harrisonburg Community Health Center, after JMU wanted to repurpose the campus building they were using. Saucedo said she cannot share more about her departure at this time for legal reasons, but did note that "all the staff that was at [Valley AIDS Network] under my leadership left shortly after me, and they were and continue to be strong supporters of this campaign… they are great, caring people and professionals that are assets to the new agencies they work for."
Several messages with members of the Valley AIDS Network board or other oversight of the organization went unreturned; two people reached by The Citizen declined to comment for this story.
Quality of life, regardless of identity
Saucedo notes that her hardest lessons in budgeting came from supporting herself and two children on $20 a day as an undocumented immigrant in the early 2000s.
"I have struggled like many immigrants in this country; I have struggled like many LGBTQ people in this country," says Saucedo. While undocumented, she worked whatever jobs were available: as a live-in maid, babysitter, and dishwasher in several areas of Virginia and Texas. For a while, without transportation, she walked three miles each way to sell hot dogs at a roadside stand for $20 a day.
Without a green card, "I couldn't really speak out" about wages, she says. In many situations, Saucedo felt she had to hide either her undocumented status or her queer identity for fear of losing employment or housing. After receiving her green card in 2009 she immediately started job hunting, and applied to Blue Ridge Community College.
As a city council member, she hopes to introduce legal protections so that others don't have the same fears she did.
"We want to make sure that everyone in Harrisonburg has quality of life, regardless of their identities."
As Saucedo continued to organize and find jobs in Harrisonburg, she found it "to be the Friendly City I was looking for." She then came out as queer in her late twenties, and found a supportive group of friends in Harrisonburg. "I could be unafraid for the first time in many years," she says.
Immigrant rights activism
Saucedo has worked immigrant rights activism for over 10 years. She says this "boots on the ground, with the people" organizing, as she puts it, has also prepared her for representing the citizens of Harrisonburg. One of the first campaigns she worked on in Harrisonburg fought the implementation of Section 287(g) of the Illegal Immigration Reform and Immigrant Responsibility Act of 1996 – which would have allowed local police officers to act as Immigration and Customs Enforcement (ICE) agents.
"We organized against that and won," she says – in Virginia, only the Culpeper County Sheriff's Office and Prince William-Manassas Regional Adult Detention Center participate with ICE under Section 287(g).
Jon Henry, owner of Jon Henry's General Store in New Market, and founder of the Harrisonburg-based Old Furnace Art Residency, has worked with Saucedo in a variety of advocacy contexts over the last few years. Through the community-based coalition Better Together/Mejor Juntos, Henry and Saucedo worked together on the "successful campaign to prevent the building of a new jail in Harrisonburg," he says, among other projects.
In addition to being a confident, eloquent speaker in English and Spanish in a variety of situations, Henry says that "Saucedo was amazing at reaching out to folks across various spectrums and intersections of identity… she's great at getting these folks to actually show up to events. I always value that in fellow organizers because it's easy to have listservs, contacts, and a cadre of Facebook friends but it's so important to actually get those folks to turn up to meetings, rallies, and voting events."
"Folks seem to typically segment their lives between activism, politics, work, art, social, love, et cetera, but Saucedo weaves them fairly seamlessly together," says Henry.
Last year, between graduating from Mary Baldwin College's social work program and giving birth to her youngest child, Saucedo became a U.S. citizen.
"The first thing I could do now was to vote," she says. Saucedo urges citizens to take advantage of and appreciate that right.
"I lived and worked and loved within this community for many years, and was not able to vote until now . . . use your privilege and your right to make a difference, and believe that it will count."
The election is on Tuesday, Nov. 6.