Editor's note: This is part of a series of profiles for each of the five candidates running in the Nov. 6 election for Harrisonburg City Council. The profiles will run between Nov. 1 and Nov. 3.
By Bridget Manley, contributor
Sal Romero has been here before—on the precipice of a city council election, eager to represent the city.
But since his first unsuccessful run in 2010, Romero has applied some lessons learned to this year's campaign, although he says the two experiences were "entirely different."
Romero is one of two Democrats—the other is Chris Jones—running in a field of five candidates for Harrisonburg City Council. Romero and independent Paloma Saucedo also are trying to become the first Latino council members, even though Latinos make up nearly 20% of Harrisonburg's population.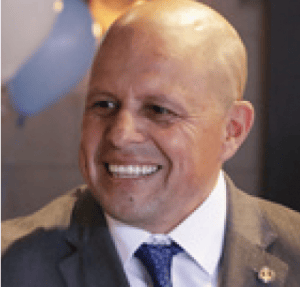 Romero, the coordinator of family and community engagement for Harrisonburg City Public Schools, founded his campaign on the need to build a new high school in the city, even suggesting that the construction of the school begin as soon as possible to address overcrowding at Harrisonburg High School. He often returns to his refrain of calling for better education for all students and investing in teachers and after school programs as ways to build a better community.
"I have been a teacher. I have been a principal," Romero said Tuesday during a forum at Eastern Mennonite University. "I committed to running for city council this year I believe our educational system is wonderful, but we need to continue to make it better."
Campaign unknown to experienced campaigner
Several former and current elected officials said Romero is more prepared, organized and better known in the community than he was eight years ago.
When Romero ran his first campaign back in 2010, he lacked name recognition, said former City Councilman Dave Wiens.
"He was really well-known in a small part of the community who participated in his afterschool program," Wiens said. "But he was up against tough competition, and people wanted to know what he was going to do for the other residents of the city."
Romero concurred with that assessment. "2010 was a really interesting year for me," he said. "I was finishing my master's degree, starting my adult soccer league, running Second Home—my afterschool program—and teaching at Smithland."
In addition, just as he was preparing to spend more time on the campaign trail, his son had surgery and was hospitalized. While his son needed special care for weeks, his wife gave birth to their second child, and his family needed his attention.
"I didn't want to use it as an excuse, so it wasn't well known at the time," Romero said. "My family came first."
Wiens said the last eight years also has provided Romero more time to be focus on policy.
"He's more well-known now and can talk about things with more authority than other candidates," Wiens said.
Harrisonburg City School Board Member Deb Fitzgerald said Romero's work in many facets of education over the last eight years has represented a big difference between this year na dhis last race.
"His experience in the HCPS Central Administration—working with family engagement and even more so, serving on the State Board of Education—has immeasurably increased what he'll bring to city council," she said.
Romero said he also has been meeting with residents more often—having lunch with city residents at El Charro's to talk about community needs, as well as going door to door.
Making inclusion a theme
Romero came to the U.S. from Mexico in 1991 when he was 13. His father, an immigrant farm worker, brought Romero and his four siblings to Harrisonburg, where he attended Broadway High School.
Romero said issues surrounding national politics and immigration have had a local impact.
"In 2016, when the new administration began taking steps addressing illegal immigration, there were lots of families expressing to [school board staff] their fear: 'How do we make sure our kids are safe at school?' … We have taken steps to really reassure our families that our schools are a place where children can be safe," he said.
For instance, he said the city and schools made a video last year for students emphasizing that the schools were a place where everyone could feel safe, regardless of their legal immigration status.
Romero, who has stressed inclusion throughout his campaign, said he wants to invite everyone in the community into the government conversation.
"We have many communities who often do not feel comfortable coming to City Hall," he said. "The language might be a barrier, the time of day of the meeting might be a barrier."
He wants to hold listening sessions in neighborhoods that often are not included in the political process to create more civic engagement in every sector of the community and bring government to the people.
Building the new high school
Investing in education is one of the biggest platform issues of his campaign, and he does not hold back when it comes to his support of building the new high school. At the city council candidates forum held two weeks ago at Court Square Theater, Romero made it a point to note that he will vote for building the new high school as soon as possible.
Wiens, the former councilman, said that position might be Romero's biggest hurdle for some voters to support him.
"Some people are upset about the cost of the new elementary school [Bluestone Elementary] and wonder if the new high school will also look like that," noted Wiens.
The cost to build the elementary school was $25.9 million, according to the Virginia Department of Education.
When asked if he finds himself defending his position on new school construction, Romero said not very often. He said most people he has talked with support the new high school.
Romero also said affordable housing and public safety are two other issues he hears from the community as being major concerns, and he said those should be addressed as well. Those, however, are not addressed on his campaign website.
Campaign funds
Romero's report filed on paper with the Harrisonburg Voter Registration Office shows Romero's top donor was the Harrisonburg Democratic Committee, which contributed $3,790 thus far to his campaign. His other main contributors are all single citizen donations, and range anywhere from $150–$2,000.