By Jeremiah Knupp and Ryan Alessi // Photos by Jeremiah Knupp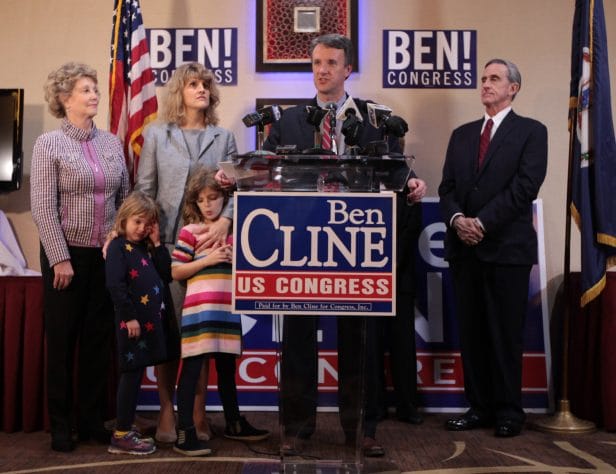 Ben Cline will move from the Virginia House of Delegates to the U.S. House of Representatives with about a 20-point win over Democrat Jennifer Lewis in the 6th District on Tuesday night.
With all but a few straggler precincts reporting, Cline had close to 60% of the nearly 265,000 votes cast, while Lewis hovered at around 40% — which marked the best performance for a Democrat in 26 years. That was the first of Republican Bob Goodlatte's 13 general election wins. Cline's victory will keep the district in Republican control, following Goodlatte's retirement.
"The last two members of Congress from the 6th District when they retired, when they stepped down the seat went to a candidate of the other party," Goodlatte told a crowd of Republicans at Cline's victory celebration in Roanoke. "But you know what? That's not happening tonight."
Cline took the stage after Goodlatte's introduction. "We did it," he told the crowd. "You did it."
Cline sought to strike a tone of unity in his victory speech by pledging to work for all residents of the 6th District, which covers Lynchburg and Roanoke and stretches north along I-81 through Harrisonburg to Front Royal.
"I will work tirelessly for each one of you, whether you supported me or not, because frankly there are just too many issues," he said. "It doesn't matter if you are a Republican or a Democrat, liberal or conservative, I will represent each constituent, every constituent, not just one constituent."
Just a few hours after Cline's remarks, U.S. House Democrats declared victory — just after 11:30 p.m. EST — in winning enough seats to take control of the lower chamber of Congress, meaning Cline will enter Congress as a member of the minority party.
"We must come together as a nation and work across party lines, but I will always stand my ground on issues that are the bedrock of our identity as Republicans," Cline said. "Being part of the checks and balances that our Founding Fathers envisioned is a responsibility that I will guard seriously. Our values are timeless and I don't believe we should start doing wrong just because more people choose not to do right."
He pledged to "stand up to wasteful spending, stand up against fraud and abuse in our government, promote the dignity of all human life, ensure that those who want to come to this country do so legally and defend this document," he said raising a copy of the U.S. Constitution.
En route to Tuesday's win, Cline won 15 of the 19 localities in the 6th District, performing particularly well in rural counties. Cline ran up lopsided victories in the most populous counties with nearly 70% of the vote in Rockingham County and more than 70% of the vote in Augusta County and Shenandoah County.
Meanwhile, Lewis — a mental health worker and community activist from Waynesboro — won four cities: Staunton, Roanoke, Lexington and Harrisonburg. She won Harrisonburg with two-thirds of the vote and garnered more than 62% of the vote in Roanoke City. Overall, Lewis out-performed past Democratic 6th congressional candidates and nearly tied Cline in Lynchburg, one of the few localities with a razor thin margin between the two. Cline had a 350-vote lead with 13,573 to Lewis's 13,226.
In an odd twist, each won the other's home town, with Cline narrowly winning Waynesboro City by 33 votes and Lewis beating Cline in Lexington 1,430-697, according to the preliminary results.